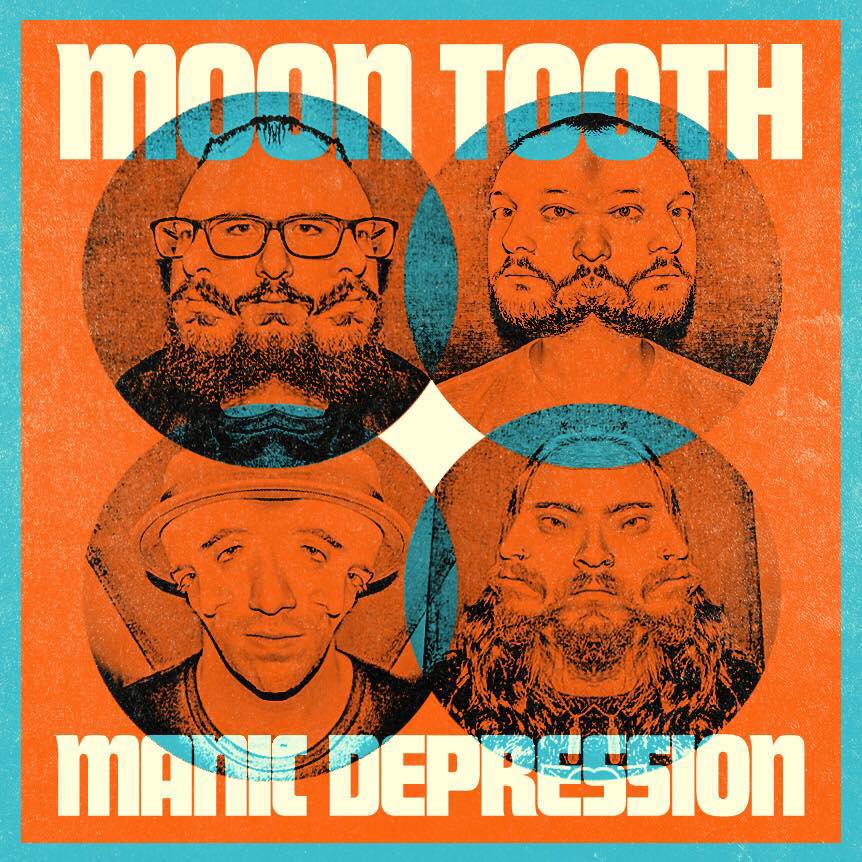 *This is part of our State Of The Art series, showcasing bands every Monday from the featured State*
This month's State is New York! 
Hailing from Long Island, Moon Tooth took the local scene by storm when they formed in 2012. The band has been gaining a ton of national attention in the last two years since putting out their debut EP and first full length LP. The talent of the group has took them across North America with the likes of Intronaut, Entheos, Astronoid, Thank You Scientist, and Toothgrinder. They've even opened up for Killswitch Engage, and next month they will open for New York's own, Candiria. Moon Tooth takes an eclectic amount of inspiration that you will hear in their music and it stands out. They blend in several different sounds but like to be referred to "aggressive progressive". The four piece creates a chaotic sound that will please fans across different genres. Their unique style of progressive, blues, rock n roll, and just about any subgenre you can think of, provides something to like for any fan of music.
Moon Tooth currently has put out one EP and one full length release. The EP, 'Freaks', dropped in July of 2013 and received high praise from many websites. 'Freaks' debuted the sheer power and heaviness that Moon Tooth brings to the table in about 15 minutes. While being heavy, they are also very talented songwriters and create super catchy, melodic songs. Just last year, the band released their follow up and first full length album, 'Chromaparagon'. It has been about a year now since it came out and it still has not left my car player. The 12 tracks are a nonstop onslaught of hard, genre-bending twists and turns that will see that the listener hears something new on each listen. The album, like 'Freaks', received a lot of praise from websites including Metal Injection, MetalSucks, Heavy Blog is Heavy, and many more. Another thing that makes them even more impressive: they are independent. Both releases were recorded and released on their own by the band themselves. Drummer Raymond Marte produced, engineered, mixed and mastered both albums at Westfall Recording Company. Each member of the band stands out in their own way. Raymond Marte owns it on the drum kit, delivering powerful and complex rhythms with ease. Vincent Romanelli completes the rhythm section by adding his explosive bass lines that shake the planet to its core. He gives each song their own flair with his intense playing. Nick Lee, in my opinion, may be one of the best modern day guitar players out there right now. He absolutely shreds through everything he plays while climbing around on top of rigs on the stage, continuously moving through the show. If you are a riff first person, there is no shortage of that here. Every song is loaded with guitar playing that will leave one wishing they had the talent that this band has. On the vocals, John Carbone has a distinctive voice that gives the band another feature to stand out from everyone else. Once you hear the voice, you will automatically know it's Moon Tooth. He has a very bluesy voice and makes it work with all the different qualities of the band magnificently. He is also constantly on the move at live shows, in the crowd as much as he is on stage. Their live performance is not one to forget as they have a huge amount of stage presence. Since 'Chromaparagon', Moon Tooth has also released two more songs including a cover of Jimi Hendrix's "Manic Depression" which can be viewed here. This is a band that everyone needs to get to know very soon because they're rising, and they're rising quickly.
Follow Moon Tooth on Facebook and buy some merch/music on BandCamp.