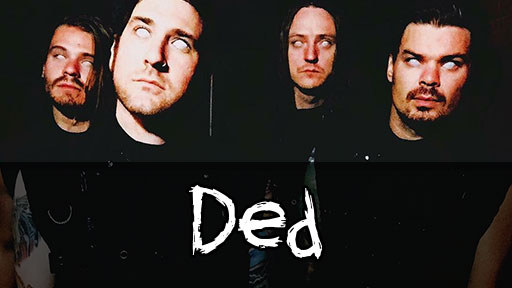 *Every Thursday from now until Louder Than Life gets here we will be releasing an article about a band playing the festival to get you familiar with them.*
This week's artist is DED!
If you haven't yet heard of or jammed out to the band DED, you must have truly been hiding under a rock! DED will be performing at Louder Than Life on Saturday September, 30th along side other great acts like Ozzy Osbourne, Rise Against, Incubus, Mastodon, Gojira and various others. The band formed in Phoenix, AZ two years ago with the goal of putting listeners on edge. They have achieved various other goals in the process as well. The band has been one of the best up and coming bands of the year and has helped revive the nu-metal scene that once was considered endangered. Over the course of the year they have taken the music scene by storm with their two singles. They were collecting fans from all over the world even prior to their album dropping. Their live performances and EP led to a quick amount of success including shows with Beartooth, Atreyu, Every Time I Die, and more. This summer they hit the road with Korn on several different tours, playing alongside acts like Stone Sour, Skillet, and Animals as Leaders.
Ded have been dominating all the summer tours this year including Carolina Rebellion, Welcome To Rockville, Rock On The Range, Chicago Open Air. Now the band has moved on to the fall festivals and Louder Than Life isn't the only stage they will grace in the next few months. The band will also be making appearances at Houston Open Air, and Rock Allegiance. Fans at both Carolina Rebellion and Chicago Open Air were singing along to their hit singles "Anti-Everything" and "FMFY". Both of these shows were even prior to the bands album releasing. Sirius XM has been a big push for the band who are getting massive air play on the Octane channel. Chances are if you've listened to the channel you've heard something by these Arizona Natives. We have also had the opportunity to speak with the band on two occasions and you can see those interviews here and here. We certainly wish DED and Stone Sour were playing on the same day because I could totally see Corey Taylor coming out and putting down some guest vocals on a track. What do you have in store when seeing DED live? You get a high energy set, with in your face classic nu-metal vocals. The bands anthem like lyrics are easy to get behind and it's very easy to sing along to "FMFY"… So feel free to sing along "Fuck Me, Fuck You Too", it's as simple as that. The band also has a unique look with their white souless "dead" eyes. We have been lucky enough to see them twice this year and we can't wait for the third time. You do not want to miss this band.
If you haven't picked up your tickets yet you can get them here, Or if you'd like to try your luck at winning some tickets we will also have some to give away later this weekend on our Facebook at www.facebook.com/metalnexus