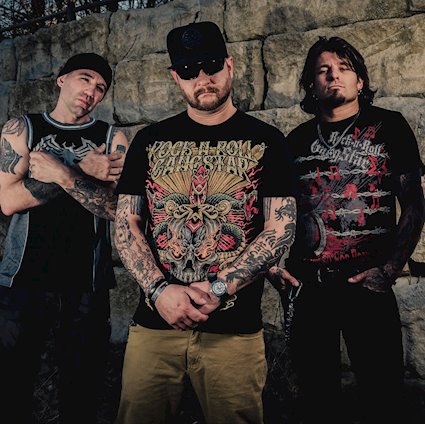 Louisville, Kentucky's nu-metal heroes Flaw have been dominating stages since before the release of their debut 'Through The Eyes' in 2001. The band is now revived and better than ever. Their comeback release last year 'Divided We Fall' proves the band hasn't lost their touch. Chris Volz and Jay Daunt are the core of the band and have led the charge of a nu-metal resurgence over the past two years. Flaw have toured relentlessly playing both as a supporting act and as a headliner and even made numerous festival appearances including back to back performances at Louder Than Life in their hometown and also Ink In The Clink. Still on the heels of their full length release the band has now finished up a companion EP to 'Divided We Fall' and it's titled 'United We Stand'. The 6 track EP includes 4 brand new tracks and two live tracks. Both live songs are from the 'Through The Eyes' album and include "Payback" and "Only The Strong". The EP will be released September 1st via Pavement Entertainment.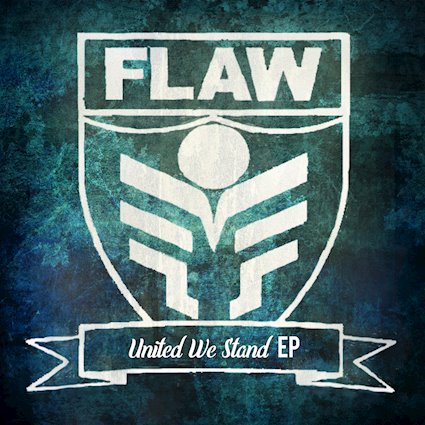 'United We Stand' starts things out with a slowed down ballad by the Kentuckians. "I'll Carry You" is a perfect example of what Flaw does with their lyrical content. Chris Volz sings "Make our own mistakes, so keep your fragile chin up, sometimes the heart it breaks, even in the best of us." The vocals and words pull at our heart strings just like they always have since their debut album back in 2001. The light soothing riffs by Jay Daunt really add to the passionate feel of the song. Flaw has some of the most passionate fans on earth. The way in which Chris delivers his vocals it's almost as if he is talking directly to the listener. In the chorus he sings "You're not alone, you're not alone, I'll carry you, I'll carry you, you're not alone, you're not alone, I'm walking right beside you". We all love the old school heavier tracks that Flaw is also known for, but this track certainly shows a slowed down more intimate side of the band. "Fall Into This" gives us a bit more of the same vibe from the previous track. Jay Daunt's riffs on this song seem to flow so well with the drums and everything just meshes so well. Volz's voice takes on this even more calm melodic singing style that just warms your heart. Moving on to "My Style" this song turns things up a notch and has a heavier feel. The riffs here have this overwhelming grit and groove to them. The drums are also more prevalent here as well. You get quite a bit of double bass action and cymbal crashes that add to the onslaught this track provides. On this EP Flaw also adds a live version of "Only The Strong" which was the opening track on their 2001 debut "Through The Eyes". The track has been a fan favorite since the album released. The track opens with Volz speaking "This next song goes out to all the first responders in this country, law enforcement, ems, fire department, United States military. Without the infrastructure and the first responders who are willing to sacrifice their safety to protect someone else, to protect American citizens this country would fall apart very fast. So thank them so much, this song goes out to them, dedicated to them." Volz along with the entire band has always been huge supporters of the military and law enforcement. Even touring in support of veterans in the past. In addition to this hit song we get a chance to hear live we also get a live version of "Payback" from the same album. The track was the first single off their debut back in 2001, and it launched the band to metal stardom. The EP ends with another new track called "Such Is Life". The track begins as a slowed down melodic track, but around the 2 minute mark things kick in and Volz's voice gets a little more aggressive and we get that old school nu-metal fast paced fierceness. Hearing him scream out these passionate lyrics with such aggression immediately takes you back to the bands early years. The way in which they are able to change tone and pace so quickly in this song in such a cohesive manner shows the talent and experience the band heralds.
'United We Stand' gives us exactly what a lot of Flaw fans crave and that's well thought out passionate lyrics. It's the perfect companion piece to their latest full length 'Divided We Fall' and almost a continuation of the sound they conquered on that release. The band shows off their softer side but also add moments of aggression, especially on "Such Is Life" where they momentarily revisit their classic style and sound. The addition of the two classic tracks "Payback" and "Only The Strong" add depth to the album and allow us to hear how Flaw dominates on stage as well. Though you get to hear these tracks live it's not even close to experience the band live and in person. They provide album quality sound and amazing stage presence and getting to see Jay's "Daunting" jumps in person is something you will never forget.
You can see the band on their upcoming tour and also see them perform at this year first annual Blue Ridge Rock Festival playing alongside other notable acts like Everlast, Scott Stapp, Hed PE, Drowning Pool, Sick Puppies, Tantric, Orgy, Dope, Texas Hippie Coalition, Fire From The Gods, Ill Nino and many more.