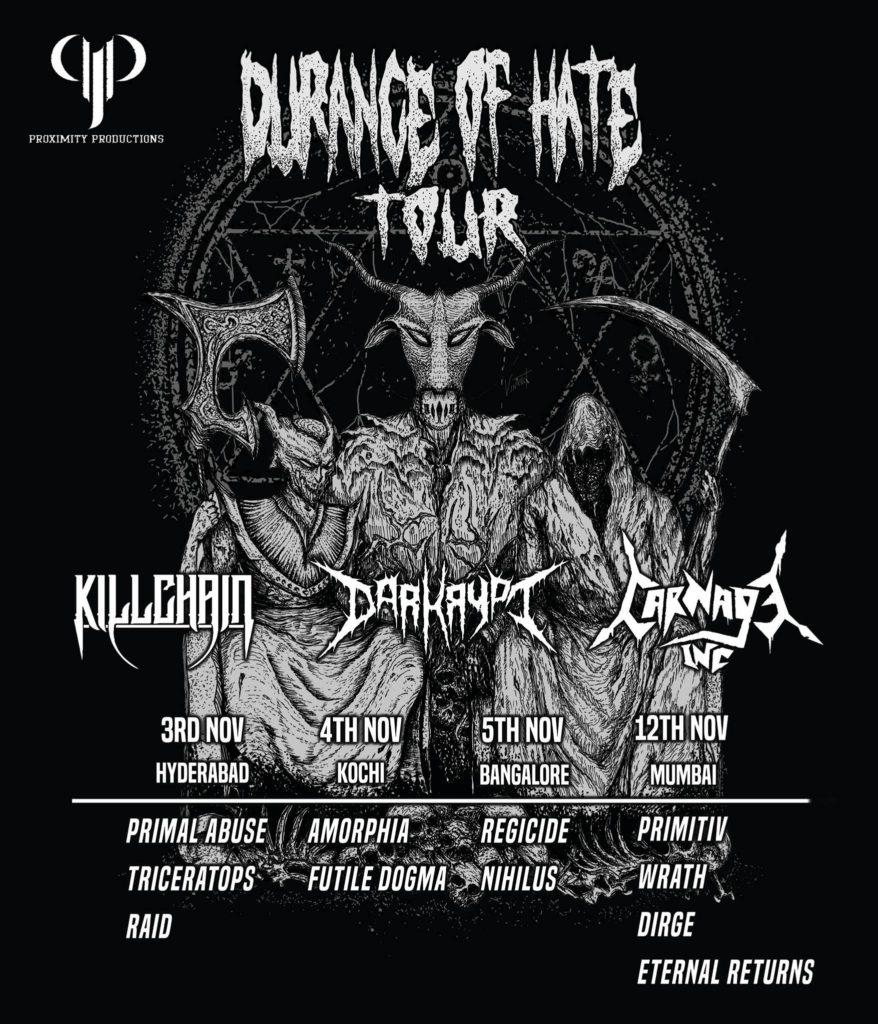 The Indian Metal scene is on the rise and the country is undergoing a renaissance period in terms of the development of the scene, whether it be bands coming down from every corner of the planet to the subcontinent, or be it the sudden surge of tours within the nation. One such new and dynamic series of tour has recently started to shape up well, with mainly the focus being thrown on underground and upcoming bands. This year's edition of Durance Of Hate Tour is a sophomore one and it features three hot and happening bands, death metallers KILLCHAIN and DARKRYPT and thrash metal juggernauts CARNAGE INC, all hailing from the western coastal metropolitan city, Mumbai. They will possibly be supported by local bands from every city on the tour. Many props to Proximity Productions on planning what looks and promises to be an awesome multi-city tour, with straight up, pure, unadulterated death and thrash metal attack from the west coast!
All three bands are pretty much new to the scene and have played extensive shows all across the country, with at least an EP or a debut album to their name. So yeah, it is not going to be some shitty ass cover song tour, rather an all original metal attack. All of the bands on the bill will be out supporting their latest releases. KILLCHAIN will bring forth some totally unheard, raw and gritty death metal, playing songs from their 2016 EP, 'Psychosis', while label mates of Transcending Obscurity DARKRYPT & CARNAGE INC will be belching forth some killer grooves and riffs of the highest sonic order from their respective latest releases, 'Delirious Excursion' which features Swedish death metal legend Rogga Johansson(PAGANIZER), and 'Fury Incarnate' both of which released over a year ago to many positive reviews and acclaim.
Durance Of Hate Tour is definitely gaining momentum and force as this year's line up features more killer bands and an extra addition on the bill from last year's debut tour. This is definitely a testament to the fact that the scene in this part of the world is adamant on leveling their shoulders with their western counterparts. This has been in the making for a long time with a lot of effort, blood and sweat and I am certain about the success of this tour. As of now, only a select few dates have been declared and a few more are yet to be announced. So don't sulk if you're an Indian metalhead and if your city isn't on the bill yet, check this space cause you might end up lucky. Check out the tour dates below:
Durance Of Hate Tour II Dates:
3rd November – Hyderabad @ FUBAR
4th November – Cochin @ YWCA Fort
5th November – Bangalore @ blueFROG
12th November – Mumbai @ Renaissance Federation Club, Andheri
+1 date TBA.
Also don't forget to get yourself this cool Durance Of Hate Tour II tee shirt. The incredible attention to detail artwork is a collaborative effort by none other than Vineet Sharma (KILLCHAIN) and Varun Panchal (CARNAGE INC) themselves. How about that for DIY! Get your merch HERE!
For more details, check this space HERE!
Stream/Buy the music of the bands mentioned below:
KILLCHAIN | DARKRYPT | CARNAGE INC