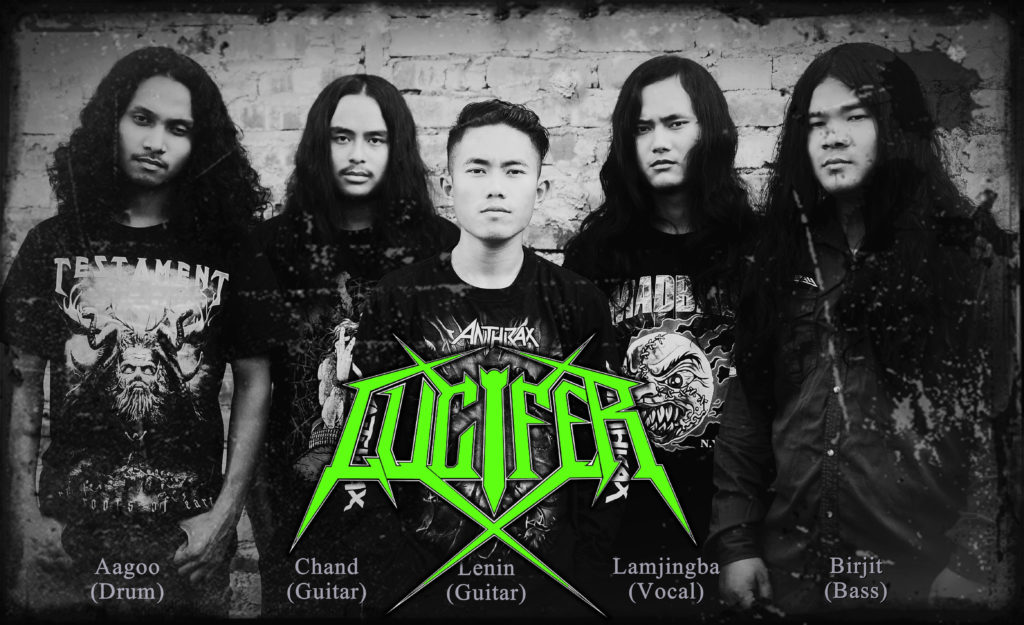 Miles and oceans apart from the streets of San Francisco, the Bay Area, where thrash is said to have taken birth I bring to you a very talented and young band from the hills of Imphal, the capital of Manipur, an Indian state nestled amidst the serene and untouched greenery. LUCIFER-X are a five piece thrash metal outfit from the Asian nation of India and are already ravaging the local and national scene with their all new debut EP, titled, 'Project Xtermination'. It has just been a few days since its release on the 26th of September. After three years of it's formation, the band have matured enough and are ready to deliver the first kill in the form of their debut EP. It's fast, rude and an endless saga of thrash-tastic riff fest!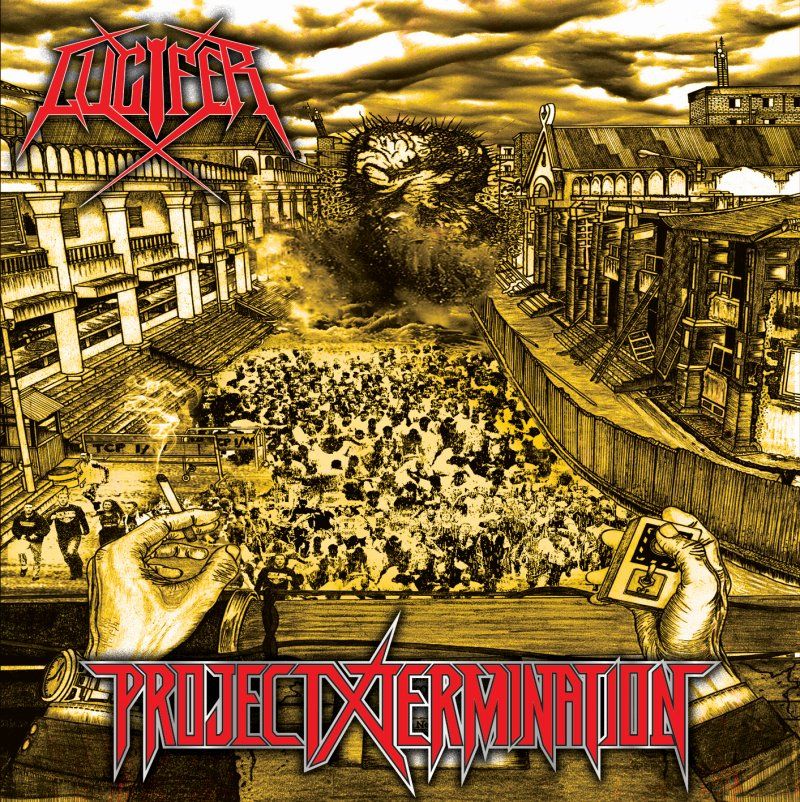 Clocking in a little over just 20 minutes 'Project Xtermination' is a brisk dose of speed, aggression and high intensity riffing, along the lines of thrash and crossover thrash metal, it's what makes up the recipe for this power packed debut EP. Released on 26th September, the EP's artwork is that of an unique market in the city of Imphal where mainly the workforce consists of women, Khwairaman Bazar. The killer artwork being the brainchild of Johnny Kongjengbam.
The opening track aptly named, 'Opening Attack' is in every sense of the word a full on, all guns blazing thrash carnage, fueling the EP to an explosive kick-start. Right off the hook, you can guess that the band's roots are deeply embedded in crossover thrash or its predecessor, punk. With just one solo in the entire song, a blistering one, it is mainly a riff based opening track. I would have wished for a bit more on the palate, but none the less it is still a full blown raging sonic kill!
What's up with thrash metal and opening bass lines though? The second song has a bass line intro, something MEGADETH's iconic 'Peace Sells… But Who's Buying!?' is famous for. Nevertheless, 'Puke 'Em All' treads along the lines of crossover majorly again, and heck yes it vehemently does "Kill 'Em All". The song reckons to take a chill pill, crack a cold one open and "murder all your problems", have fun & to not take life seriously. Something the lads from MUNICIPAL WASTE would approve. I have to say the riffing has been meticulously crafted, the guitar tone couldn't have been more electrifying, drums relentlessly pounding. Crossover is more faster than other metal sub-genres, and keeping up with the tempo of the music vocally, with a raspy voice can be an uphill task, but vocalist Lamjingba pulls it off perfectly, something that resembles a sisyphean task to many!
Next up, is a highly political song, 'New World Order' that presents the absolute reality on how the state enforces you to keep mum, nullifying your voice over authoritarian rule. Fast, maniacal and pissed off shredding sets the tone and rhythm of the song. Politics and thrash metal has deep roots and dates back than the genre itself, something which was passed on by the skinheads of the punk genre. Fighting against anarchy, authoritarian oligarchy and established corrupt system is lyrically rampant in this genre and a fitting one that compliments the aggressive nature of the music. Penultimate track, 'Xtreme Tech' is a reflection on the dystopian state of the world, where world powers' ego warfare has boiled down to human suffering. This has to be my favourite track from this outstanding EP, it shows variety, starting off with an impressive mid tempo solo the track blitzkriegs its way. The dual riff attack makes it even more aggressive, not to forget the classic thrash chugging similar to a fast horse's galloping.
I'd go onto say this track has lifted the entire EP's class by way many standards and on epic levels. Ear shattering tremolo solos, sick and crazy double bass drumming, with the bass blaring loud and clear, not only gives this track an outstanding repertoire but also is a stark reminder of how LUCIFER-X are capable of near about anything that falls under the thrash spectrum.
Final track 'Skull City' is basically the cherry atop of the cake to finish things off on a high note for their debut EP. Nothing much to say about it, but yeah, the riff at 3:20 mark is probably one of the very best I have ever heard. If it doesn't make you go nuts and wanna do the Scott Ian mosh in a merry-go-round fashion thumping your feet to the neck breaking groove, you ain't a real thrasher!
Overall, this EP is a valiant effort and it is worth checking out from the boys of Imphal, Manipur. Putting things up straight, cut to the chase, LUCIFER-X's 'Project Xtermination' is one of the fresh and most disruptive thrash metal EP to have come out from this part of the country. I personally am loving the music, and the clean production makes it feel like virgin stuff. Being myself a thrash fan this is what a thrasher gets a hard on to! So, if you're a fan of MUNICIPAL WASTE, D.R.I., SUICIDAL TENDENCIES, EXODUS etc. this is your piece of fetish. Go ahead, put on your battle vest, tight denims, Nike hi-tops and mosh to LUCIFER-X. This is undoubtedly one ridiculously good record meant for absolute "xtermination"!