What Happens Next musicians:
Joe Satriani – Guitar
Glenn Hughes (Deep Purple and Black Country Communion) – Bass
Chad Smith (Red Hot Chili Peppers ) – Drums
Mike Fraser (AC/DC, The Razor's Edge and long time Satriani collaborator since Crystal Planet) – Producer/Engineer/Mixer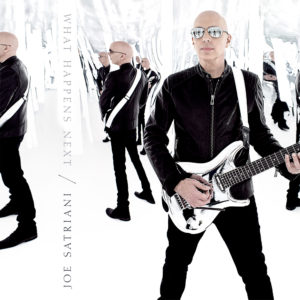 Joe Satriani certainly needs no introduction and remains one of my favorite guitarists of all time. What will be sixteen albums over the course of thirty one years, teacher of many other great guitarists (Kirk Hammet, Andy Timmons, Steve Vai, Alex Skolnick, Charlie Hunter, Larry LaLonde, Kevin Cadogan, Rick Hunolt, David Bryson, Geoff Tyson, Phil Kettner, to name a few), member of supergroup Chickenfoot, undeniably one of the most influential guitarists of all time, multiple Grammy Award nominations, headliner of G3 since 1995 featuring a veritable who's who of the greatest the guitar world has to offer and a man that just exudes passion and fun on every stage he has ever landed on are just a few meager mentions of this man's incredible talents. I have had the pleasure of seeing Joe quite a few times over the course of his long career and he so obviously loves what he is doing now more than he ever has. He just keeps getting better and enjoying it more and more as the years wear on. Where a jaded view of the music business has tainted the passion of so many other bands I have seen lately, Satriani hits the stage with continued wide-eyed wonder. Honestly, I think Satch enjoys playing more than his fans like watching him slay his beloved Ibanez.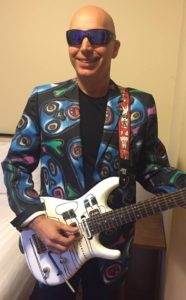 So, now we have What Happens Next, literally and figuratively. Instead of starting with the content, let's start with a synopses of the album as a whole: this thing is simply incredible and among the greatest of his career, in my humble opinion. What Happens Next is not just stunning for Joe's guitar mastery, which can be assumed at this point, but for his otherworldly songwriting ability. It is striking the maturity this album exudes. For example, "Forever and Ever" actually left me in tears musically. Bluesy and heart-wrenchingly beautiful. I would even go as far as to say lyrical, without one spoken word. Straight to the heart. I have been moved to tears for the sheer incredible playing before but never been quite so emotionally moved. What Happens Next speaks with a more pronounced voice than Joe has ever achieved before. Don't get me wrong, this rocks out too. The opening track "Energy" has his Surfing With the Alien vibe we have all come to know and love along with the catchy, almost keyboard-like groove in "Looper". Do you dig his heavier tones? Well, "Thunder High on the Mountain" hits as if our man joined Deep Purple while "Headrush" is fast, fun and furious with a sick solo and killer, heavily distorted bass lines throughout. Spotlighting Joe's songwriting genius and maturity, the title track is restrained but deceptively complex and "Invisible" takes on an ethereal quality even though it is played intensely fast with his trademarked precision. This character is seen even more clearly with "Super Funky Badass". Heavier than the name implies, this song has some mind-blowing changes over the course of its seven and a half minute life-span. Shaking my damned head. Just when you thought he could not get any better. Amazing! You want emotional content? With an almost chant-like feel, "Cherry Blossoms" hits as hard as "Cliffs Over Dover" by another favorite, Eric Johnson while "Righteous" gives us an emotional late 70's/early 80's ballad sound with Satch's indelible fingerprints all over it. This leaves us with two, "so-Joe" fun songs. "Smooth Soul" is exactly what we have come to expect from this musical wizard and is everything the name implies. Saving the best for last, "Catbot" would be my favorite song, hands down, if "Forever and Ever" didn't land so heavily on my chest. The playing mimicks human speech like nothing I have ever heard before. I also could not help but smile, being pleasantly reminded of Robert Palmer's, 80's hit "Simply Irresistible". Smiles for miles on this one. I flashed back so quickly, I was shocked. Absolutely love it! Ode to the power of music from one of the guitar world's greatest.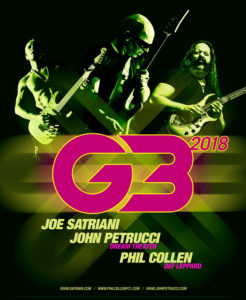 With a release date of January 18th on the Sony Record label, What Happens Next drops one day after the newest iteration of G3 featuring Def Leppard's Phil Collen and Dream Theater's axe slayer, John Petrucci hits the road. Check the dates below for a venue near you. If this does not sate your desire for all things Joe Satriani, you can also check out his son, ZZ Satriani's documentary "Beyond the Supernova" which covers the band's Shockwave Supernova tour of Asia and Europe. To top things off, "Strange Beautiful Music: A Musical Memoir" from May of 2014 is now available in paperback. You can check it out here. Much respect for Satch.  What Happens Next is a must have for all music lovers!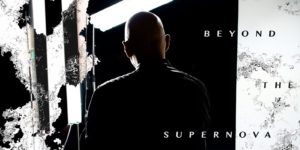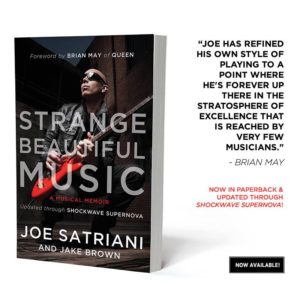 Tracklist for What Happens Next:
"Energy"
"Catbot"
"Thunder High on the Mountain"
"Cherry Blossoms"
"Righteous"
"Smooth Soul"
"Headrush"
"Looper"
"What Happens Next"
"Super Funky Badass"
"Invisible"
"Forever and Ever"
2018 G3 Tour featuring Joe Satriani, John Petrucci & Phil Collen itinerary:
January 11 The Moore Theatre Seattle, WA
January 12 Historic Elsinore Theatre Salem, OR
January 13 Grand Sierra Theatre Reno, NV
January 14 Fox Theater Oakland, CA
January 16 Delta Hall at Eccles Theater Salt Lake City, UT *
January 17 Brooklyn Bowl Las Vegas, NV
January 18 Mesa Arts Center Mesa, AZ *
January 19 Orpheum Theatre Los Angeles, CA
January 20 Balboa Theatre San Diego, CA
January 21 Fox Tucson Theatre Tucson, AZ *
January 24 Historic Paramount Theatre Denver, CO
January 25 Uptown Theater Kansas City MO
January 26 The Pavillion at The Toyota Music Factory Irving, TX *
January 27 Austin City Limits – Moody Theater Austin, TX
January 28 Hobby Center for the Performing Arts Houston, TX *
January 30 Hard Rock Live Orlando, FL *
January 31 Florida Theatre Jacksonville, FL *
February 1 Pompano Beach Amphitheatre Pompano Beach, FL*
February 2 Barbara B Mann Performing Arts Hall Fort Myers, FL *
February 3 Mahaffey Theater St. Petersberg, FL *
February 6 Raleigh Memorial Auditorium Raleigh, NC
February 8 Toyota Presents Oakdale Wallingford, CT *
February 9 Landmark Theatre Syracuse, NY *
February 10 Palace Theatre Albany, NY *
February 11 The Palace Theatre Greensburg, PA *
February 14 Warner Theatre Washington, DC *
February 15 Orpheum Theatre Boston, MA
February 16 Beacon Theatre New York, NY *
February 17 Merriam Theater Philadelphia, PA
February 18 New Jersey Performing Arts Center Newark, NJ *
February 20 Auditorium Theatre Rochester, NY *
February 21 Massey Hall Toronto, ONT
February 22 Hard Rock Live Northfield, OH
February 23 Chicago Theatre Chicago, IL *
February 24 State Theatre Minneapolis, MN
February 25 Riverside Theater Milwaukee, WI
More Dates TBA
To Follow Joe Satriani
Facebook: joesatriani
Twitter: @chickenfootjoe
Instagram: joesatriani
YouTube: JoeSatrianiOfficial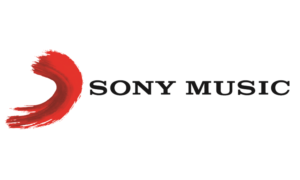 Sony Music – Legacy Recordings