What Happens Next musicians:
Joe Satriani – Guitar
Glenn Hughes (Deep Purple and Black Country Communion) – Bass
Chad Smith (Red Hot Chili Peppers ) – Drums
Mike Fraser (AC/DC, The Razor's Edge and long time Satriani collaborator since Crystal Planet) – Producer/Engineer/Mixer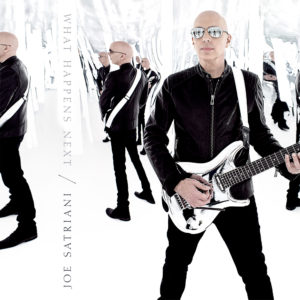 Joe Satriani certainly needs no introduction and remains one of my favorite guitarists of all time. What will be sixteen albums over the course of thirty one years, teacher of many other great guitarists (Kirk Hammet, Andy Timmons, Steve Vai, Alex Skolnick, Charlie Hunter, Larry LaLonde, Kevin Cadogan, Rick Hunolt, David Bryson, Geoff Tyson, Phil Kettner, to name a few), member of supergroup Chickenfoot, undeniably one of the most influential guitarists of all time, multiple Grammy Award nominations, headliner of G3 since 1995 featuring a veritable who's who of the greatest the guitar world has to offer and a man that just exudes passion and fun on every stage he has ever landed on are just a few meager mentions of this man's incredible talents. I have had the pleasure of seeing Joe quite a few times over the course of his long career and he so obviously loves what he is doing now more than he ever has. He just keeps getting better and enjoying it more and more as the years wear on. Where a jaded view of the music business has tainted the passion of so many other bands I have seen lately, Satriani hits the stage with continued wide-eyed wonder. Honestly, I think Satch enjoys playing more than his fans like watching him slay his beloved Ibanez.