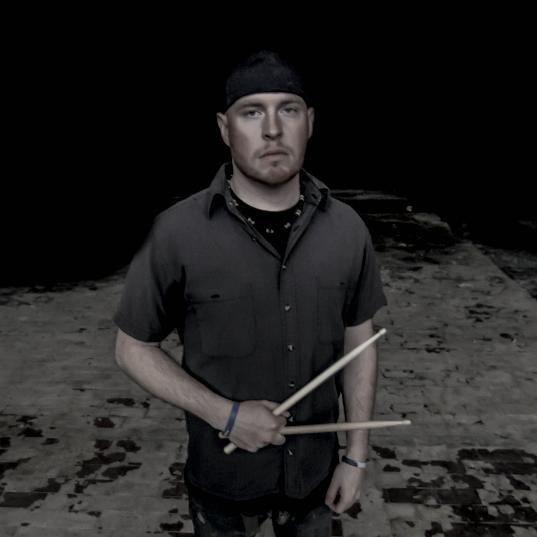 The last month or so has been a very exciting time for West Virginia metal legends Byzantine. The band was auditioning for a new drummer, finishing up recording 2 cover songs, and on the verge of signing a worldwide deal with one of the best labels in the business; Metal Blade. In steps West Virginia native Matt Bowles formerly of the band Our Malignant Beloved. He is the newest addition to Byzantine. The band will soon begin the task of writing and recording a follow up to their highly successful album "To Release Is To Resolve", which made several top 10 lists including ours. We were fortunate enough to catch up with Matt and get to know him a little better.
First of all, congrats on joining Byzantine. So tell us about the audition process and how you thought it went?
Matt Bowles: I have to admit that in all of my years as a drummer, I had never learned an entire cover song exactly as it was on an album. So learning songs as complex as Byzantines, note for note, was a new venture for me. I just had to put on my isolation headphones for drummers and focus on learning the song. I submitted 3 videos over the course of around two months, 2 originals, and a cover. I feel that the process was handled professionally and honestly, the worst part for me was the anticipation.
Knowing you were a fan of the band beforehand, how was the moment they told you that you were joining the band? And who told you?
MB: That moment is the moment any musician dreams of, seeing as how I was asked to join the band and told about the band being signed to Metal Blade in the same conversation. I was on my way home from a bad day at work when OJ called me and popped the question! Made a bad day great!
Since you are also a West Virginia native, how does it feel to now be a part of the state's most loved metal band, and joining the band just as they sign with an amazing label like Metal Blade?
MB: Aside from getting the opportunity to live the "rockstar" dream, one of the most rewarding feelings, for me, is to be able to do my part in the continuation of a WV metal legacy such as Byzantine. I am proud to not only be able to be a part of this great group, but also to be represented by such a notable label such as Metal Blade.
What do you feel best prepared you to be a successful drummer/musician?
MB: Music is one of the things I HAVE to be a part of in some way. Call it dedication or obsession, but it's what I've always done. I even had band practice on the day of my moms' funeral. But aside from the dedication aspect, I've had my fair share of bands and shows, all experiences leading me to this.
Who are your influences as a drummer?
MB: Good question. There's really to many to name them all, but off the top of my head I would say Matt Gartska, Tomas Haake, Mike Portnoy, and Tony Royster Jr. I would also say an honorable mention goes to Matt Wolfe as well. I've been listening to Byzantine since I was in high school and I would be a liar if I said his drum work didn't change my perspective on many aspects of music.
Other than your drumming abilities, what do you feel you bring to the table as a member of Byzantine?
MB: Personally I like to think of myself as a decently well rounded musician rather than just a drummer. I have been playing guitar almost as long as I've been playing drums, although drums are my main passion. I can't wait to see what my songwriting abilities can bring to the table!
For all the gear heads out there can you tell us about your kit/set up?
MB: I play a Pearl Masters 5 piece. 20 in kick, 12, 14, 16, 18 in. toms. Pearl's Joey Jordison signature snare, all Zildjian cymbals with Pearl hardware and rack. Since joining the band, I have been able to add a synth pad and a sampling station, which I'm more than excited about being able to use.
The band recently recorded 2 cover songs, were you part of that recording process or was it already done?
MB: The drums were already done by Wolfe before his departure. They were still working on the rest of it as I was joining the band, but I had no part in it.
Joining Byzantine I'm sure is a major accomplishment for you, have you set any other goals for yourself either personally or musically?
MB: As far as I'm concerned, there's not much more you could ask for as a metal musician from WV. I've always just wanted to play heavy progressive music and now is my chance. We will see where else it can take me in the years to come.
What are you most looking forward to now as a part of the band?
MB: Being in a band has a lot to do with comradery, and the guys in Byzantine as well as those who work closely with them have been more than welcoming. I can't wait to build friendships to last a lifetime and play music all over the world!
If you could pick any other 2 bands to go on tour with, who would they be?
MB: Definitely Meshuggah, and although there are many others that would come in as a tight 2nd, the first that comes to mind would be Animals As Leaders. Not even because they are my two favorites, but because when it comes to progressive, heavy music….No one's better in my opinion.