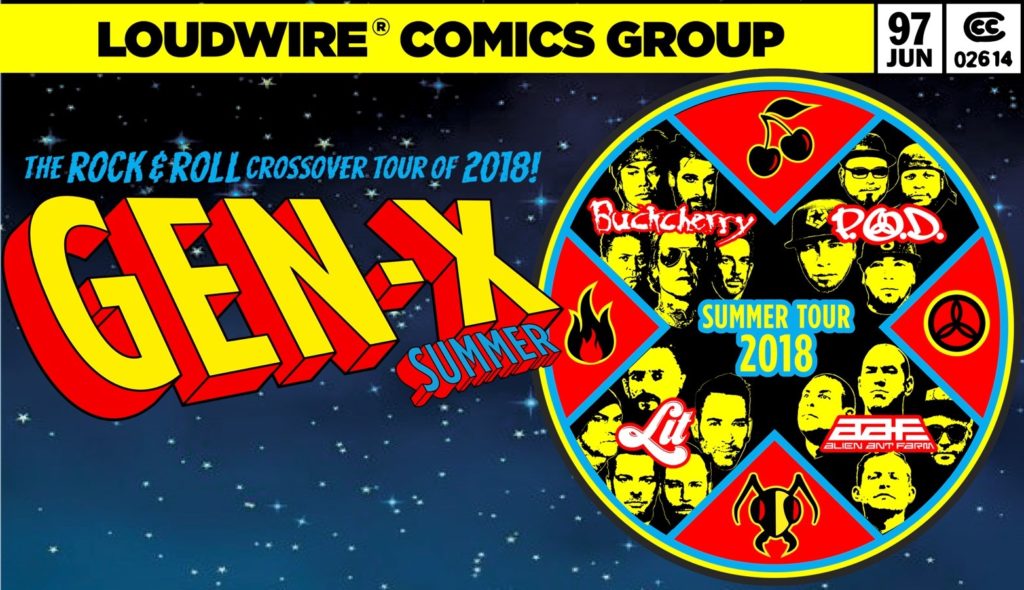 The rock and roll show that is the Gen-X summer tour made a stop off in Corbin, KY recently. Alien Ant Farm, Lit, P.O.D. and Buckcherry all are veteran bands that have been on the road a long time, so I knew the Corbin fans were in for some kickass music! That is exactly what these four bands brought!
Alien Ant Farm was first up out of this killer line up. Formed in the late 90's and with 5 albums and 1 on the way this multi-platinum selling band knew how to get a crowd going! Playing their hit songs like "Movies" and "These Days" the fans in Corbin where ready for what the night had in store. If you are in your mid to late 30's its impossible to watch this band and not be reminded of your youth and watching TRL on Mtv, you know when Mtv still actually played music. Alien Ant Farm wasn't done with them; Alien Ant Farm closed the set with their mega hit cover of Michael Jackson's "Smooth Criminal". The song that sky rocketed Alien Ant Farm to the forefront of the music scene in the early 2000's, at last check the video has over 135 million views on YouTube, and to think Youtube didn't even exist when this song was first released. "Smooth Criminal" dropped in 2001 and Youtube followed in 2005. You can also see our interview last year with Alien Ant Farm guitarist Terry Corso here.
Lit didn't waste any time with the excited and vocal crowd in Corbin. The band came out with a amazing cover of Tom Petty's song "American Girl", they even threw in a cool cover of The Cars "Just What I Needed". Mixing the covers in with their own hits was a nice touch! They've had a hit song or two over their career, songs like "Miserable" and the song that put them on the music map "My Own Worst Enemy". Something you may not know is that members of Lit own The Slidebar Rock -N- Roll Kitchen in Orange County, California. The bar/music venue/restaurant sits on the very spot that Leo Fender created possibly the most important contribution to Rock 'n' Roll ever – the Fender Telecaster and Stratocaster electric guitars, I mean how kickass is that? These guys still dominate a crowd just as fiercely as they did when they came on the scene. This also isn't the first festival they've played with Buckcherry either, as they both played the infamous Woodstock 1999. While tonights crowd pales in comparison to that event Lit's performance was spot on and for the duration of their set we was all 20 years younger at heart. They've taken a bit of change in direction with their 6th and latest album 2017's 'These Are The Days' but there is no denying Lit is a talented group of musicians that are making the quality music no matter the genre.
This was the second time this year I'd seen P.O.D. and they didn't disappoint either time! The coverage from earlier this year can be found here. P.O.D. has been at this for a long time, formed in the early 90's these 4 guys have played a lot of music together and that experience is on display every time they take the stage. Opening the set with "Boom" and from that moment on front man Sonny Sandoval had the fans in Corbin right where he wanted them! Sonny talked about a new album coming out later this year and while everyone (me included) is eager to hear the new songs the people in Corbin where ready for some classic P.O.D. songs! That's what they got when P.O.D. tore into "Youth of the Nation" "On Fire" and closing out the set with "Alive". P.O.D. shows no signs of slowing down!
I think everyone here in Corbin was a fan of at least one if not all four of these bands but as Buckcherry's time was approaching you could feel the anticipation growing with the crowd. Buckcherry didn't let them down, hitting the stage in high gear with "Ridin'" off of 2001's 'Time Bomb'. Then "Whiskey in the Morning" and Slammin'" and those were just the first three songs of a 13 song (plus a 2 song encore) extremely high energy set. These guys have been releasing music since 1999 and while Josh Todd is the only original member left since those days the band that's playing around him now is top notch in my opinion! Josh spoke about a new album coming out in the near future, exciting news as we all are looking forward to new Buckcherry tunes! But while we wait on new tunes they've got a killer setlist to play for us tonight, including "Lit Up", "Too Drunk…", "Sorry" and everybody's favorite "Crazy Bitch" which is what closed out the set. But this small (why southern and eastern Kentucky won't support a rock show I'll never understand) but vocal crowd at the Corbin Arena wasn't ready to leave, the Buckcherry guys rewarded them with a 2 song encore of "Chaos Is The Ladder" and stellar cover of the Door's classic "Roadhouse Blues".
As always the Corbin Arena is a great venue to see a show, easy to get to right off the interstate. No reason people shouldn't come out and support live music in Southern Kentucky!
Get out and see a show! There is still time to catch this amazing and nostalgic tour and a couple of these shows won't cost you a penny, that's right FREE SHOWS, it doesn't get any better than that. Save on a ticket and buy some merch.
GEN-X Tour: Featuring Buckcherry, P.O.D., Lit, & Alien Ant Farm Tour Dates
July 26 – Farmingville, N.Y. @ The Amphitheater at Bald Hill
July 27 – Worcester, Mass. @ The Palladium
July 29 – Easton, PA @ One Centre Square
July 30 – Watertown, N.Y. @ Exhibition Hall
July 31 – Barrie, Ontario @ Maverick's Music Hall
Aug. 3 – Moorhead, Minn. @ Bluestem Amphitheater
Aug. 6 – Sturgis, S.D. @ Iron Horse Saloon FREE SHOW
Aug. 9 – Pocola, Okla. @ Choctaw Casino & Resort FREE SHOW
Aug. 10 – Lake Charles, La. @ Golden Nugget Casino – H20
Aug. 11 – El Dorado, Ark. @ Griffin Music Hall
Aug. 12 – Nixa, Mo. @ Summers at the River
Aug. 14 – Aurora, Colo. @ Stampede
Aug. 17 – Glen Fora, Wis. @ The Northwoods Rock Rally
Aug. 19 – Bonner Springs, Kan. @ Providence Medical Center
Aug. 21 – Corpus Christi, Texas @ Concrete Street Pavilion
Aug. 22 – Cedar Park, Texas @ HEB Center
Aug. 24 – Irving, Texas @ The Pavilion at Toyota Music
Aug. 25 – El Paso, Texas @ Speaking Rock Entertainment FREE SHOW
Aug. 26 – Sugarland, Texas @ Smart Financial Centre at Sugarland
Aug. 28 – Abilene, Texas @ Abilene Civic Center
Aug. 30 – Sioux City, Iowa @ Tyson Events Center
Aug. 31 – DuQuoin, Ill. @ DuQuoin State Fair
Sept. 1 – Naperville, Ill. @ Naperville Last Fling
Sept. 3 – St. Louis, Mo. @ Hollywood Casino Amphitheatre *
Sept. 6 – Scottsdale, Ariz. @ BLK Live
Sept. 7 – Scottsdale, Ariz. @ BLK Live
*Pointfest Radio Show with Offspring, 311, and more