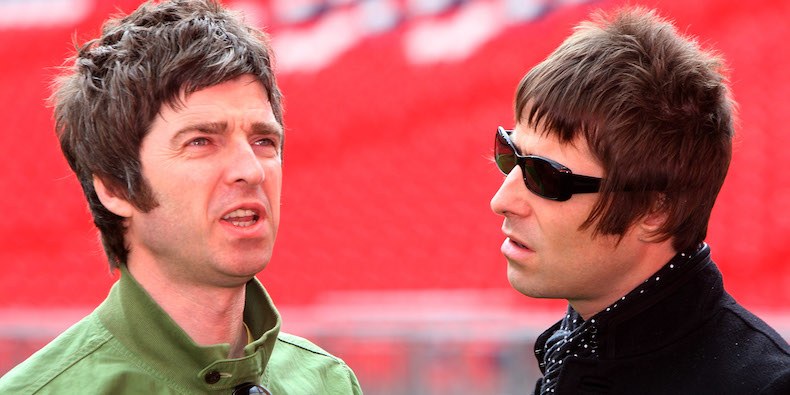 If you had a pulse in the 1990's and early 2000's you are sure to know British rock legends Oasis. The Manchester based band is led by vocalist Liam Gallagher and his brother songwriter and lead guitarist Noel Gallagher. The brothers have created some of the best songs written in the last two decades creating 7 studio albums with sales in excess of 40 million units. The brothers have a knack of creating music together, but their relationship otherwise has always been tumultuous. The band called it quits in 2009 at the tail end of a tour with 3 remaining dates.
We have seen the re-formation or reunion of bands that no one thought would ever happen like Guns N Roses, The Black Crows, Staind, My Chemical Romance, Rage Against The Machine and others. Some of those bands have had horrible chemistry with one another at the time of their breakup and most thought that they would never play together again. Both Oasis brothers have toured solo and in other bands (Noel Gallagher & The High Flying Birds, Beady Eye and under solo under their own names) but neither has seen the type of success they achieved together. Both Noel and Liam still talk about how great they were together and how much they love Oasis and have remained proud of the work they've done. I'm sure the brothers miss the success they had together and being on top of the world as one of the most successful bands in the world during their tenure. A reunion would not only return them immediately to stardom and one of the hottest tickets if they was to tour, but there could be a tremendous amount of money to be made if the duo put the past behind them and ventured forward in the band we all know and love. The two brothers have no relationship what so ever at this time, and constantly take jabs at each other in the media. Liam has usually always been the more aggressive shit talker and in the past few months he has backed off and even invited his brother Noel to his upcoming wedding as well as calling Noel a great songwriter; which we of course all know he is. Liam was asked if he would invite Noel to the wedding by British talk show host Jonathan Ross. He stated "Yeah I'm gonna invite him why not he's my brother man, all he can do is turn it down." Liam is marrying longtime girlfriend Debbie Gwyther who he has been dating for 7 years. It was also reported that the brothers mum persuaded Liam to invite his brother to the wedding even though he wasn't invited to Noel's 50th birthday party in 2017. It's also stated that Liam believes his brother will attend the wedding which is planned sometime in 2020. If Noel does attend it could just be the first step in the right direction of patching things up and getting Oasis back together.
It's been 11 years since the band broke up and both Gallaghers' seem to be slowing down in their verbal assaults on one another, and Liam essentially offering the olive branch to mend their relationship with an invite to his wedding might just kick start a reunion. While both brothers are hugely talented the combination of Noel's songwriting and Liam's vocals are meant to be paired together and after being absent for an entire decade I feel the world needs Oasis again.