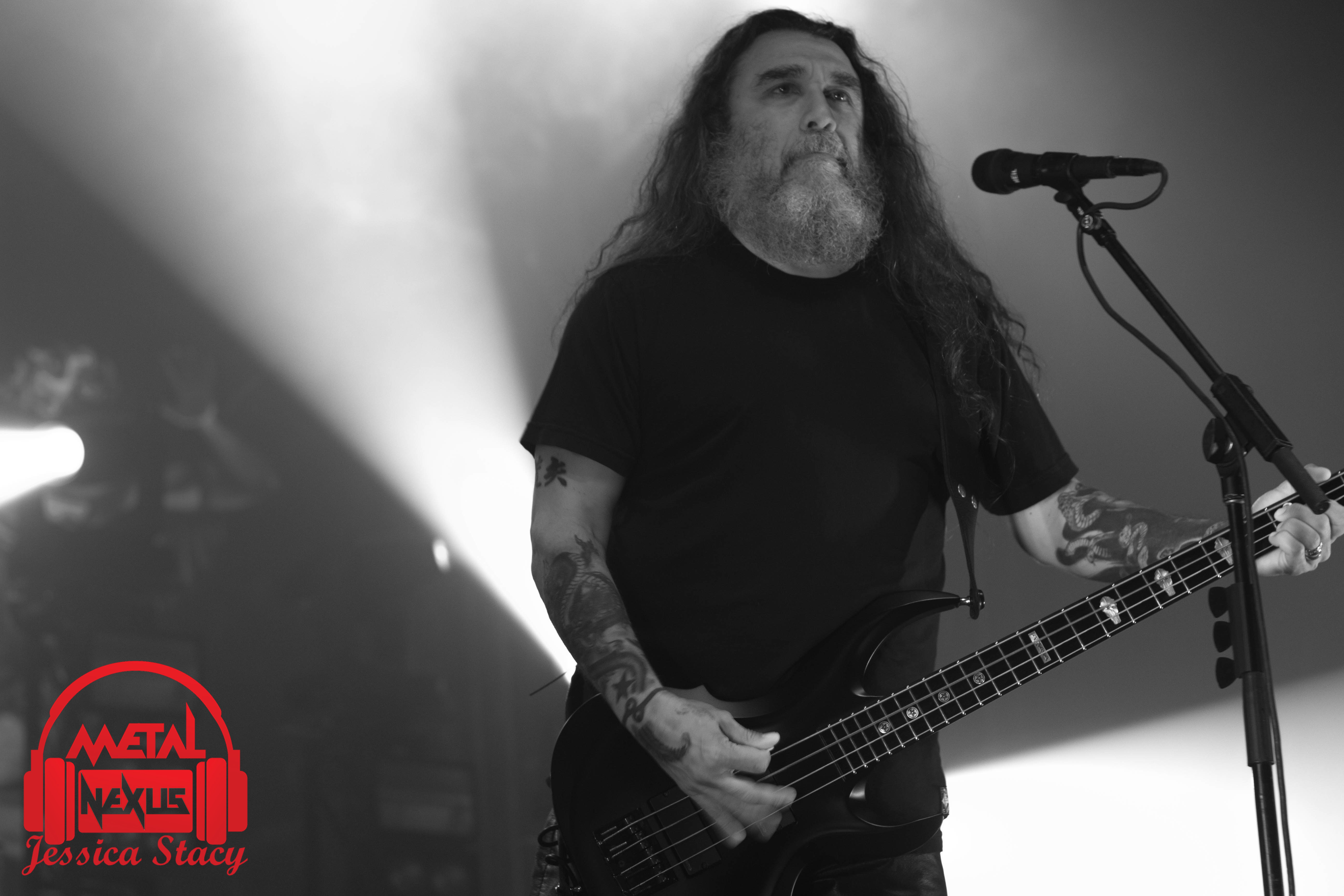 Slayer playing shows by themselves is more than enough to get metal heads out to a show. When you add Testament and Carcass to the bill that makes the tour a must see. Any of these 3 bands could headline a show or festival and draw a massive crowd. I knew we were in store for a massive turnout at Express Live in Columbus, Ohio. The first band of the night to take the stage was the Liverpool band Carcass. They quickly came out and got the crowd's attention opening the show with their song "Unfit for Human Consumption". When you are in the crowd it's always great to catch a guitar pick, drum stick or really anything the band throws out at you. Bassist and singer Jeff Walker threw out more picks that night than I have ever seen anyone throw. The crowd kept growing and growing with each song Carcass played. By the time they were playing "Cadaver Pouch Conveyor System" there wasn't even enough room to scratch your own ass. Carcass sounded flawless on stage. Note after note everything was perfection. It's always amazing when the opening band is on stage and they blow you away. Carcass then played one of my favorite songs which is "Heartwork" the title track of their 1993 release. The song just has this fast paced shredding guitar riffs that flow into some slowed down groove section of the song makes you want to move around the mosh pit and tackle people. I am not the only person that feels this way, because during this song the pit was going absolutely insane.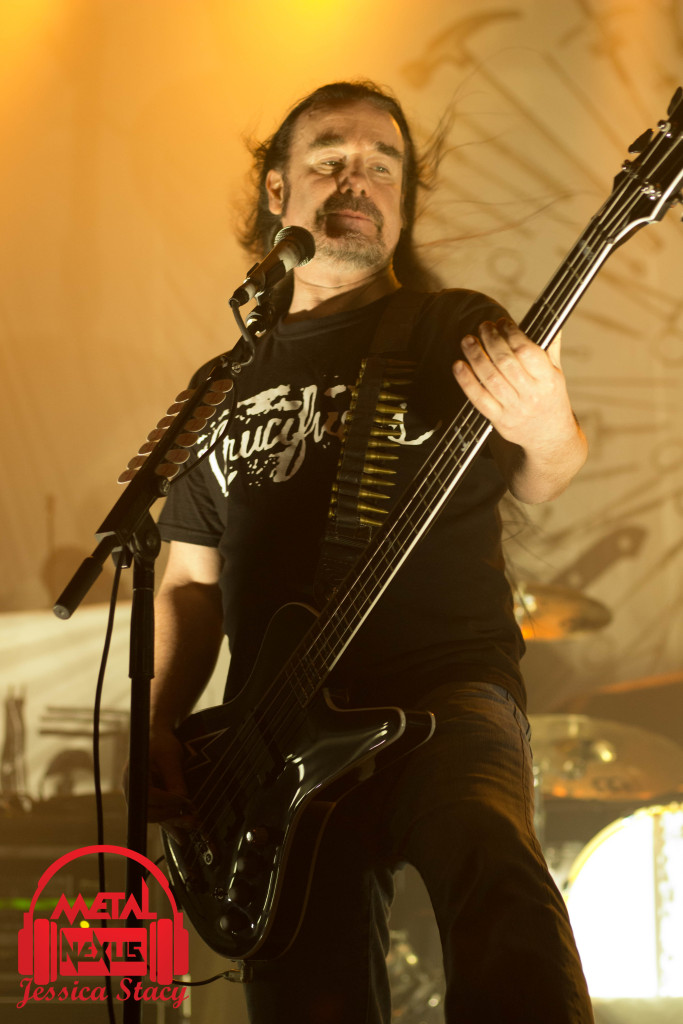 For several minutes I thought there could be no way that Testament could outdo Carcass. I've seen Chuck Billy and company take the stage several times and they never disappoint, but Carcass was simply amazing. Testament always puts on a stellar show. With The Atomic Clock Gene Hoglan on drums it even adds a little something extra to the band. Also now they have Steve DiGiorgio back playing bass in the band after a 10 year absence. Steve also brings a little something extra to the stage, with his trusty Rickenbacker he really takes bass playing to another level. Testament began their set with "D.N.R. (Do Not Resuscitate)" and the crowd of course loved it. Alex Skolnick and Eric Peterson and their dueling guitars from song to song just mesmerizes a crowd. One of the most powerful moments during their set was when they played "Rise Up". Chuck sang and played his air guitar as normal on stage and the crowd screamed along every time the chorus hit. All at once everyone screamed "RISE UP" and at the same moment the whole crowd would move. I was really hoping they would play one of their newer songs that I absolutely love which is "Native Roots" but I didn't get a chance to hear it. They did however play a fan favorite "Practice What You Preach". Every eye in the venue was glued to the stage.
By this time the venue was packed. It was the most crowded venue I have ever step foot in. Everyone was shoulder to shoulder and ass to ass. Just getting to the bar for a drink was nearly impossible. The crowd started to chant "Slayer" over and over in anticipation of the band taking the stage. A large white curtain was put up in front of the stage. The lights dimmed and suddenly there were pentagrams and upside down crosses shining onto the curtain. Suddenly the music got more intense and the Slayer eagle crest appeared in front of us. The whole curtain turned red as the guitar riff for "Repentless" rang out and the curtain dropped. One of the greatest intros to a show you will ever find. The moment they started to play I was shoved at least 30 feet forward as the crowd struggled to get closer. Before I realized it I'm surrounded by mosh pits and pot smoke. They go from "Repentless" right into "Post Mortem" and the crowd doesn't blink an eye. Every metal head in the building is moving non-stop. Half the eyes in the crowd are fixed on Kerry King as he shreds from his powerful stance stage left.
One of the founding members of Slayer, Jeff Hanneman passed away in 2013. Stepping up and filling the void he left in the band is Exodus guitarist Gary Holt. No one will ever be able to fill the shoes of Hanneman, but if you had to choose someone Gary Holt would be at the top of anyone's list. Lots of talk has been going around that Slayer isn't as good or creative since Hannemans passing. Of course his death will forever change the band but Slayer will continue on and when you get a chance to see Gary Holt live and in person you will be in awe of how great a musician he is. 'Repentless' is an amazing album and proves that Slayer will always continue to put out amazing albums that never mellow out. One of the coolest things of the show was by far Gary's ESP Guitar that was painted with his own blood. He gave up 18 vials of his own blood to paint the guitar. The artist was Vincent Castiglia who routinely uses blood as his medium. The guitar is simply amazing.
Slayer continued on through their set with hit after hit of amazing songs. The biggest crowd pleaser of the night was most likely "Disciple" where everyone in the crowd sang along screaming to the chorus "God Hates Us All". If you are an old school Slayer fan one of the things you will miss is seeing Tom Araya head banging like a mad man through the entire set. Several years ago Tom had surgery on his neck which put a stop to his ferocious head banging. They saved some of the best songs for last playing fan favorite after an favorite like "Seasons in the Abyss", "Dead Skin Mask", "World Painted Blood", "Raining Blood" and finished the night with "Angel of Death". Slayer always draws a huge crowd so it's not often these days that you get to see them in a smaller venue. Express Live in Columbus is by no means small, but it is probably one of the smaller venues you will be to see Slayer dominate.
If you were lucky enough to be at this show as well, let us know what your favorite moment was, or what song was your favorite?
Follow the bands on Facebook below:
Slayer
Testament
Carcass