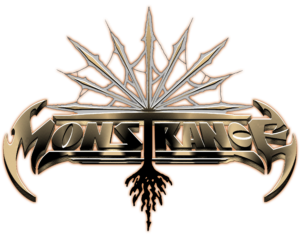 This is the latest news about MONSTRANCE, a metal supergroup that have began to accumulate a steady following over the past few months. In a recent statement, founding guitarist Carlo Regadas said of the band..
Not many know that, by the time I got rushed into hospital on 3rd September with severe necrotising pancreatitis and splenic vein thrombosis, I'd nearly lost my entire band, due to personal commitments and logistics. I lost my bass player whilst I was in hospital and that left only myself and Steven Hargraves. The departure of the previous members was purely amicable and we're all still great friends who wish each other success and happiness in our respective lives. From my hospital bed I was able to put a new lineup together and we now have a lineup that is able to play gigs, record and tour. The new lineup is not only dynamic and highly musically proficient, it also has a lot of quality, pedigree and experience in extreme metal over the last 30 years, it's also the most stable lineup this band has had, we all live close enough to rehearse regularly etc. I now have a clean bill of health and I now look forward to making some seriously earth-shattering heavy metal with these lads."
The new lineup is as follows:
Carlo Regadas (ex-CARCASS) – Lead / Rhythm Guitars                                                                                                    Steven Hargraves (BALLPEIN) – Rhythm Guitar                                                                                                              Rich Mumford (GODTHRYMM, ex-MALEDICTION) – Bass Guitar                                                                           Rik Simpson (AUSTERYMN) – Vocals                                                                                                                                  Dan Mullins (BLASPHEMER, ex-MY DYING BRIDE, ex-BAL-SAGOTH) – Drums
This line up will be recording the 'Injustice for All' EP for Cosmic Key Creations on limited edition black and gold 12" vinyl and Transcending Records on CD and all digital platforms.
The band's first live performance will be Eradication Festival in Cardiff, with WOMBBATH, HECATE, ENTHRONED, MERCYLESS and more on 20 May!
Stay tuned for more information regarding the release of the EP.