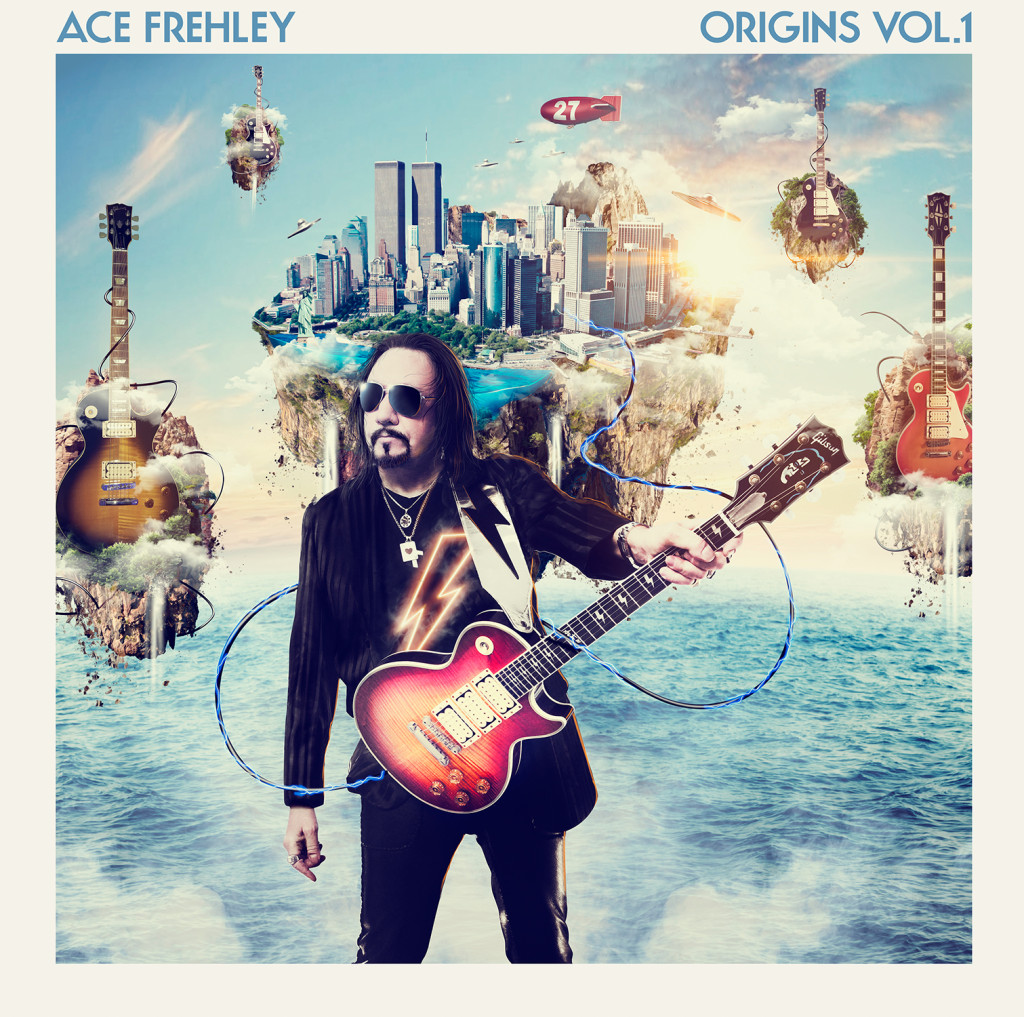 Legendary former KISS axeman Ace Frehley is back at it again! This time paying homage to songs and artists that inspired him to become the "Space Ace" that he is today. "ORIGINS VOL. 1" is a high energy collection of rock 'n roll classics re-purposed and repacked by the Spaceman giving them all a fresh new sound like only Ace can. Coming fresh off of a Billboard 200 Top 10 release with 2014's SPACE INVADER (the only KISS related solo album to accomplish that feat) Ace keeps the momentum rolling with his latest offering that will hit the streets April 15th 2016 via eOne Entertainment.
The lead single and album opening track is the mystic CREAM classic "WHITE ROOM" (listen to White Room streaming below) Ace delivers a stellar performance on this standout track. He laid down comfortable vocals that give it the feel of an original Ace Frehley song, all the while not changing any of the melodies or mood that makes "WHITE ROOM" great in the first place. Second up on the album is a cover of the ROLLING STONES "STREET FIGHTING MAN". Ace has been known to cover Stones tunes from time to time, most commonly his oft covered version of 2000 MAN. Ace's new take on "STREET FIGHTING MAN" features blistering guitar solos that do not stretch far from the classic solos he laid down for KISS in the early 70's that helped make him famous. The guitar tone of the opening riff sounds straight from the book of Keith Richards, it's dead on. "STREET FIGHTING MAN" isn't a stretch, or a step outside the box for Ace at all. Actually it's right up his alley. Long time fans will love it. Next up we get a JIMI HENDRIX cover. I love the decision Ace and company made when deciding the Hendrix cover they wanted to do was "SPANISH CASTLE MAGIC". So often covers albums are watered down with the same songs over and over again. "SPANISH CASTLE MAGIC" is refreshing. Featuring Rob Zombie guitarist JOHN 5 on guitar alongside Ace this jam smashes you in the face right from the get-go with heavy guitars that instantly pull you in. And a chorus with a heavy groove and energy that will have you nodding your head in approval.
What is better than an Ace Frehley album? Well, how about an Ace Fehley album that reunites him with KISS frontman PAUL STANLEY for a cover of FREE's "FIRE AND WATER"! After all the mudslinging for the past sixteen years it's nice to see Ace and Paul put their differences aside. Paul delivers an amazing vocal performance on this track. We all know that Paul's voice isn't what it used to be. Hey, time takes its toll on everyone. Here Paul manages his voice in a deeper registry and really pulls off a great performance on this mid-tempo classic. Hearing Ace and Paul together again is truly a thing of beauty.
I've often stated that THIN LIZZY is the most underrated rock band of all time. It's awesome to hear Ace cover the under-appreciated THIN LIZZY battle cry "EMERALD" as the next track on ORIGINS VOL. 1 and to add fuel to the fire it features an appearance from Guitar Icon SLASH on guitar. All the energy of the original is here. Ace's vocals are pin point. But the highlight of this track comes during the guitar solo when Ace and SLASH exchange solos back and forth with each other. What guitar player on Earth doesn't have a minute to listen to that? No covers album is complete without some Led Zeppelin. Ace choose to do "BRING IT ON HOME" and did it in a style that is all his own.  You can really hear how a song like this inspired Ace to become the musician he is today. Filled with catchy riffs and bluesy guitar, it's the basis of what rock 'n roll is all about. Zep fans will not be let down by Ace's take on it. Next up is "WILD THING" originally performed by The Troggs but for everyone of my generation better known as a Jimi Hendrix classic. Either way Ace is joined by rock goddess LITA FORD as she sings the pre-chorus allowing herself and Ace to do the hook together. It's not bad but maybe my least favorite song on the album. Fans will still dig it. "PARASITE" is the next track on the album. Of course "PARASITE" is Ace covering Ace as this is a classic KISS song. But only this time ACE is on vocals and is again joined by JOHN 5 on guitar. This version of "PARASITE" is supercharged and better than the original in my opinion. Ace and JOHN 5 really manage to breathe new life into it. Ace's guitar solo is red hot and his guitar tone is sharp as a knife as he and John 5 exchange riffs during the guitar solo section. I can't wait for fans to hear this one. STEPPENWOLF's "MAGIC CARPET RIDE" is the next track as the album is starting to wind down. I honestly can't think of a song that is better suited for Mr. Frehley to cover than this one. With a vocal style that is tailor made for Ace, this new take of an american classic really rocks. It's high energy, fun and fitting. Everything about "MAGIC CARPET RIDE" kind of represents who Ace Frehley is. PEARL JAM's MIKE McCREADY joins Ace on the next song. A cover of KISS's "COLD GIN". A song often associated with Ace but that he actually didn't sing for KISS. This version is very true to the original but the standout moment is the instrumental section in the middle with Ace and Mike ripping up that memorable and ridiculously catchy guitar riff and adding some guitar soloing at the end of it. The next to last song on the album is THE KINKS "TILL THE END OF THE DAY". Simple and fun. This is a good jam that anyone who enjoys Ace's music will enjoy and appreciate. The last tune on the album is one more KISS song. This time it's "ROCK 'N ROLL HELL". Originally on the CREATURES OF THE NIGHT album, "ROCK 'N ROLL HELL" is a solid album closer. Ace's vocals fit like a glove on this heavy groove oriented rendition. People are going to love it. Personally I would rather hear deep tracks like this one as opposed to songs everyone knows and hear every day on classic rock stations.
"ORIGINS VOL. 1" is a solid outting from the Space Ace. Fans all over the world are truly gonna be happy with it. The thing that stands out the most to me is how good Ace's vocals are. I honestly believe he is a better singer in 2016 than he has ever been. He manages to cover some of the greatest singers of all time on this album, and all he does is make the songs his own and rock'em!!