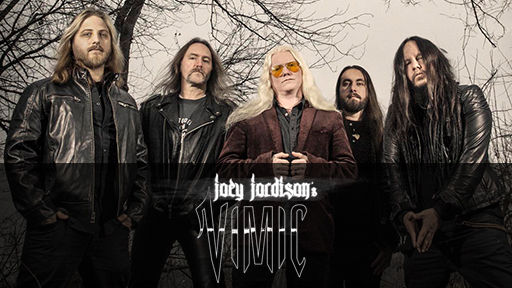 *Every Tuesday and Thursday from now until Chicago Open Air gets here we will be releasing an article about a band playing the festival to get you familiar with them.*
Today's artist is Vimic.
On Friday, July 14th, alternative metal band Vimic will be bringing their heavy sound at Chicago Open Air. This will be the band's first time playing a Danny Wimmer Presents event and it is one of the most anticipated sets of the weekend. Vimic formed just last year when Joey Jordison replaced Scar the Martyr lead singer Henry Derek (Act of Defiance, Thrown Into Exile) with Kalen Chase. Kalen Chase has actually toured with Korn (also on COA) in the past as a backup vocalist. The rest of the lineup remained the same as Scar The Martyr until guitarist Kris Norris left the band. He was then replaced by Steve Marshall. They've only released three songs thus far, but each song continues to show more and more potential for how great the debut record will be. Check out all three songs below.
Vimic has already showcased just how diverse they can be. Their debut song "Simple Skeletons" is perfect for the Slipknot fans that Jordison brings to the band as it is the band's heaviest track. The video for "She Sees Everything" is metal as possible with the band playing outside in a forest, headbanging, epic guitar solos, and a dark theme to go along with all of that. "My Fate" is the most radio friendly track for the band (still very heavy at the same time) and received play on radio stations across the US including Sirius XM Octane. The band's debut record 'Open Your Omen' is set to be released via Roadrunner Records sometime this year but doesn't have an official release date yet. Buy your Chicago Open Air tickets to see Vimic live here. If you can't make it there, check out where else Vimic is hitting the road this year below. Be sure to follow the band and festival page on Facebook for updates on the upcoming Vimic record and news on the festival.
Vimic is:
Joey Jordison – Drums
Matt Tarach – Keyboards
Steve Marshall – Guitar
Kyle Konkiel – Bass
Kalen Chase – Vocals
Jed Simon – Guitar
Vimic Tour Dates:
06/20 Peoria, IL – Limelight
06/21 Memphis, TN – Minglewood Hall
06/24 Lubbock, TX – Lonestar Pavilion
06/25 Abilene, TX – Abilene Civic Center
06/27 Oklahoma City, OK – Diamond Ballroom
06/28 St. Louis, MO – The Pageant
07/01 North Myrtle Beach, SC – House Of Blues
07/02 Norfolk, VA – The Norva
07/03 Lancaster, PA – Freedom Hall
07/05 Portland, ME – State Theatre
07/07 Asbury Park, NJ – Asbury Park Convention Hall
07/09 Warren, OH – Packard Music Hall
07/11 Rockford, IL – Coronado Theatre
07/12 Cedar Rapids, IA – McGrath Amphitheater
07/13 Cleveland, OH – The Odeon Concert Club
07/14 Bridgeview, IL – Chicago Open Air
07/15 Cadott, WI – Rock Fest
07/19 Little Rock, AR – Metroplex
07/21 Corpus Christi, TX – Concrete Street Amphitheatre
07/22 Dallas, TX – South Side Ballroom
07/23 Midland, TX – La Hacienda Center
07/25 Wichita, KS – The Cotillion
07/26 Des Moines, IA – 7 Flags Event Center
07/28 Madison, WI – Orpheum Theater
07/29 Rochester, MN – Mayo Civic Auditorium
07/30 Fargo, ND – Fargo Civic Auditorium
08/01 Bismarck, ND – Bismarck Event Center
08/03 Billings, MT – Shrine Auditorium
08/04 Sturgis, SD – Ironhorse Saloon
08/05 Lincoln, NE – Centennial Mall & M Street