"International Day of Slayer", the annual heavy metal holiday that celebrates the uncompromising, loud and defiant music of the iconic thrash/punk/metal band SLAYER, is celebrating its 12th year today, 6/6/17.  IDoS is the day where you stage a "Slay-out, Slay-in, Slay-on, Slay-off" – don't go to school, don't go to work – but spend the day listening to Slayer at nuclear blast level in your car, your home, or in the public place of your choice. True Slayer devotees do NOT use headphones but crank the sound up as loud as possible so that everyone within earshot can hear SLAYER.
To celebrate this year's IDoS, SiriusXM's Liquid Metal (Ch. 40) is playing SLAYER every hour from 12 Midnight ET 6/6 through to 3AM ET 6/7, and the channel's Jose Mangin will be airing interviews with the band members.  SiriusXM is also hosting a special contest where one winner + a guest will receive round trip air transportation to Las Vegas for SLAYER's August 4 show, plus two nights at a Vegas hotel, two tickets to the show, a meet'n'greet with members of SLAYER and $200 ground transportation.  But this prize package just gets better:  the winner will also score his or her very own Tom Araya Signature Bass TA-204 FRX model, PLUS the brand new Kerry King B.C. Rich signature guitar, the KKW30 model, which is not yet available in stores. Mangin will be on hand in Las Vegas as the winner's personal host/escort. Those interested in entering the contest should stay tuned to Liquid Metal, or can log onto www.slayer.net where all details will be posted shortly.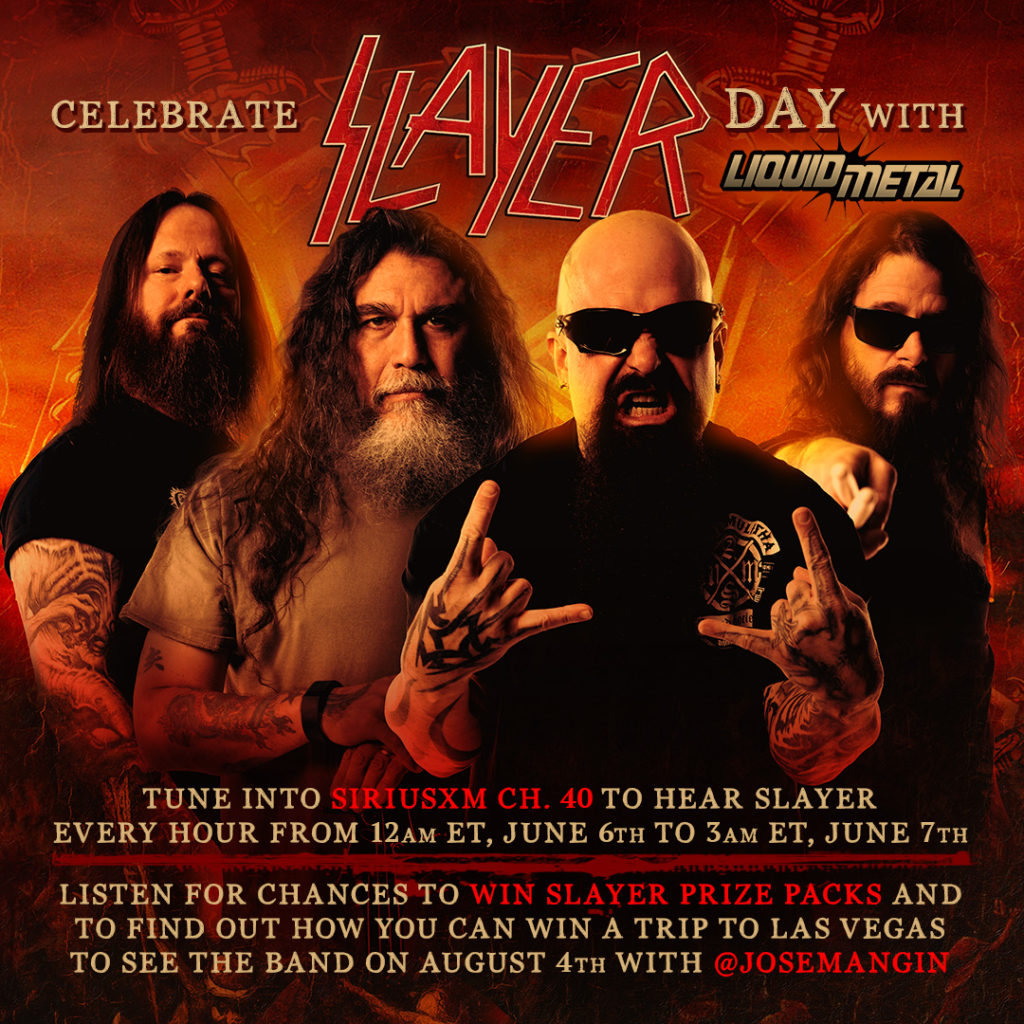 Hold on my metalhead friends, when it is "International Day of Slayer", you don't just celebrate it by listening to SLAYER. There's something more your way. Now, let me assume you all must be knowing that SLAYER, LAMB OF GOD and BEHEMOTH are coupling up for a massive 22-date North American tour starting this 12th July, if you do know great and if you weren't aware then dude you're living under a rock! Now, were you planning to see these three titans play together but can't really plan on cause of low budget? What if I told you that you could be able to see them live? Stop everything and here's the deal. For TODAY ONLY, ticket prices for every date on the tour have been slashed, so beginning at 6:06AM (local time) and before 11:59PM (local time), log onto www.slayer.net/tour and secure your place in the pit and watch this epic meltdown with your own eyes.
Kerry King/Slayer quotes:
"As metal tours go, this is the one that your fellow metal heads will be bragging about if you miss it! Not very often I get to go on tour where we are all friends to start. That being said, the potential for greatness at these events is mind blowing. I look forward to being a part of it, and hanging with old friends- bands as well as fanatical fans! Let the festivities begin!!"
Dates for this ultimate down under from hell, utterly sacrilegious tour are as follows:
JULY
12th – Sanford Center, Bemidji, MN
18th – Express Live!, Columbus, OH
20th – Red Hat Amphitheater, Raleigh, NC
21st – St. Augustine Amphitheater, St. Augustine, FL
23rd – Electric Factory Outdoors, Philadelphia, PA
25th – Blue Hills Bank Pavilion, Boston, MA
27th – Theater at Madison Square Garden, New York, NY
28th – Pier Six Pavilion, Baltimore, MD
30th – Municipal Auditorium, Nashville, TN
AUGUST
1st – Providence Medical Center Amphitheater, Bonner Springs, KS
2nd – 1stBank Center, Denver, CO
4th – The Joint, Las Vegas, NV
5th – The Forum, Los Angeles, CA
8th – Vina Robles Amphitheater, Paso Robles, CA
9th – Bill Graham Civic Auditorium, San Francisco, CA
11th – The Cuthbert Amphitheater, Eugene, OR
12th – WaMu Theatre, Seattle, WA
14th – Encana Events Center, Dawson Creek, BC  CANADA
15th – SMS Equipment Stadium, Fort McMurray, AB  CANADA
17th – KettleHouse Amphitheater, Missoula, MT
19th – Isleta Amphitheater Albuquerque, NM
20th – Comerica Theater, Phoenix, AZ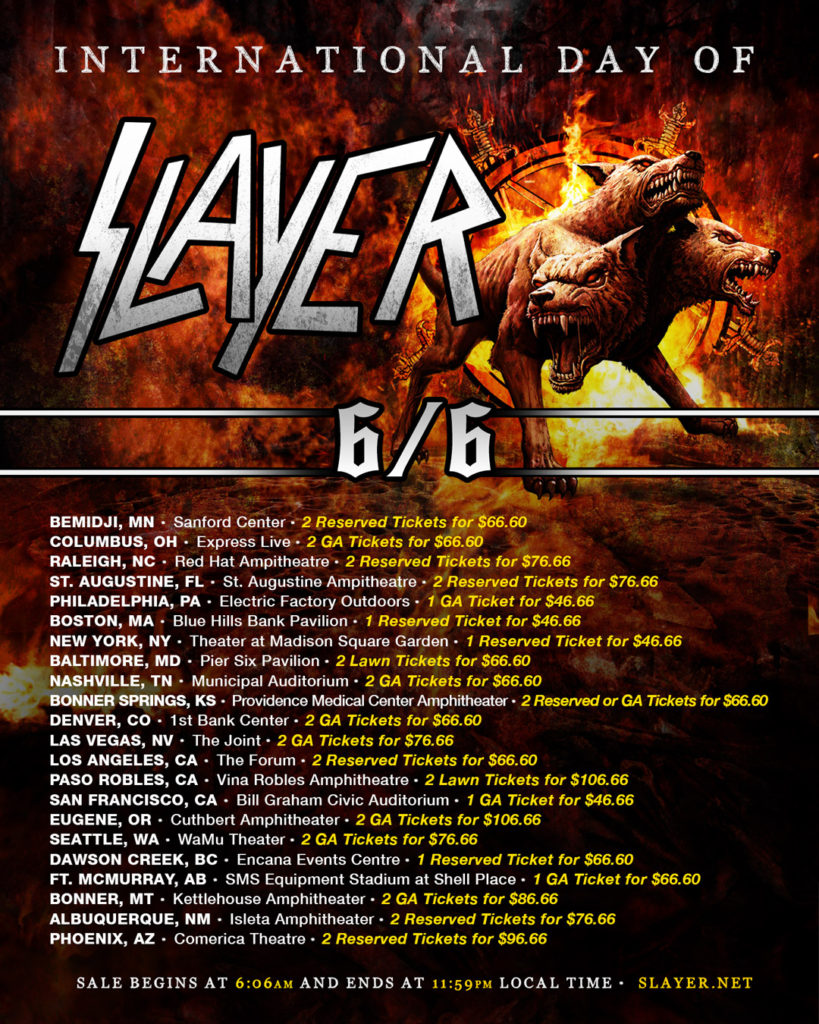 TODAY ONLY[6:06AM (local time) – 11:59PM (local time)] !
Head over to nuclearblast.com/slayer for one a one day sale! Nuclear Blast will also include a free SLAYER gift with purchase. Ships worldwide. Can this get any better!? What are you waiting for? Go get 'em now!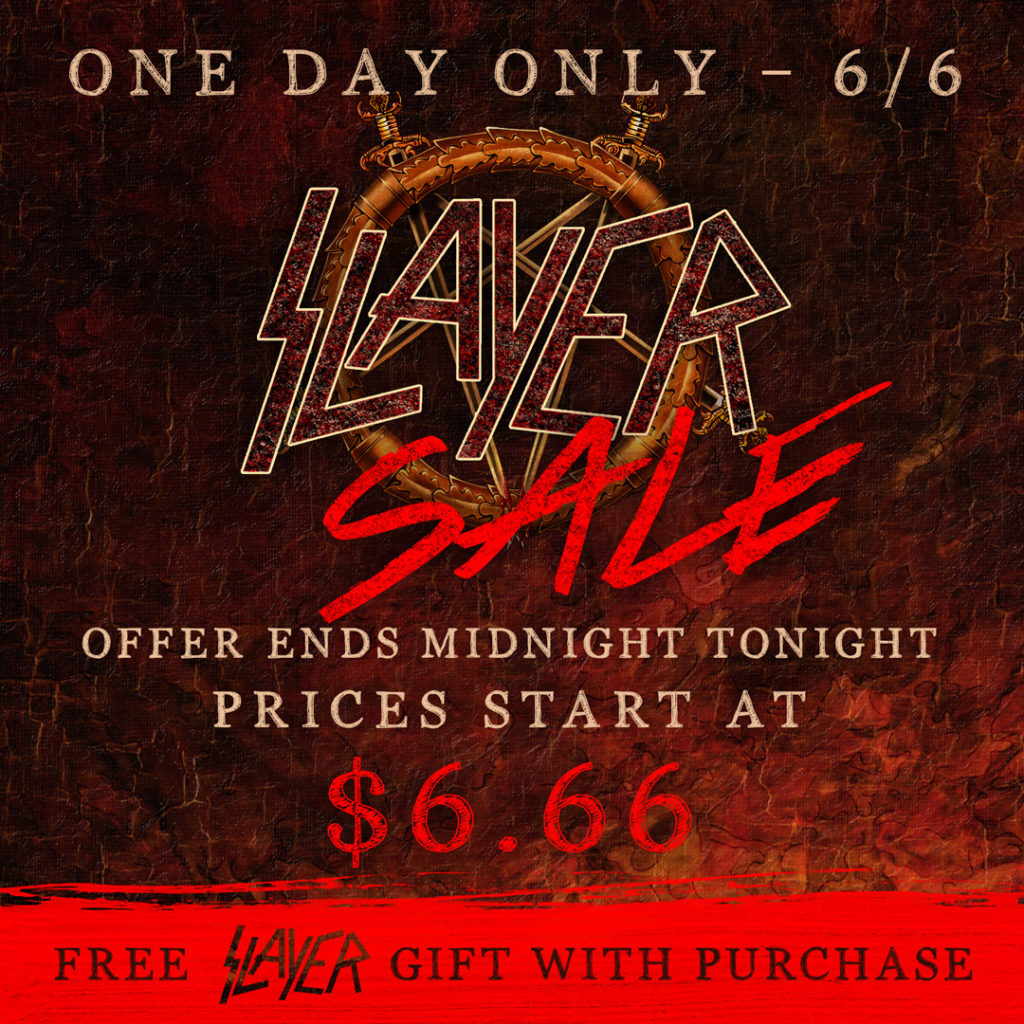 International Day of Slayer Official Website:
http://www.nationaldayofslayer.org