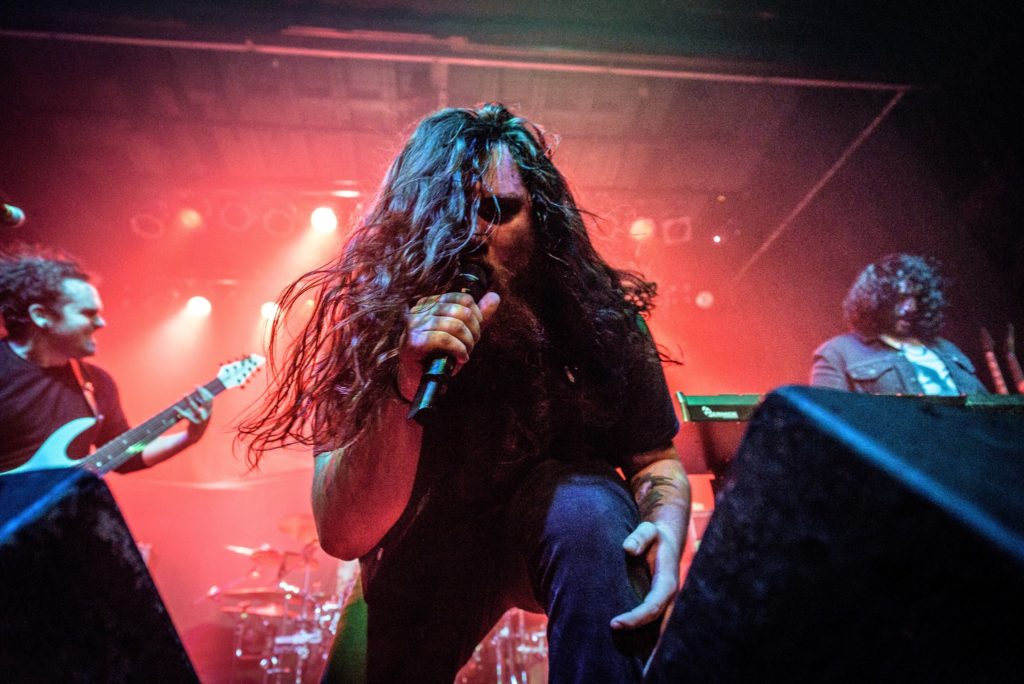 Oni is a Canadian progressive metal band that was founded by vocalist Jake Oni in 2014. He says his vision was "to be the band I never got to see", and his vision has quickly evolved into the band everyone wants to see. With Jake Oni handling vocal duties, Martin Andres and Brandon White on guitar, Chase Bryant on bass and Joe Greulich on drums, they are also perhaps the first metal band to feature a Xylo-synth player, in the form of John "D", which adds an interesting and intriguing dynamic. Recently signed with Blacklight Media/Metal Blade Records, Oni has released their debut album entitled 'Ironside' on November 25th. The band is already an aggressive thunderstorm and just to crank things up a notch Lamb Of God's Randy Blythe was also featured on the track "The Only Cure". The band has already been tabbed as a must see band from various music journalists across the country. If you simply watch some video footage of their shows it will have you eagerly awaiting them to play in your town. If you haven't yet had the chance to hear 'Ironside' I demand you check it out now, and you will quickly fall in love with their unique sound.
Metal Nexus: First off I have to say that 'Ironshore' is one of the best full length debut albums I have heard in a long time. How did it feel when you realized the album was really taking off and fans were falling in love with your style?
Jake Oni: Well thank you for those very kind words! When fans and critics like what your doing it's a crazy feeling. Even to have fans is a crazy feeling. We appreciate the support and love we have been receiving.
Metal Nexus: The band has mentioned before that some of you have studied Classical music, How do you think knowledge of classical music plays into composing your style of music?
Jake Oni: Studying music in general, and broadening your musical horizons allows you to cross many boundaries. We take a lot from not only classical but Jazz, fusion, funk, EDM, punk, thrash, hip-hop…constantly looking for cool new elements that could maybe be transferred over to our world of music.
Metal Nexus: One of the unique things about the band is of course the xylosynth. How was it first incorporated into the band?
Jake Oni: You know originally ONI was doing our own thing before John was in the band, obviously Ironshore wasn't out but we were writing and stuff and it just kinda clicked that we should invite John D into the band. He was someone I didn't personally know but Chase (Bass) knew him really well and gave him a call and we got John and Joe our drummer at the exact same time. Martin was our drummer at the time and is obviously not any more but moved to guitar and so we didn't have a drummer. John D was just a no brainer for the band.
Metal Nexus: The track "The Only Cure" featured Randy Blythe from Lamb Of God. How was it working with him?
Jake Oni: Randy is a really cool guy to work with. For him it was a little out of his comfort zone stylistically working with us. We aren't Lamb of God, were a different kind of metal. It isn't always easy signing over riffs that are in 5 and 7. I think he really liked it though, I think he liked the vibe that we were going for and the vocals that he brought to the table are just incredible. It was great experience working with him and he writes killer lyrics. Overall a good guy and easy to work with.
Metal Nexus: With Randy being such a veteran of the music industry did he lay any wisdom on you?
Jake Oni: So much! He gave me a lot of knowledge and advice. Im always keeping his words of wisdom in mind. He is a guy who I feel I could call any time and would be down to talk. Great guy to know and to be able to hang with. I am a fan of his also so having him as a mentor is just crazy.
Metal Nexus: Also "The Only Cure" has an amazing horror themed video. How much creative control did the band have in the video? What was the most memorable part of filming it?
Jake Oni: We pretty much had full control, I tend to be the main dude for all things artistic design wise in the band just by nature I assume that role. I got the concept of "The Only Cure" in my head and it was really fun to make. It wasn't our most brutal music video ever, that was "Eternal"! That was insane!
Metal Nexus: Since Randy guesting on one track worked out incredibly are there any other artists that you would like to collaborate with in the future?
Jake Oni: Who knows! For the next album maybe not, at least singer wise. You never know though, we haven't thought about it yet so we will see.
Metal Nexus: Your debut album 'Ironshore' was released on Blacklight Media founded by Chef Chris Santos, how has he been to work with?
Jake Oni: Pretty great! Haven't met him yet due to our crazy schedule but we appreciate who supportive he is of us.
Metal Nexus: When you tour in New York have you had the opportunity to dine at any of his restaurants?
Jake Oni: Not yet but hopefully soon. Chris also has restaurants in LA and Vegas.
The food is supposedly next level.
Metal Nexus: You have toured with Children Of Bodom, Max & Igor Cavalera and various others. How do you think their fans have reacted to your live show?
Jake Oni: Definitely differently. When we did the Return to Roots tour we were very green and definitely our worst sounding tour. The Bodum tour we took what we learned on the last run and used it to kick a lot of ass in Europe and the fans liked us a lot over there. Its different man because when your supporting other bands there fans are fans of the genre of the bands they are going to see right. So us being a prog metal particularly Ironshore is very technical and has a lot of crazy riffs and runs that a lot of music fans today it goes over there heads. I think Bodum was a great fit for us and so was the Cavaleras. Our best tour was probably Devin Townsend because I feel like the fans really got what we are all about.
Metal Nexus: With 'Ironshore' you likely had more time to write and record as you weren't touring as heavily then. What if anything do you feel you have to do different now with a grueling tour schedule and still find time to write new music?
Jake Oni: It's about utilizing our downtime on the road well. For a lot of bands its hard to write on the road and dig deep into those creative ideas in such a chaotic environment but when the time is right we dig in. We try to explore and not limit new sounding music/ ideas.