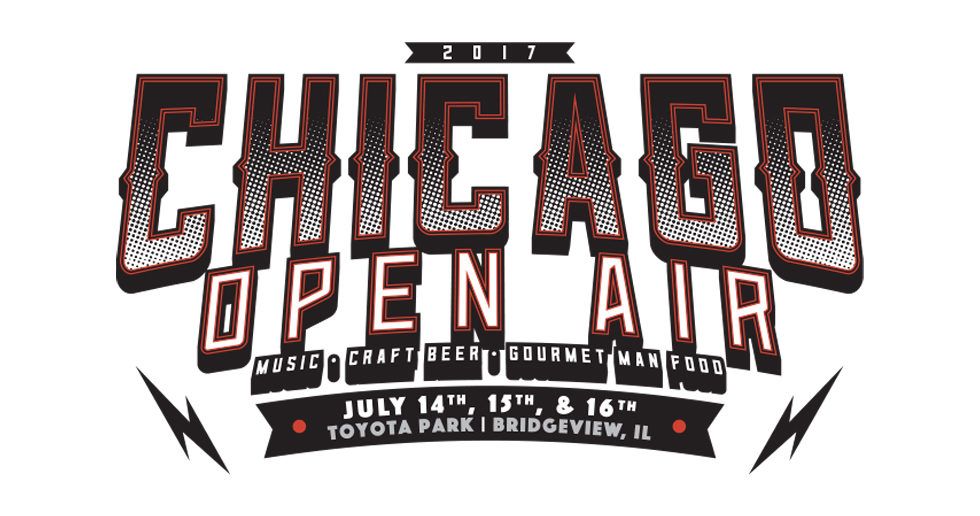 It has been a few days, but we are still recovering from an absolutely legendary weekend at Toyota Park. We witnessed several remarkable performances across the rock and metal genres from bands like Code Orange, The Dillinger Escape Plan, Clutch, Body Count, Godsmack, Amon Amarth, Avatar, and more. There were the classic artists like Ozzy Osbourne, Kiss, Megadeth, Anthrax, Slayer, and Metal Church while new comers like Aversed, Whores., Code Orange, Crobot, and more lit it up early in the day. Without these younger bands, there won't be any of these festivals in the future, so make sure you get out early and support these young talents. The wide variety of bands playing the festival made for an eventful weekend as there was something for everyone attending. Today's article will be about the performances on Friday. Before I dive into that, I'd like to talk about the other experiences at Chicago Open Air.
The parking situation was much improved from last year. In 2016, we waited one to two hours each night after the show ended just to get out of the lot. This year we were out each day in under 30 minutes and stayed for the entire show every night. Bathrooms were always clean, the port a pots were cleaned up once or twice a day. They also did a good job keeping the grounds clean. There was rarely a time that I didn't see any workers picking up trash. Most of the confetti from Kiss was gone from the floor by Saturday morning. VIP is well worth the cost of getting to skip the stairs. It cuts down a large amount of time getting from stage to stage. There's also a pretty solid view of the main stage that doesn't require having to wait on the floor for several hours. You could also enjoy the show from the comforts of the VIP tent on a big screen with great audio whenever you needed a break from the crowd. There were plenty of amazing food choices like the Black Sabbath burger at Kuma's, the mouth-melting Dinky Donuts, Alligator Sausage from Chicago Doghouse, and the highly praised fries from Bruge Brothers. If there was a band playing that you didn't like, there was plenty to do. You could go play on several pinball machines in Decibel Magazine's Headbanger's Bier Hall featuring designs of Metallica, AC/DC, Kiss, The Walking Dead, and Batman pinball games. They were also serving craft beer from many Chicago based companies while spinning fan-picked music from their jukebox. Walk a few feet over next door and you could go jam out on some instruments in the Music Experience. Also, if you showed up at the right time, you might just meet your favorite rock star. Across the lot, FYE hosted band signings all weekend where fans could purchase a CD or vinyl to meet several bands playing Chicago Open Air. Head a little farther down to the second stage and you'll find the Monster Energy Compound. Here, you could try several different flavors of Monster through the weekend for free. Anthrax and Jonathon Davis of Korn signed for free there on the days they performed as well. Even farther down the line was the Heavy Tiki Bar. I didn't get a chance to check this out but heard they had several drink choices and it was hosted by Mancow, the radio DJ from The Loop in Chicago. Just as last year, the crowd was phenomenal. Everyone took care of each other and I didn't run into a rude person the entire weekend. The experience outside of the performances was just as good or better than last year. Now let's get to talking about those performances!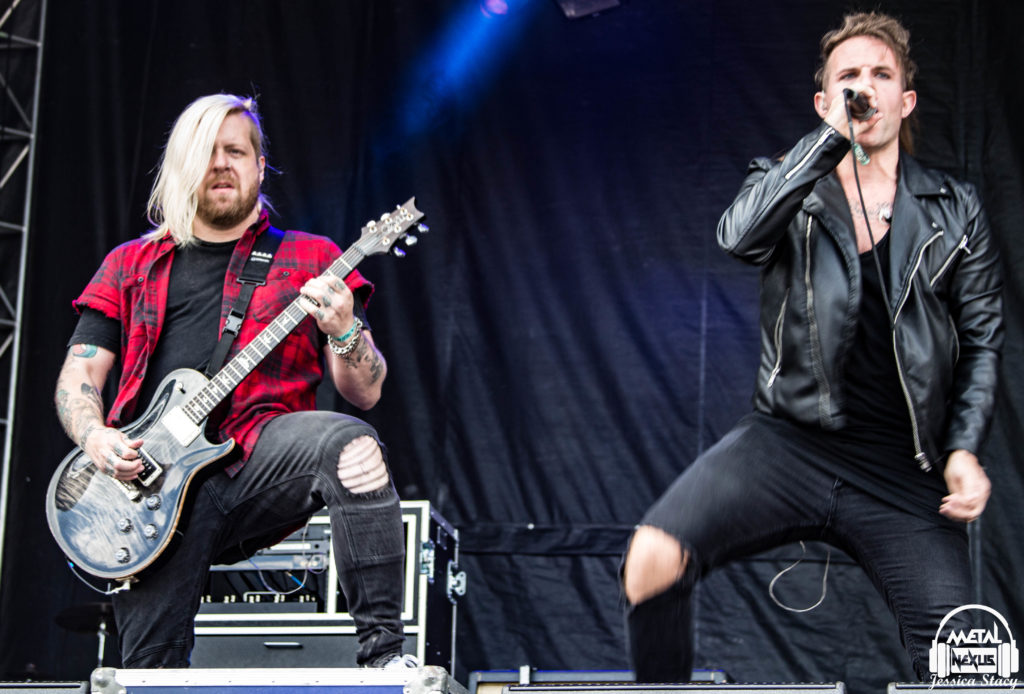 The crowd enthusiastically poured in when the gates opened on Friday, ready for some killer music to start. Failure Anthem delivered when they opened up the Blackcraft Stage to kick off the weekend. The band showed off new music for the excited audience and brought out hits like "First World Problems" and "Paralyzed". The band made sure to give a special shoutout to 95 WIIL Rock for being one of the first stations to play these songs. 95 WIIL Rock was at the festival all weekend near the FYE tent interviewing bands and having odd circus-like acts on their stage.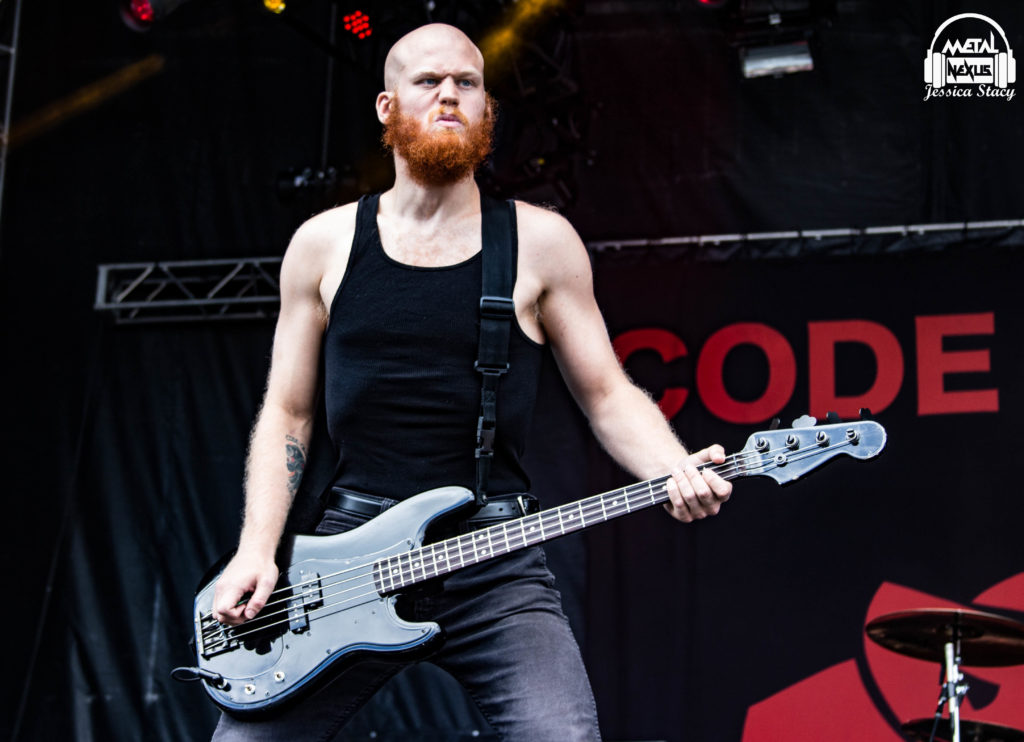 Code Orange was one of the most anticipated sets of the weekend. They've gotten the nod from many big names like Randy Blythe of Lamb of God, Chris Kael of Five Finger Death Punch, and Corey Taylor of Slipknot/Stone Sour since releasing 'Forever' back in January. Most people won't get it on the first listen, but once you do, there is no going back. The Pittsburgh quintet busted through an electrifying 8 song set of several songs from 'Forever' and 'I Am King'. You could see the anger and passion the band played with during the set. This is something that's been lacking in metal for quite some time. They were definitely one of the highlights of the first day and set the tone for the rest of the weekend. I couldn't help but feel like I was looking at the new face of hardcore and metal the entire set. Code Orange is going to be ginormous.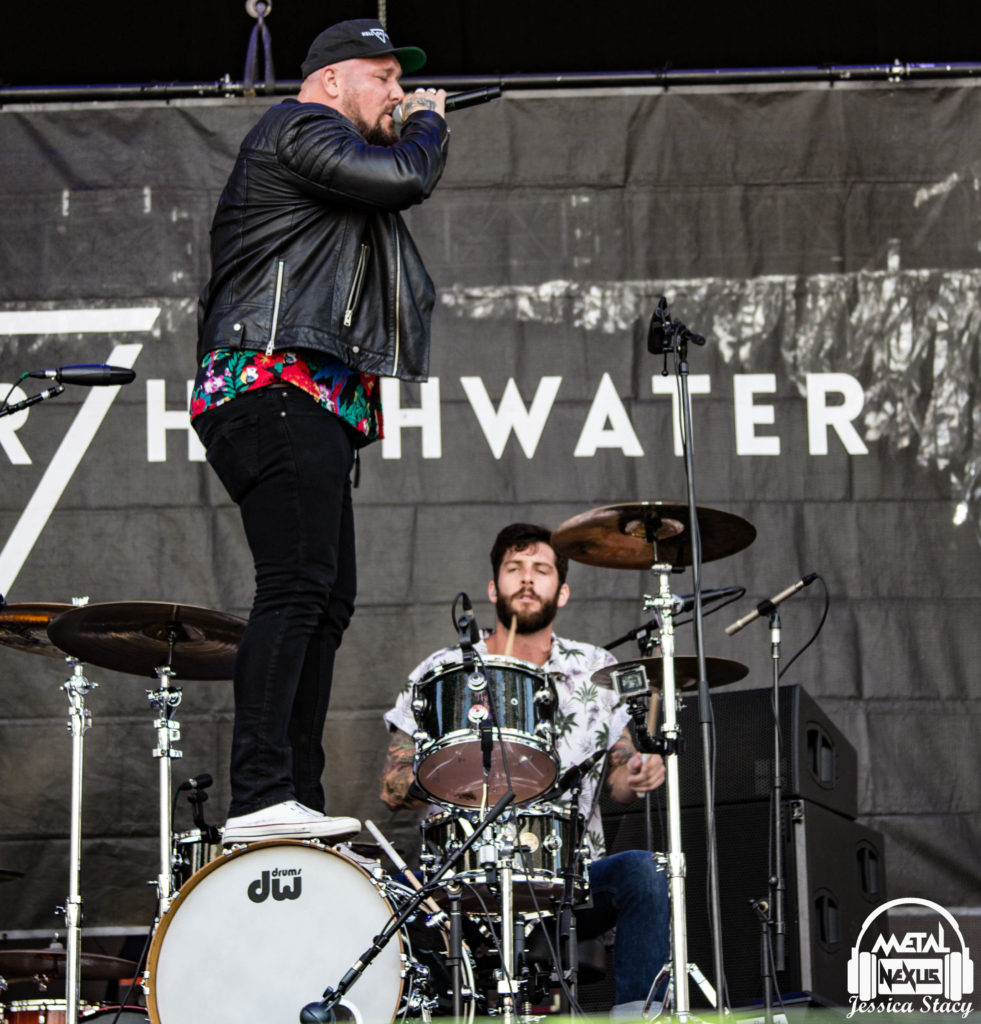 Sprinting over to the main stage, I still managed to catch all of Hell or Highwater's set. You don't have much down time at these fests or you will miss a lot! Brandon Saller is out in front of the drum kit fronting the band rather than singing from behind it like he does in Atreyu. They stuck to only material off of their newly released record 'Vista' (which is a great record if you haven't already checked it out). Saller was extremely interactive with the crowd and was out on the floor just as much as he was on the stage. I even got a high five from him when he came strolling through the VIP/General Admission divider about halfway through their set. We also had the opportunity to do an interview with guitarist Joey Bradford. Be on the lookout for that interview on our website very soon.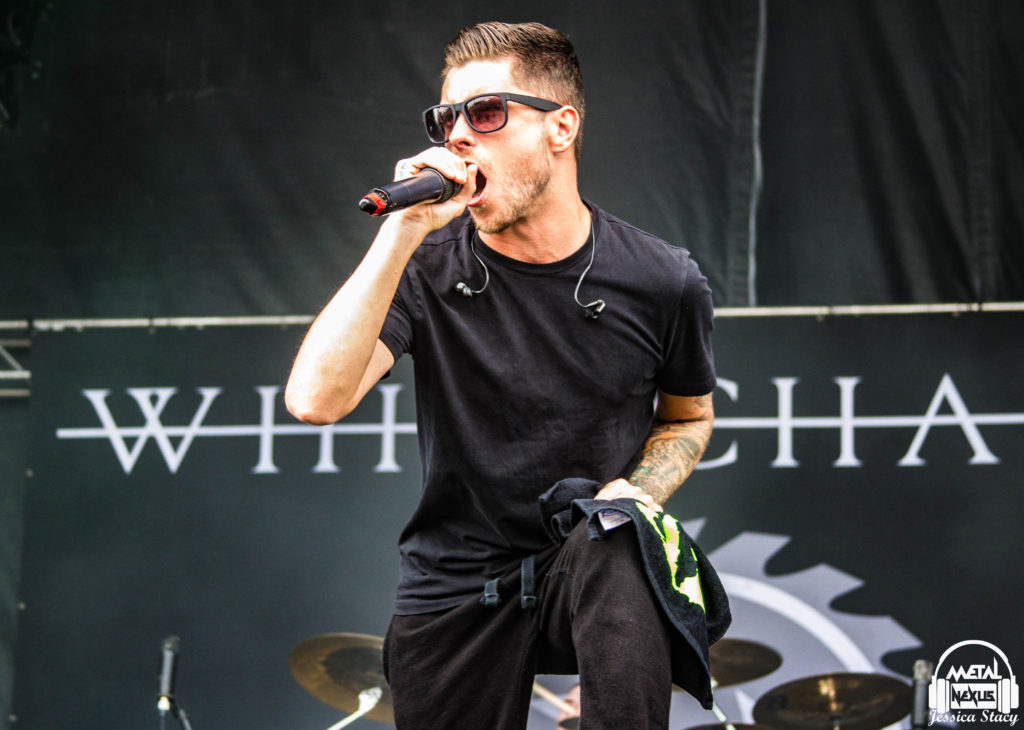 I was kind of shocked to see Whitechapel out on the side stage despite always having a huge following. The band didn't seem to mind at all as they launched into a powerful 6 song set with "The Saw Is The Law". The turnout was already strong for the first day as the crowd packed in to see the deathcore giants. They usually stick to the two most recent albums when performing at these festivals with short sets. One of their best songs, "Our Endless War", really got the crowd moving and woke everyone up. I'm fairly certain the entire crowd collectively dropped their jaws when they closed with "This Is Exile". Whitechapel left no doubt in everyone's mind that they were a main stage worthy act by the time their performance was finished.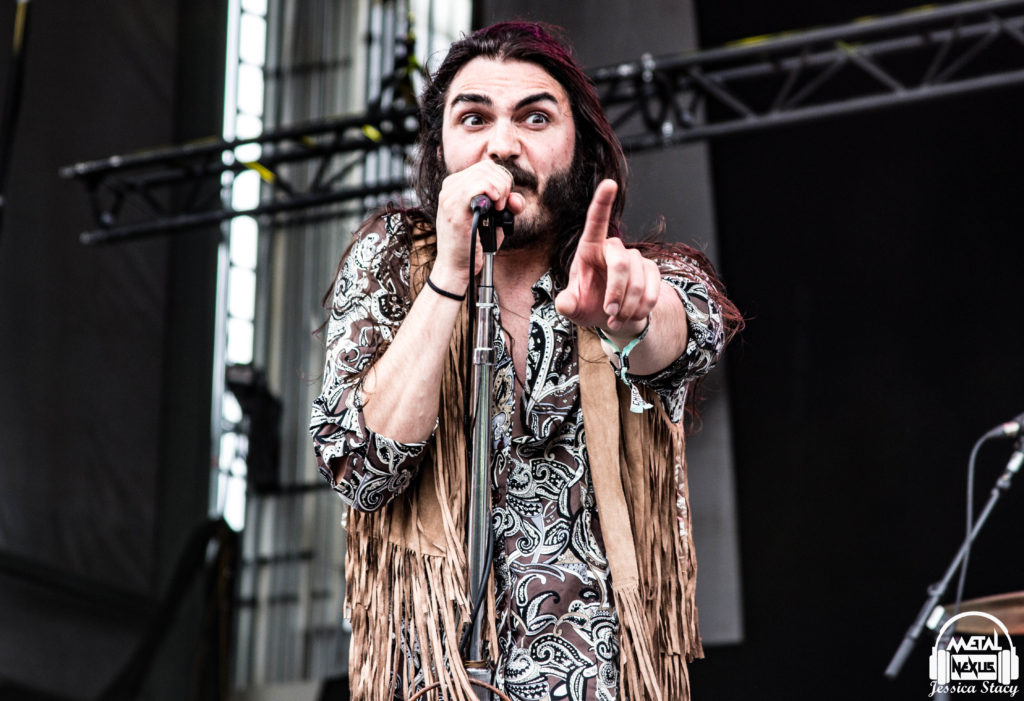 Pennsylvania rockers Crobot always put on an extremely fun show. They were the second band to graze the main stage and surprised many people that had never heard of them before. They gained many new fans with a strong setlist mainly consisting of material from 'Something Supernatural'. Finally getting to hear "La Mano De Lucifer" was a major highlight of the weekend for me. Brandon Yeagley is brilliant on stage with his 70s-esque dance moves and Zeppelin-like voice. Bishop is still roaring through memorable riff after riff and the new guys don't miss a beat on bass and drums. Right before closing their set with their first big hit "Nowhere to Hide", the quartet pulled out one of the best covers I heard all weekend when they played "Cochise" by Audioslave. It was dedicated to Chris Cornell and was received in a huge way by the audience. We also got the chance to interview Yeagley later on in the day, be on the look out for that interview!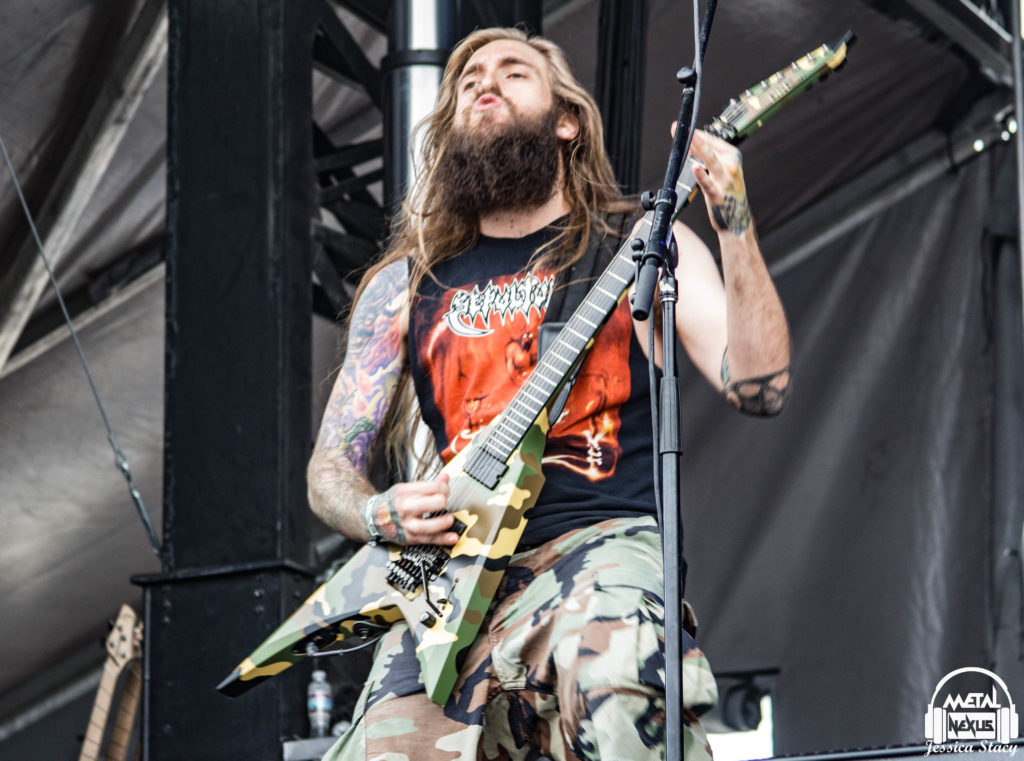 Up next on the BlackCraft Stage was Suicide Silence. The band has faced criticism for their change in direction on their new album with vocalist Eddie Hermida. Despite that, there were still many people there to see them, and they did not disappoint. Rolling back into the second stage area you could hear the crowd shouting the words of "You Only Live Once" with Hermida. Most of the fans even enjoyed the songs they previously blasted like "Doris" and "Hold Me Up, Hold Me Down". Unlike last year, there was a divider this year in the middle on the second stage. They still managed to get an enormous wall of death during "Disengage". When Suicide Silence finished up their set, they trashed their equipment the rock n roll way and exited the stage swiftly.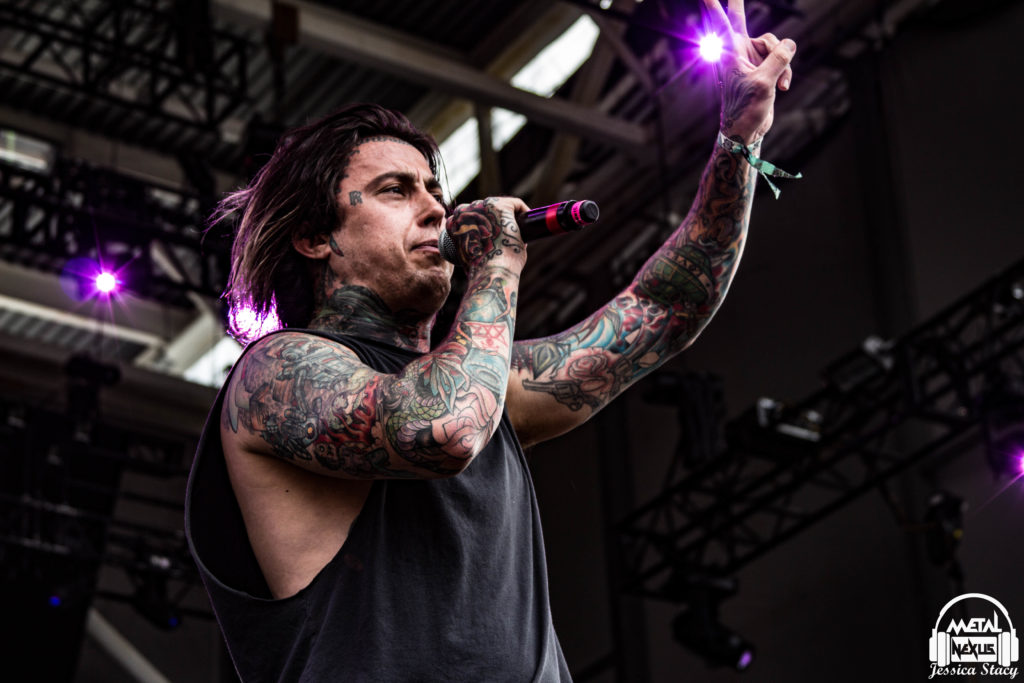 I think it's safe to say that Falling In Reverse was one of the oddballs on the lineup filled with several extreme bands. I have never been a big fan of their music, but they really made a good impression on me with their performance on Friday. Ronnie Radke has developed a strong stage presence that demands attention. There was times he seemed like he cared a little bit too much about people hating him but it was still a fun set. They only played "Superhero" from their new album 'Coming Home' even though it was released only a little over three months ago. As many people as I saw talk bad about the band, they had a fairly decent sized crowd and several people knew every single world. Catch Falling In Reverse at Louder Than Life as well this fall.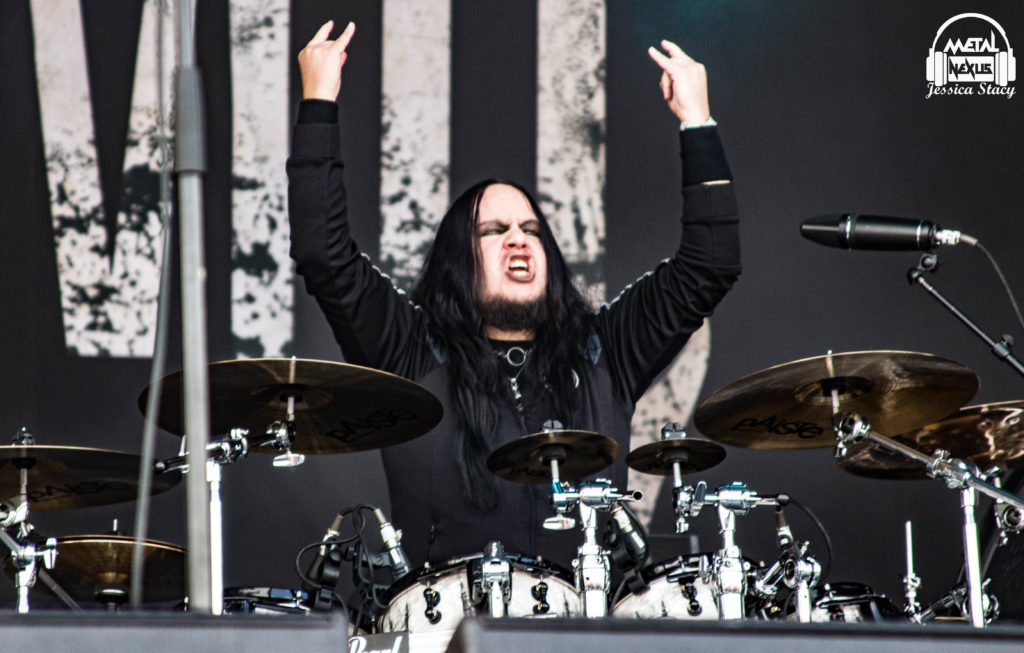 Vimic may have been billed a little bit higher than they should have been. It's Joey Jordison's new band that formed last year but they only have 3 songs officially released right now. They are basically Scar The Martyr with a new vocalist and guitarist. Vocalist Kalen Chase proves that albinism shouldn't hold anyone back from getting out and being bad ass. While we only knew three songs, it was a treat to get to hear unreleased material from this great, upcoming nu metal band.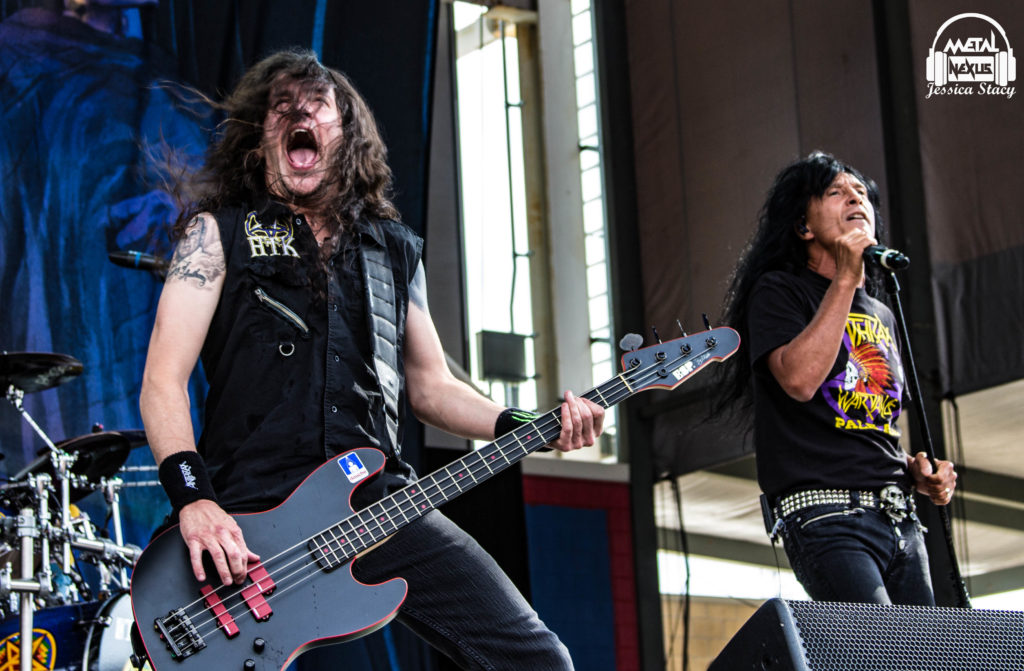 The first time I saw Anthrax, I caught a Monster Energy towel at Louder Than Life and won a signed guitar from them. I didn't win a guitar this time, but they were equally kick ass as they were then. This was the first crowd of the weekend that was really exceptionally large. The band responded to the spirit of the crowd with one of the strongest performances of the day. Joey Belladonna is running around just as much as ever and manages to never run out of breath. This is the best they've sounded in years. Before launching into their final song, Anthrax performed a partial cover of Kiss' "Parasite", their first time covering the song in 11 years. Typically, Scott Ian repeats the "Wardance" part twice on "Indians" at these shows but the crowd was going so berserk that it was not required. These guys seem to get better with age, don't miss out on your chance to see them!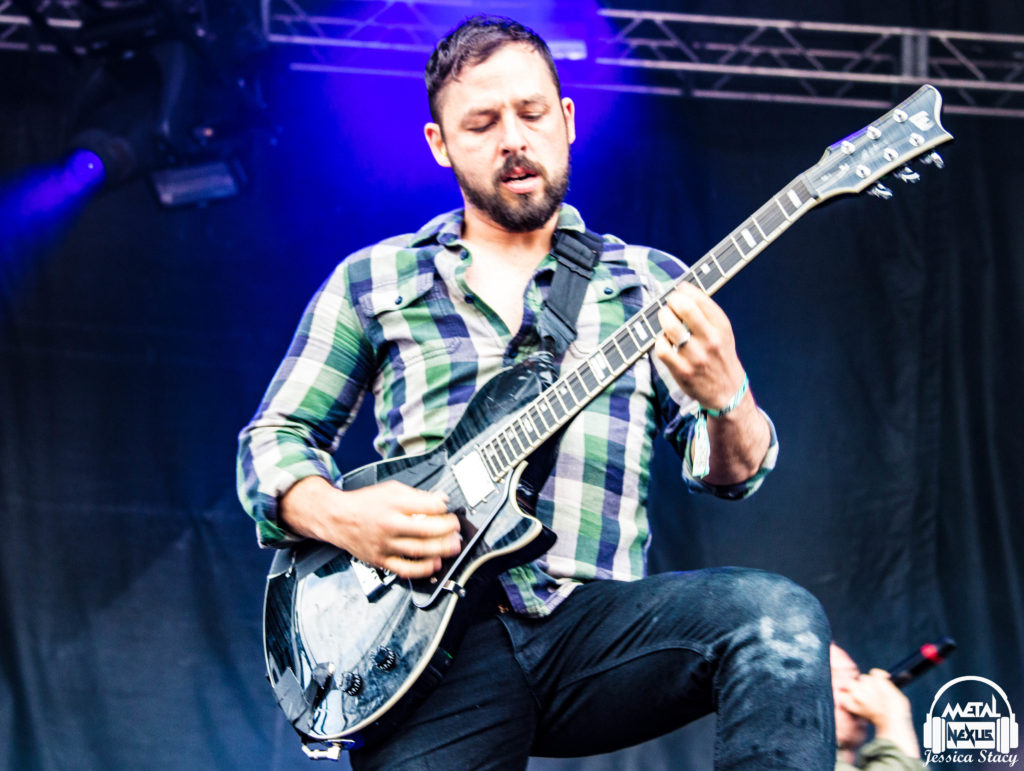 In what may have been their final Chicago show, The Dillinger Escape Plan went out with a striking performance. This was a much better show than when I saw them a couple months earlier, where they were plagued with sound issues at Rock on the Range. The New Jersey mathcore legends spiraled through 9 songs all over their catalogue including "Prancer", "Panasonic Youth", "Limerent Death", and the classic "43% Burnt". During this classic, shit got wild. Greg began scaling the side of the stage and began to make his way to the top. He stopped about 75% of the way up (not 43%) and began hanging on with only his legs. While this is happening, Ben Weinman is out on top of the crowd jamming out, surfing as if he is a fan. When Greg came back down, he trashed the drum set to bring the show to a close. The Dillinger Escape Plan is still one of the most dangerous bands around and they proved it yet again with this remarkable show.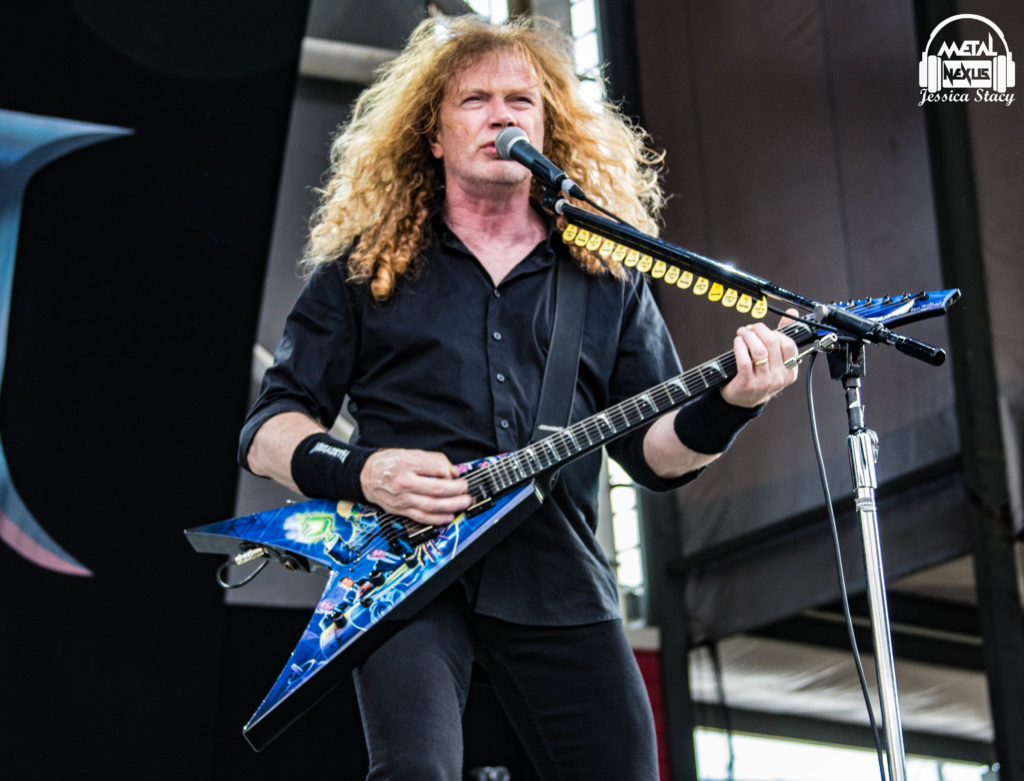 Megadeth? More like Megashredders. After seeing them twice in the last two weeks, there is no doubt in my mind that Dave Mustaine is the greatest rhythm guitar player of all time. The dual solo trade offs on songs like "Holy Wars… The Punishment Due" between Kiko Loureiro and Mustaine are super entertaining to watch. The crowd went ballistic singing to the classic Megadeth songs like "Sweating Bullets", "Peace Sells", and "Symphony of Destruction". They also performed "Dystopia", the song that finally won them a Grammy, and "Mechanix", a song that any old school Megadeth/Metallica fan should know by heart. Dirk Verbeuren (formerly of Soilwork) has taken over on drums since Chris Adler from Lamb of God departed from the band last year. He's severely underrated in the genre and it's great to see him up on the big stage like this right now. Dave Ellefson also had his coffee at the festival hanging out right behind the Jack Daniels truck. Check out his coffee brand here.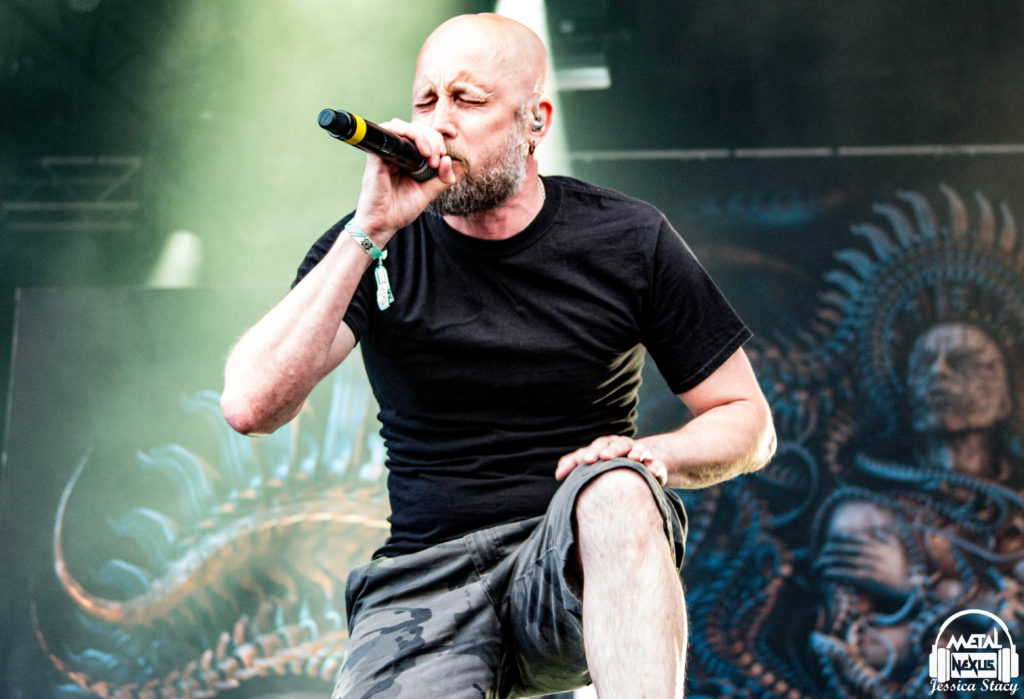 One of only two bands to return to Chicago Open Air for a second year in a row. Meshuggah. Just like last year, they closed out the second stage with a bit shorter set than last year. This year was just as stunning to watch as 2016. This show was quite a bit different for several reasons though. Fredrik Thordendal couldn't make this tour, so Per Nilsson of Scar Symmetry stepped up to fill in on this tour as lead guitarist. They changed up the setlist tremendously, having just released a new album in October titled 'The Violent Sleep of Reason'. Most of the tracks came from this giant of a record. Seeing "Clockworks" live is a treat when you get to watch the human robot Tomas Haake go nuts on the drums with their complicated time signatures. Jens Kidman still creeps around the stage like a caveman and has a stage presence unlike anyone I have ever seen. Also, see these guys in the dark if you can. Their light show is astounding and you miss a lot of how marvelous it really can be at an outdoor show.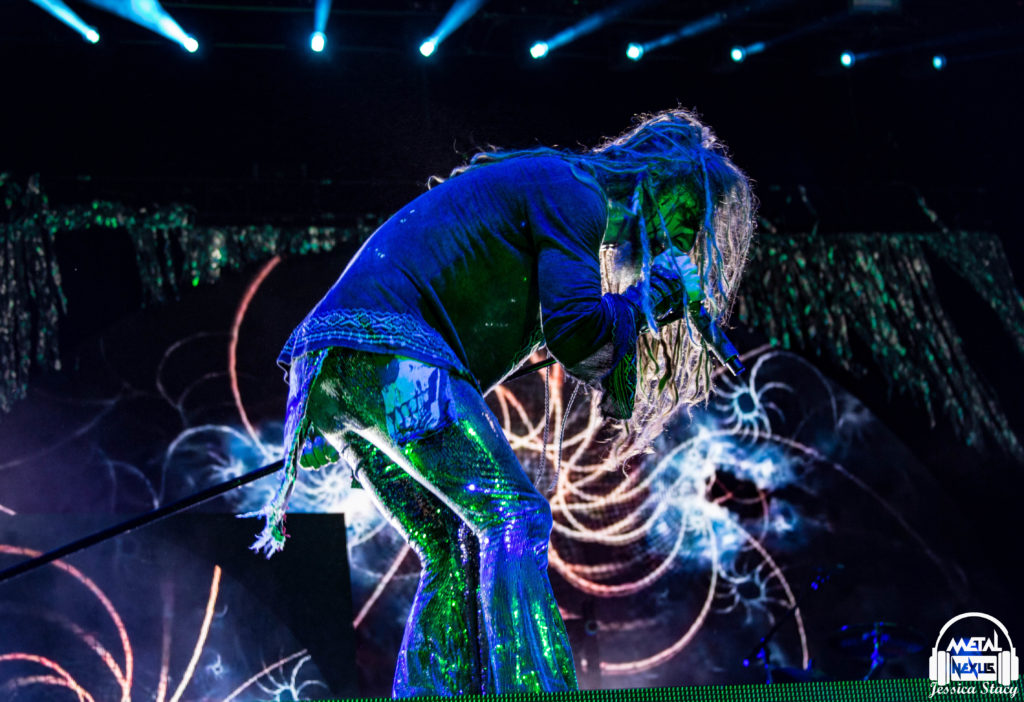 This was my 4th time seeing the Zombie show, and it did not disappoint. You could tell the entire band was stoked to be at the festival. They've been Kiss fans for their entire life so they were honored to be able to share the same stage with them that night. Rob Zombie slid into Toyota Park with a huge crowd when he opened up with "Dead City Radio and the New Gods of Supertown".  Immediately following that, the crowd roared with approval when the band began playing "Superbeast" from their biggest album, 'Hellbilly Deluxe'. There wasn't any pyro this time around from Zombie, but you hardly noticed. With several screens up on stage and a giant alien/robot walking around on stage for part of the set, there was always something to continue amusing the packed stadium. My favorite part of Zombie shows is always when John 5 does his solo. Rob Zombie songs are fairly simple so this is the time of the show that he gets to showcase how good he really is. I highly recommend seeing him play a solo show sometime if you haven't already. He's one of the best guitarist in the rock genre for sure. They had the whole stadium screaming the lyrics to "School's Out" by Alice Cooper and closed with the loved "Dragula". All in all, this was the best Zombie show I've seen and it got everyone ready for the first night's closer.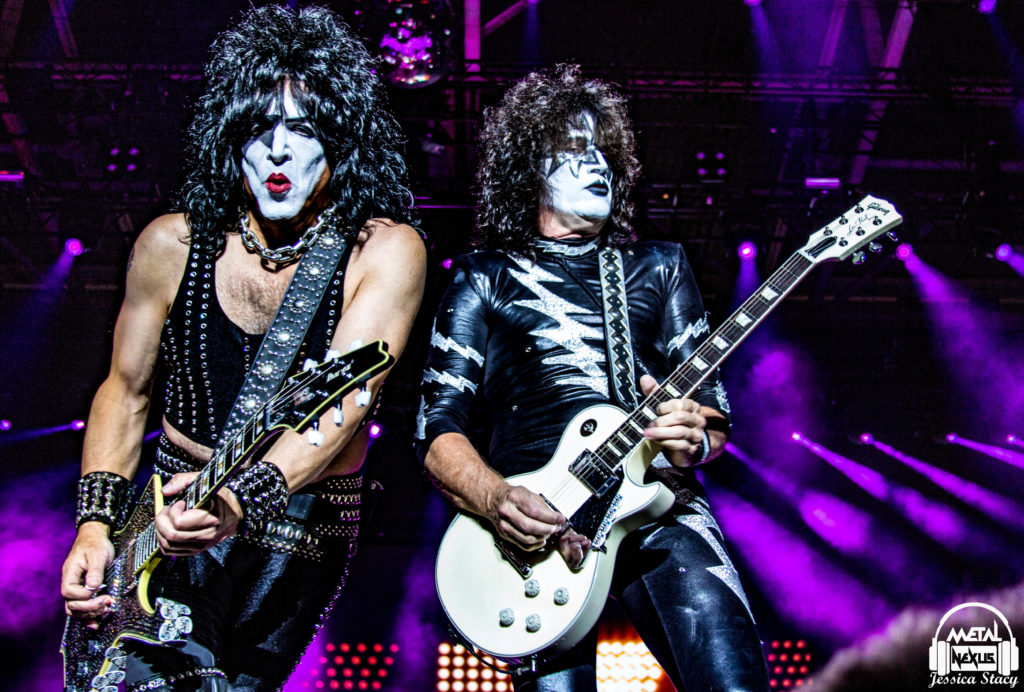 This show was the legends' first time back in Chicago since their induction to the Rock & Roll Hall of Fame. Kiss had been highly anticipated by many for several different reasons. People wanted to see how their pyro would compare to Rammstein's last year. Others were just excited to hear several great hits that they released in the 70s and 80s. The band went on slightly late but made their presence felt when they dropped the curtain to the sounds of "Deuce" bouncing off the stadium walls. Pyro shot out consistently throughout the whole set for almost every song. Not counting solos, Kiss drilled through 16 big hits that night including "Shout It Out Loud", "I Love It Loud", "God Of Thunder", and more. There were several songs I wish I could've heard but they have so many hits it would be impossible to play them all. Paul Stanley flew high over the crowd out to the top of the sound booth for a little bit while they jammed  on "Psycho Circus". "Rock and Roll All Nite" covered the floor and stage in confetti to begin to bring our first night to a close. They quickly returned back out for the encore as curfew was about to hit. Before playing "Cold Gin", the band made sure to honor our military by bringing out servicemen onto the stage. The crowd erupted in USA chants that would send chills down your spine. The night ended with the well-known "Detroit Rock City" and completed a fantastic first day. Little did we know, the weekend was only going to get better. Be on the lookout for our reviews of Day 2 and 3 performances in the next few days. Check out the rest of our gallery from Friday below.