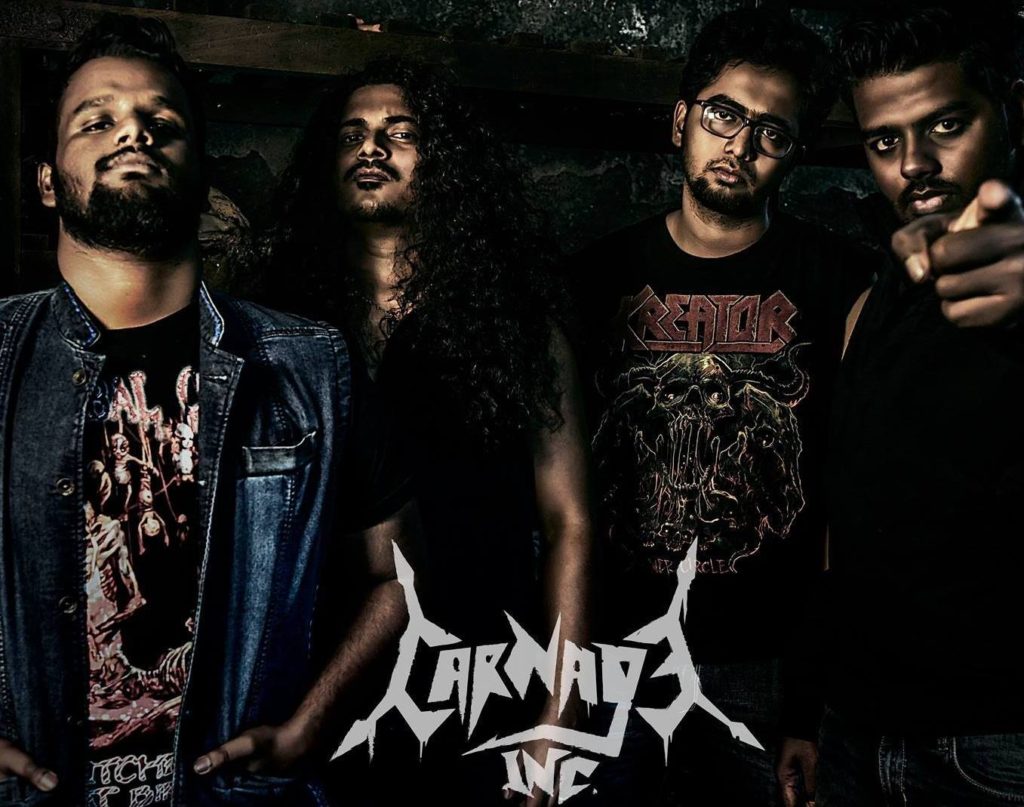 Even after three decades of what spawned as thrash metal in the suburbs of Bay Area, by sweaty, long haired dudes with an unforgiving punk attitude, it is overwhelming that thrash metal has survived every obstacle in its way. Likewise, the seismic waves of thrash metal have ever since traveled far and beyond continents. Similarly, from the hustle and bustle of the city that never sleeps, emerges a thrash squad who are adamant on not putting their foot off the throttle. CARNAGE INC. from Mumbai, India are taking forward the baton of Bay Area thrash metal and spreading the "carnage"!
CARNAGE INC. came into existence back in 2011. Hailing from the city of Mumbai, they are adding a new flavour and aggression to what we all dearly call thrash metal. Having shared the same passion for METALLICA, front man Varun and ex-drummer Olav thought, why not materialize this passion into something even bigger. And thus CARNAGE INC. saw the light of the day. Into their sixth year of existence, the band has released an EP, titled, 'Fury Incarnate' through Indian label Transcending Obscurity last year's summer. The debut EP has received a lot of deserved attention and has put them on the board of country's rising bands. Fast riffing, lightning speed drumming, groove that will knock your heads off and rashy, pissed off vocals are what CARNAGE INC. offers to the listener for an aural assault.
We recently had a chat with the boys and this is what went down. Take a look below for the interview. Oh and while you're at it, since Christmas is coming soon, remember to add THIS to your festive melodies!
METAL NEXUS: For all our readers, who haven't heard about you yet, tell us how did the band form?
Varun – "Well the story isn't unlike most bands. Our ex drummer Olav and I shared the same passion for Metallica. Somewhere while listening to their stuff we began wanting to play it. And well, we formed Carnage Inc. Just with a beat up guitar and buckets. And the rest followed."
METAL NEXUS: So, we all have watched your cover of Jingle Bells, i.e., "Jingle Hells". And it was absolutely amazing and hilarious. Tell us how did this entire idea come up, and how was shooting it like?
Varun – "Man, it's shocking that thing is still in circulation. Haha! It was one of those drunken ideas. Christmas was fast approaching and Moin came up with the idea of doing a Christmas special video. We decided that we'll make a parody of the carol Jingle Bells and make it sound thrash. Like, really hardcore! Shooting was done in 8 hours at a stretch. Our buddy Ajin was behind the camera and our ex bass man Jason Dias was chosen to be St. Nicholas. Cause, well, he's fat. It was a horrible and sweat drenched shoot, cause the room was filled with those face melting lights and the air conditioner would konk off if we tried to put it on along with those lights. So, no AC. The only thing that saw us through – you guessed it, some buds and the "Christmas spirit."
METAL NEXUS: As music fans and artists yourselves, one mostly has a diverse range of musical taste. When you're not doing metal music yourselves or listening to it, what else non-metal music do you like to treat your ears to? And do you take inspiration from out of your genre as well?
Moin – "Oh yeah, we listen to a lot of stuff. I am into prog/rock, Nikhil loves classic rock and GnR a lot, Navin enjoys a lot of soundtrack type stuff along with nu metal while Varun digs country music. About your sub question – Yes we do get inspired from what we listen to. More so, cause we like to incorporate teeny bits of those elements/ideas into our music, which is quite evident in our EP. You never know what might sound great until you try it. Also, it makes you sound quite different from the other bands in your genre – a fact highlighted by most reviews of our EP."
METAL NEXUS: Your frontman, Varun Panchal also is involved in artworks, as in the recent killer artwork he did for the DOH tour tee. Now, when it comes to album artworks for Carnage Inc. and concepts regarding it, is he the one taking creative fore front? Do you see this as an advantage and why?
Nikhil – "We save a lot of money! Haha, no he gets paid. Sometimes. Never. Jokes apart, since he writes most of the lyrics, he knows the best visual interpretation of those. And add to that the fact that we can have a stronger creative control of the artwork, since there's no 3rd party to create it for us. So yes, definitely an advantage."
METAL NEXUS: This is your first ever tour in India as a part of the Durance Of Hate II Tour. Tell us how does it feel to be featured in this tour series that's gaining popularity, and what are you expecting out of it?
Navin – "We're stoked man! In our time as a band we haven't stepped out of Maharashtra to play a show. So that is another first. It feels even more awesome 'cause it involves two other bands who practically started off almost alongside us. We're expecting a blast with them and making a lot of new fans in these cities which are known for their dedication to our kind of heavy music."
METAL NEXUS: There has been some mess up cooking about in the Indian scene regarding promoters allegedly scamming bands which has resulted in the cancellation of one of the intra country tours. Now talking about this, how do you feel about it? And is this a blot and hindrance in the country's ever growing metal scene?
Nick – "First off, we don't know the entire story – so it's best we hold our opinions about it. That said, if it is true, it definitely would demoralise other international acts from coming to our shores."
Varun – "Our scene, though slowly growing, isn't really 'there' yet as per global standards, so this "scam" incident would affect the scenario even more. But then again, if there's a good promoter who has left the bands with a good experience, then that will keep em' coming back, I hope."
METAL NEXUS: Now a lot of people might have already labelled you as an old school thrash band, or a new age thrash outfit or just plain thrash. Do you think these labels create further division in the entire metal music industry and create obligations to bands in sticking to their main sound despite wanting to experiment?
Moin – "Nah, not really. The bands who want to do what they want to, will do it. Nothing holds them back. The ones who give in to so-called obligations, might just want to stick to a particular sound. No harm there. I feel these sub-genres are in fact great, because we get to hear so much diverseness in metal just cause of it!"
METAL NEXUS: Fury Incarnate is your debut effort and it definitely packs in a punch, I can hear a lot of old school thrash riffing along with the modern metal groove sound. How hard or easy is it for you to keep both the elements intact in your music? Is it a rather spontaneous approach?
Varun – "We'd say it's spontaneous. A result of the diverse music tastes within the band. For an instance, Moin can get in his prog/groove style into the picture and hook it up with the thrash riffs I come up with. And Navin adds the melodic section to it with his ambient licks. Although, Nick is the man who makes sure we don't go overboard in our experimenting with his no bullshit attitude."
METAL NEXUS: So your lyrical theme revolves around the demise of mankind, the corruption, the evils in the society, if I am not wrong. A lot of thrash bands also deal with the same topics in their lyrical department. Why do you think burning topics like these always gel well with thrash metal in particular?
Varun – "Yeah you're right, although the inspiration for the concept behind the EP came from the Myth of Kalki, in Hindu Mythos. It isn't really the main concept, but is sort of pictured as an eventuality that we might face sooner or later, or the rage that will take form someday and wipe out the evils in humankind, i.e Fury Incarnate. It's actually an optimistic EP. Haha! In essence thrash is the angry kid on the block. Anger which is ignited by the governments, society, religion etc. and, I feel thrash is just the perfect soundtrack to that feeling."
METAL NEXUS: Fury Incarnate has definitely left us wanting for more Carnage Inc. new music. So what's brewing in the thrash camp now? When do we get to hear another new record?
Navin – "Oh we've got plenty of songs done, dude! Once we wrap up with the DOH tour, we'll be getting into the studio to cut the best out of those to track our next record. And this one's going to be faster and nastier than Fury. Also, we're planning to put out a music video for a single and playing a lot more gigs to support it. Hopefully you'll hear something from us around mid-2018!"
METAL NEXUS: Thank you so much for taking the time out and having a chat with us, we truly appreciate it. Wishing the band all the best for the next record and future. Is there anything you would like to add further for your fans and our readers?
Varun – "Thanks to you man! Those were some really well articulated questions! Keep doing a great job. For the fans, we'd like to say – keep it real, keep it heavy, help out your fellow man/woman and fuck the governments and religion. #GetThrashing"
---
CARNAGE INC. will be touring with their fellow friends and brothers in DARKRYPT & KILLCHAIN at select few cities for a mini tour under the moniker of Durance Of Hate II, starting this 3rd of November. Check out the dates and other details HERE!
We also interviewed DARKRYPT a couple of days ago. Read HERE!
Buy CARNAGE INC.'s debut EP "Fury Incarnate" HERE!