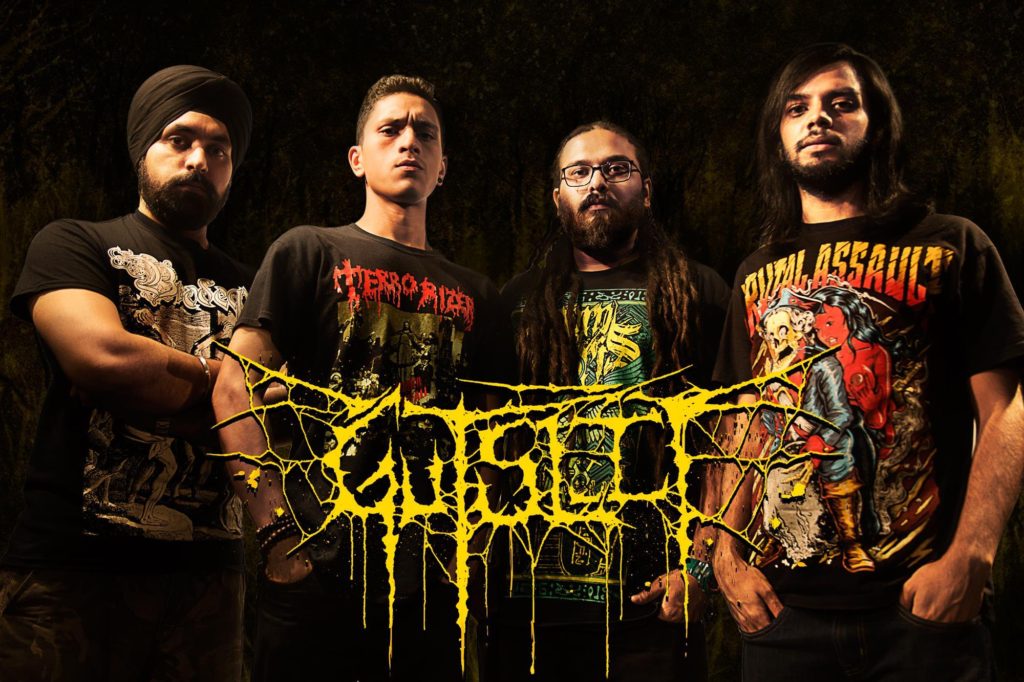 What do you expect from a band who's got an atrocious name like that of GUTSLIT ? Well, nothing apart from brutal, grinding and heavy death metal. So heavy it could give Thor's hammer a run for his money! So GUTSLIT are Asia's one of the most crushing bands, coming out from Mumbai in India. They play a genre of metal where there is no respite from murder, torture and all kinds of vile imagery, the band is literally the sadistic embodiment of all things gore and nasty. Having formed way back in 2007, exactly a decade ago the band has been "pulverizing the masses", as they like to state it out on their Facebook page. GUTSLIT play a blend of heavy, crushing and brutal version of death metal with surplus grind elements, they are merciless and ruthless in their live performances. While other pansy little bands boast and opines "there will be blood", GUTSLIT is the band that will really make sure you return home with a chopped off leg and a botched body. Their sonic atrocity is unmatched and is arguably the best brutal death metal to have come out from this part of the world. The quartet has three records under their belt since the formation, a debut EP, first full length album, 'Skewered In The Sewer' and their all new latest album which was released just two months back, 'Amputheatre'.
GUTSLIT has undergone two remarkable line up changes since their first record. Vocalist Aditya Barve and guitarist Dynell Bangera who both contributed to their debut effort chose to part ways in 2016 and 2013, respectively. Thus leaving the only original member Gurdip Singh Narang who manages bass duties and will often direct his massive hand chopping gestures to you as you get thrashed by the band live. Prateek Rajagopal replaced Dynell in 2013 and last year saw the inclusion of GODLESS vocalist Kaushal LS who has stood upto the fans expectations. The band has traveled the length and breadth of Europe on multiple occasions. They've graced fests like Obscene Extreme, Fekal Party, played sold out shows and toured with bands like CARNIVORE DIPROSOPUS, STILLBIRTH etc., spreading some brutal grinding chops all over the European landmass.
I recently had the honor… wait, hold on! Let me rephrase that. I recently was served some brutal chops by them on their co-headlining set supporting french brutal death metal band BENIGHTED. But before getting my body and mind dismembered they were kind enough to join me for a short interview. We talk about how the European tours have been for them, they talk about how it's "more professional" and that the artists are "more spoiled over here". I also talk about their all new recent album 'Amputheatre' that was released via Transcending Obscurity. The album is much more sonically polished and has groovier licks than their debut and Prateek tells us how everything came into being. Our beautiful co-writer Elly also reviewed the new album. Check it HERE! There's a lot more you might want to check out and know the band better. I had fun doing this with the boys from Mumbai and you should take a bite out of it too!
Support the band and get your copy of 'Amputheatre' HERE!
GUTSLIT are:
Gurdip Singh Narang – Bass
Aaron Pinto – Drums
Prateek Rajagopal – Guitars/Songwriting
Kaushal LS – Vocals