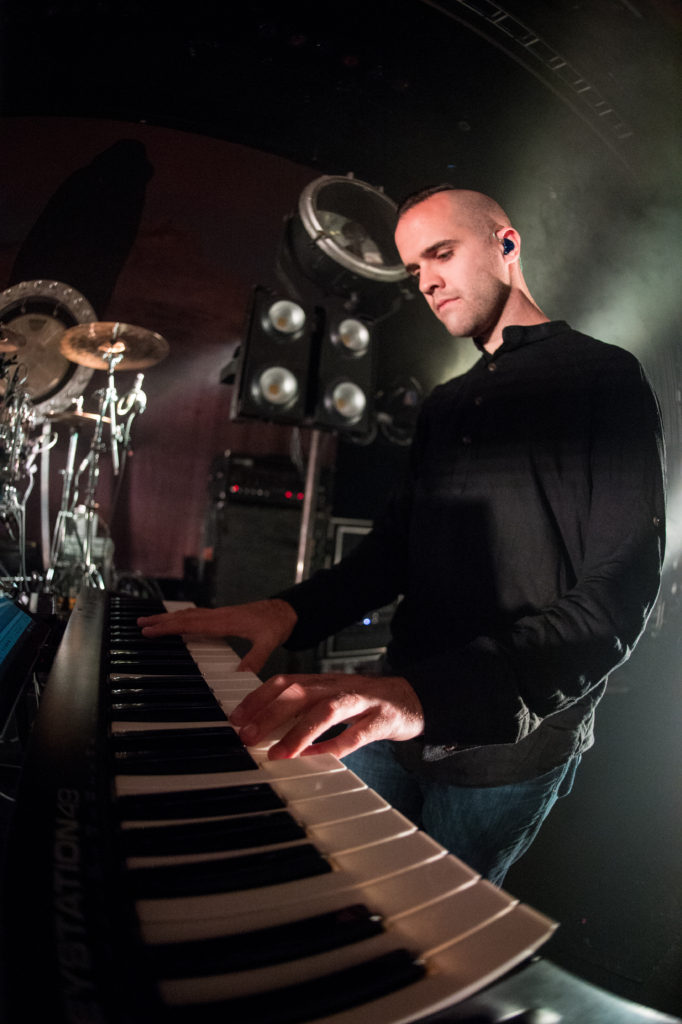 I just recently had the chance to interview bassist/keyboardist Dan Briggs of Between the Buried and Me, Orbs, Trioscapes, and Nova Collective. This is something I've wanted to do for a long time as BtBaM are one of my favorite bands in the progressive genre. Briggs gives us the scoop on what to expect to see on the upcoming 'Coma Ecliptic Live' DVD, what we might hear on the next album, playing 'Colors' again later on this year, his new project titled Nova Collective and more. The 'Coma Ecliptic Live' DVD will be released via Metal Blade Records and Good Fight Entertainment on April 28th. You can pre-order it here.

Metal Nexus: What do you feel "Coma Ecliptic Live" brings to fans that they haven't seen before on a live DVD?
Dan Briggs: Well it's the first DVD we've done with a light show that was choreographed to the album, something we've been doing for years but never captured on film. It's nice because we don't get to tour with a light show outside of America, so the rest of the world can now see the full show we did for the album.
Metal Nexus: "Colors Live" was filmed in Rocketown in Nashville, 'The Parallax II: Future Sequence' DVD was recorded at the Fidelitorium in the band's home state. What made The Observatory in San Diego the best choice for filming the performance of the new album?
Dan Briggs: We were on tour when we decided to film it so we just looked at our schedule and saw we had a day in San Diego where the show was only us playing so it worked out really well. It helps that the Observatory is a great gutted old theater and that southern California shows are always great.
Metal Nexus: When you wrote 'Coma Ecliptic', did the band consider how the songs would factor into shows visually?
Dan Briggs: It didn't come up, but we had been doing video shows for the couple years prior and I think thought that would be the path we'd take for this one too, but our light designer Chris Hill had a great idea for a stripped down show with mainly just white lights- which was like the opposite of everything we'd done the last few years but it felt really appropriate for the album.
Metal Nexus: Is there any exclusive content in the DVD that fans might not see at a regular Between the Buried and Me show?
Dan Briggs: Aside from you know the light show and what not; it's basically the five of us on stage reproducing the album. It's just a thing that ends up being a really cool thing for our fans world wide to be able to see the full album set and for us to wrap up our touring cycle.
Metal Nexus: This was a very diverse record. How did you guys manage to capture all of the eclectic emotions of it in a live setting?
Dan Briggs: Well you definitely felt them playing live! "Dim Ignition" was one I was looking forward to ever since the demo of it was floating around. It was very appropriate that Tommy used that song as the character in his self induced coma machine starting his journey. We finally were carrying out dynamic and "feel" ideas throughout a song; so like the somber build of that song, the slight hiccup 11/8 shuffle in "Memory Palace", the quirky feel of "Ectopic Stroll". The emotions and thematic ideas really carried over as we were performing it and you felt it for the whole song.
Metal Nexus: You played the entire album for a full tour, were there any songs you enjoyed playing more than others?
Dan Briggs: Well the flow of "Node" through "Famine Wolf" really got me, so many dynamics and emotions in a seamless flow; and then the same with the end of the album, "Life In Velvet" always felt so emotionally heavy.
Metal Nexus: Later this year, you will be performing the entire 'Colors' album again on a tour for its 10 year anniversary. How large of an impact did this record have on your life?
Dan Briggs: A huge one in looking back. That's the first time I personally felt creatively possessed, like I remember being in my early 20s, waking up and grabbing my guitar and writing all day only stopping for a burrito with friends and then staying up late working until my eyes couldn't stay open and then repeating the next day. Even after we were done with the album my creative energy continued and I wrote the debut album for my band Orbs, so haha..that's the first time I remember that insanemanic energy kicking in.
Metal Nexus: It won't be long before a new record is in the works. Is the band going to expand on the 'Coma Ecliptic' sound or go in another direction?
Dan Briggs: The Coma story is done! I think people wonder that after did Parallax I and II, but we had the idea to split that over an album and a half from the start. No the Coma story ends with the character choosing death and it's yet another sad ending to a BTBAM story! We're knee deep in writing now and it's great, tons of creative energy and everyone's got great stuff coming in.
Metal Nexus: I just discovered your more recent band Nova Collective this week, 'The Further Side' is a fantastic release. How different is it working with this group versus Between the Buried and Me?
Dan Briggs: Thank you! Well the music itself is big time different. I was excited to explore some ethnic music sounds and I think Matt Lynch and I had been really aching to do a full on fusion group after dabbling with Trioscapes. Thankfully Rich and Pete were feeling that as well and it's a really refreshing and exciting blend of music to create with really some of the most exceptional musicians on the planet. Those guys do not fuck around! We have a blast together and we're anxiously awaiting some fall touring plans to make our live debut.
Metal Nexus: You are one of my favorite bassists in the genre so I'm curious, were you self taught or did you have a mentor in your early years of learning the bass?
Dan Briggs: Well I started on guitar when I was 10 thanks to my mom being a classical guitarist and an elementary music teacher. I started playing the bass when I was 12, reading trombone charts and transposing tuba lines in concert band and in jazz band, and started on the upright bass when I was 14 in orchestra and played in various chamber music groups and symphonies through college before I left to join the band when I was 20 at the end of 2004.
Metal Nexus: Between the Buried and Me is known for touring with a wide range acts, going from Devin Townsend Project and August Burns Red to 3 Inches Of Blood and Children of Bodom. If you could tour with one act outside of the rock and metal genre, who would it be?
Dan Briggs: I'd love to play with the French avant garde guitarist Marc Ducret. He's one of my favorite guitarists and composers and I'd kill to see him live let alone get to share a stage with him. Snarky Puppy and Chris Thile would be great fun to be on stage with as well.
Metal Nexus: You have toured the world, released multiple albums, played along side some elite bands and you are an integral part of two successful bands. What would you say is next for you to achieve either as a band or personally as a musician?
Dan Briggs: Personally, I have a project that I've just written little bits of for the last five years and now I have it completed and need to find a way to record and release it. It's a solo project but will have lord knows how many musicians on it. I really need to start charting out what all I have to do to get it together, but it's going to be a blast to put together with the dense compositions I've done so far. Um, so that..we are going to try to get a new Trioscapes record underway this year, it's been a few years since our last one and we have the idea for a very loose and free record, I think that's a space in my musical life that will offer some much needed catharsis as that trio is always a huge release for me, live especially. Right now just writing new BTBAM, getting the live plans going for Nova Collective, and enjoying the beginning of the baseball season and all the wonderful things that come along with spring time. Also Twin Peaks is starting up again next month and that will offer up some creative insanity as well I'm sure.
Don't forget to follow Between The Buried And Me on Facebook for updates on upcoming new music and tours.