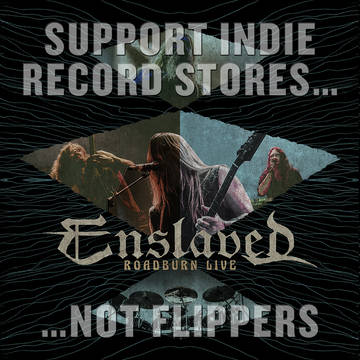 Record Store Day 2017 is upon us! In just a few, short weeks, exclusive releases by artists – ranging from Johnny Cash to Warbringer – will be available for purchase in record stores across the globe. And it is confirmed that among the vinyl releases there will be a limited run of a special Enslaved LP coming on Saturday, April 22nd! The legendary, progressive black metal band's first official live album, Roadburn Live, will chronicle Enslaved's performance at Roadburn Festival 2015 in Tilburg, Netherlands. In anticipation for Roadburn Live, we can enjoy one of the live renditions on the album, "Death In The Eyes Of Dawn", which the band has unveiled in the video below!
Roadburn Live will feature songs from the later albums of Enslaved's decades-spanning career –such as Riitiir; Below The Lights; Isa; and most recently, In Times. Also included in the band's Roadburn set is an exclusive cover of Led Zeppelin's "Immigrant Song". Furthermore, Enslaved performed Roadburn Festival 2015 with guest appearances by Per Wiberg (Opeth, Candlemass), Aðalbjörn Tryggvason (Sólstafir), Menno Gootjes (Focus) and Einar Selvik (Wardruna). You can expect to receive this monumental release on purple-colored vinyl with an original 2015 Enslaved Roadburn poster!
To find out if your local record store is participating in this year's Record Store Day, visit the Record Store Day site here.
For more Enslaved, stop by their Facebook page here.