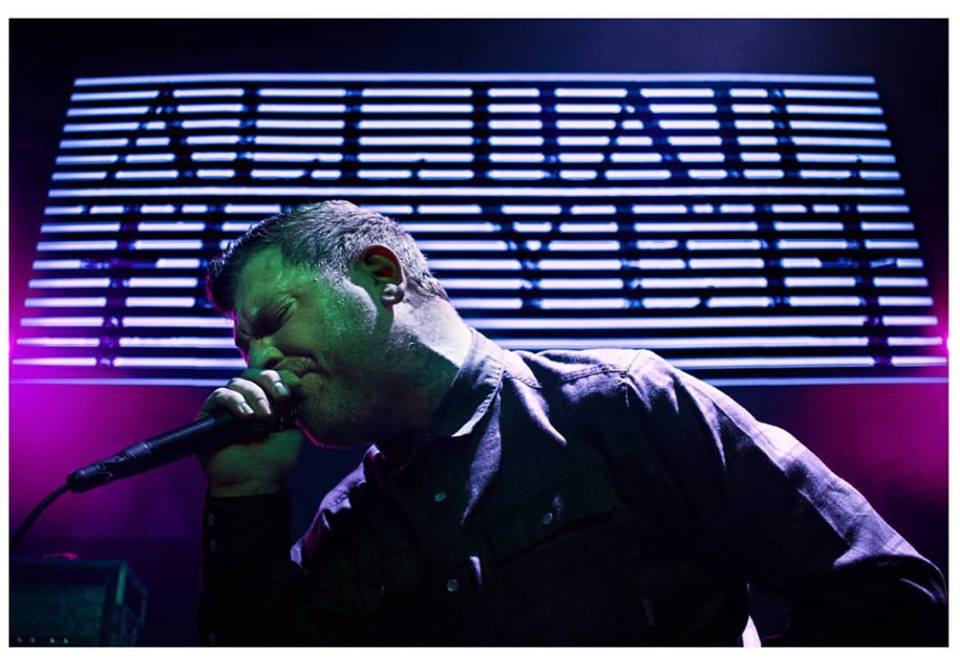 A product of Los Angeles, California All Hail The Yeti formed in 2006. The band has released two full length albums, their self titled debut in 2012 followed by 'Screams from a Black Wilderness' in 2016 which was produced by Matt Hyde (Slipknot, Machine Head). The band creates a southern-sludgy stoner rock that electrifies listeners. The band is influences by iconic NOLA legends like Acid Bath and Eye Hate God and also a touch of the sunset strip with Motley Crue. All Hail The Yeti is now preparing to release their third studio album 'Highway Croses'. The album was recorded, mixed and produced by three-time Grammy winning producer Warren Riker who is well recognized for his work with metal artists such as Down, Cathedral, Korn and Crowbar, as well as mainstream names such as The Fugees, Mary j. Blige, Santana and more. 'Highway Crosses' releases on November 16th via Minus Head Records.
We had the opportunity to speak with All Hail The Yeti vocalist Connor Garritty about the bands new album, their recent tour with Life Of Agony, influences and the meaning behind some of the tracks on 'Highway Crosses'. You can read the entire conversation below:
Metal Nexus: You just wrapped up a European tour with Life Of Agony, how was it touring with such a legendary band?
Connor Garritty: Hands down the best tour we've ever done. Not only was LOA such a huge influence on me, they were incredible people. They immediately took us in and treated us like family. For a band that has been through so many crazy ups and down its just amazing to see them excited every night just to play their music. It gave me a whole new outlook on what I am doing as an artist and songwriter. If we can be half the band they are I will have considered my career a success.
Metal Nexus: You are releasing your 3rd studio album 'Highway Crosses' on November 16th. How do you feel this album differs in comparison to 'Screams from a Black Wilderness'?
Connor Garritty: Highway Crosses found us diving deep into our minds for what ended up as the final result. Screams was a step in the right direction for us. Now we have taken a huge leap in songwriting. Each time we sit down to start writing the first thing we say to ourselves is "how can we outdo what we did on the last song?" so every song becomes a new challenge. We also brought Jorel Decker in from Hollywood Undead to co-write "Highway Crosses" and "Felo De Se." Jorel is an amazing talent and been a close friend since the very beginning of AHTY. He had some ideas and he thought they would work perfect for Yeti songs. He was right. I think that the songwriting overall has just improved naturally. Pushing ourselves everyday to work very hard and not waste our time by cutting corners.
Metal Nexus: This time around you worked with three-time Grammy winning producer Warren Riker. What do you feel he brought to the table that helped in process of creating this album?
Connor Garritty: Warren is the best. He instantly became the 5th member of AHTY. We had a small vision of what we wanted the record to sound like and he opened our eye to things we never thought possible. He is an amazing producer, engineer and all around genius. He is crazy! Just like us. I think that why we all got along so well.
Metal Nexus: You have said if you could collaborate with any musician it would be Dax Riggs (Acid Bath, Agents Of Oblivion, Deadboy & The Elephantmen) and you also list Acid Bath as an influence. What parts of their sound or style do you think you have implemented into All Hail The Yeti?
Connor Garritty: Dax Riggs and Acid Bath have always been my fav. A huge inspiration both musically and lyrically. I always loved how he was able to write lyrics that were so haunting and graphic and somehow find a way to make them beautiful as well. The slow sludgy sound of Acid Bath was very prominent in early Yeti tunes, I think it will always be there in some way for us.
Metal Nexus: With Alan leaving the band you had to quickly find another guitarist, how has the process been and getting them up to speed to perform on these recent tours?
Connor Garritty: Alan leaving was a big hit for us. He is a huge part of our writing process and him and I wrote two records together. We always start out that way. Him and I coming up with all the song skeletons then we bring them into the rehearsal room and the four of us make them into what everyone hears now. Alan will continue to write with us, he just cant tour anymore. So we have dealt with it as best as we can. Clay Davies is an old friend of ours and a great player. He came in and really saved us when we were in need. He has a killer style and brings a new element to the band. Nothing is ever final so well see how it goes from here.
Metal Nexus: "Seymour Avenue" is a song that is lyrically based on the terrifying story of Amanda Berry who was held captive in Cleveland for 10 years. What inspired you to write about this event and how was the process of writing the lyrics for this song?
Connor Garritty: I was watching the movie they made about the story. My girlfriend who is now my fiance was out of town with some friends and she was out for the night in NYC for a party night. We always have really good communication, but her phone had died while she was out and I couldn't get in touch with her. I had just finished the movie and all these scenarios were flashing through my head, "what if that happened to my girl?" "what would I do" etc etc. so it was terrifying on so many different levels. All that aside the story itself is so surreal. The fact that something like that can go on for so long right under the noses of so many people. it was something that I felt very intrigued with and I needed to write about it.
Metal Nexus: Can you tell us about the inspiration for "Highway Crosses"?
Connor Garritty: Highway crosses were something I would always see on road trips when I was young. I would ask my mother what they were and she would explain that they were there to remember where someone had died. So I was fascinated by that. That people would travel all that way to place something in someone's memory. That pure fact that someone had died right at that exact place. It also represents the crossroads. Life is always changing and sometimes you are met with difficult decisions. This record was met with so many so the name "highway crosses" just fit.
Metal Nexus: As an artist yourself I'm sure album art is important to you. What went into designing, selecting and bringing to life the album art for 'Highway Crosses'?
Connor Garritty: Our artwork is always done by my brother Liam Garritty. This particular work was pretty extensive for him. I knew what I wanted in my mind but couldn't really picture it on paper. He was also at a crossing in life as well, so this project was very close to him. We've never put our lyrics in the booklets, just a pic with one line from the song. The art is telling the story of the song.
Metal Nexus: I've said that this album has the perfect balance of screaming and clean vocals. Is that something you strive for in the writing/recording process or is it something that just happens organically?
Connor Garritty: Everything happens the way it does, we never have gone into a song with the thought we need to do something other than write a great song!
Metal Nexus: You have a free album release party scheduled on November, 14h at the Whiskey in Hollywood, beyond that was is in store for All Hail The Yeti for the remainder of the year and the beginning of 2019?
Connor Garritty: TOUR TOUR TOUR TOUR!!!