About a month and a half ago, one of the more off the wall tours I've seen this year was announced. All That Remains, Attila, Escape The Fate, and Sleep Signals announced a huge tour with 30 dates spanning across the United States. Each band brings something unique to the table for this tour. Sleep Signals brings their signature hard rock sound with strong hooks. Escape The Fate brings an intense mix of slamming post-hardcore, hard rock riffs, and a heavy alternation between screaming and clean vocals. Attila brings their well polished deathcore sound that launches crowds into a frenzy. It feels like a party the entire time these guys hit the stage. To close the show, All That Remains brings an eclectic blend of sounds as they have progressed over the years. They have those famous, shredding riffs from songs like "Six" and "Two Weeks" to calm, powerful ballads like "What If I Was Nothing". As you can see, the bill is varied but still has something that connects each band at the same time. The tour gives you your fill of all areas of hard rock and makes for an explosive night of music. We were lucky enough to cover this show at The Apollo Theatre A.C. in Belvidere, IL on March 10, 2019. You check out our review of each band along with photos from each performance below.
Along with the national touring acts, local Rockford act On My Six opened up the show. Unfortunately, the show started fifteen minutes after doors so we were unable to catch a lot of their performance. We previously saw them once opening for I Prevail (who will be back at the venue in August with Issues). They bring a strong melodic metalcore sound reminiscent to early All That Remains and Killswitch Engage. They even brought out a cover of "The End of Heartache" from Killswitch Engage. The band put on a strong performance and you wouldn't even be able to tell they weren't a part of the tour as they fit right along with the acts their that night. We didn't get to photograph them but I definitely recommend checking them out on ReverbNation.
After On My Six finished up, Sleep Signals took the stage. The band is fresh off of the heals of completing a tour this past winter with Atreyu and Memphis May Fire. It is easy to see that the band has been well seasoned from that tour and past dates on this tour as their stage presence is their from the very beginning. Vocalist Robert Cosgrove gets the crowd moving from the start with a high energy performance of "Means". "The Harbringer" follows it with a dynamic instrumental with melodic guitars, speedy bass drum beats, and an all around catchy song in general. "Suit & Tie Suicide" (favorite song title of the night) got the crowd involved as Cosgrove taught us how to sing the backing vocals of the song within seconds. The Minnesota quintet brought their set to a strong close with "Welcome to the Masquerade" and then hung out over at their merchandise booth with fans for the rest of the night. I'm surprised that these guys have been so overlooked over the years since forming in 2014. They have a perfect sound that blends heavy, melodic guitars while still maintaining a catchy hard rock sound perfect for rock stations to be playing across the country. I left the show a fan of the band even though I had never listened to the band beforehand. Keep Sleep Signals on your radar in the coming years!
Escape The Fate has been in the scene for a while. Through six full length albums and several member changes, the band is still going as strong as ever. Since releasing their sixth full length album 'I Am Human' last year, the band has been out on the road promoting it. They came out and kicked off their set with one of my favorites from the album, "Do You Love Me". Craig Mabbit's vocal ability is unreal. His ability to switch off between screams and cleans is highlighted throughout the set. My favorite moment of the set was when he launched a water bottle into the audience and then began belting out the words to "Ungrateful". One thing I had forgot about since last listening to the band was how much guitarist Kevin "Thrasher" Gruft shreds. I mean the guy literally has Thrasher as his nickname. He makes these sick guitar sweeps look extremely easy on songs like "Just A Memory" along with guitar solos on "Ungrateful". The band closed their set with their well-known hit "One For The Money". Escape The Fate performed an impressive set that would set the tone for the rest of the night with heavy hitters Attila and All That Remains to follow them.
Without a doubt, Attila puts on one of the most fun performances that you will ever see. The crowd had been relatively tame throughout the night until Attila hit the stage. From there, all hell broke loose. Their set began with the ticking of a clock and kicked off with "Perdition", the immense opening to their newest album 'Villain'. Without pause, the band broke into "Three Six" with the catchy chorus chanting "If You're Down With The Devil, Say Hell Yeah!" Their stage production was intense, they had the blasting smoke tanks that would go off when a heavy breakdown began, a huge amount of smoke on stage (I only saw drummer Bryan McClure when he got on stage and when he walked off of the stage), and a fierce light show. Although the band is out promoting their self released album 'Villain', they made sure to play plenty of their other material. Fans got to hear quite a bit from my favorite album of theirs, 'About That Life'. During "Middle Fingers Up", vocalist Chris "Fronz" Fronzak requested as many crowd surfers as possible. And he got an absolute frenzy of them. The biggest pit of the night broke out when they asked for it for "Shots For The Boys". Their sets require a tremendous amount of energy, so it kind of explained why the crowd had been pretty laid back until they took the stage. To close their set, Attila slammed through the song about everyone's favorite food, "Pizza". For their last big crowd involvement activity, they had a wall of death. But there was a catch. If you liked pineapple on pizza, you were asked to go to the left side. If you didn't like it on your pizza, you were asked to go to the right side. It was closer than I expected honestly, but the right side won out on the wall. For the night, Attila had the wildest crowd. To be fair though, Fronz could get a crowd to go absolutely nuts with the wave of a finger. Performing in a wall of smoke, Attila delivered a decimating set that turned over half of the venue into a mosh pit.
All That Remains capped off a night of strong performances with a strong mix of material spanning across several of their albums. While our photographer was down in the pit, I hung out in the balcony and tried to snap a few pictures on my phone. It was literally impossible as the bass from the band was so heavy that it would distort the pictures when I tried to take them. This is how you know that All That Remains is playing their heavy material. The new album 'Victim of the New Disease' is a return that many old school fans have been wanting for several years. These songs are just as heavy, if not heavier live as they are on the record. The brutality of the songs showed immediately as Phil Labonte walked on stage and screamed out "Fuck Love" in that strong guttural voice that the band went away from for awhile. That old melodic metalcore sound is in full effect for the night as they also gave us a heavy dose of material from 'The Fall of Ideals' along with songs from 'Overcome'.
As many people know, their original guitarist Oli Herbert passed away late last year. Later in the set, Labonte talked about how much of a struggle it has been getting through the loss of their bandmate and brother. Herbert and Labonte had been in the band from the very beginning so losing such an integral member who had been there for every show was devastating. This led to the addition of new guitarist Jason Richardson. If you keep up to date with the metalcore/deathcore scene, you probably know this name. Richardson has been in several huge bands in the genre like Born of Osiris, Chelsea Grin, and All Shall Perish. He has also put out plenty of solo material. All That Remains had been on the road with him before with some of these other bands in the past. He had been close with them over the years, specifically Oli Herbert. Labonte talked about this more at the show and mentioned that a couple of weeks after Herbert had passed, Richardson called them and offered to fill in on upcoming tours if they needed someone temporary. They got together and jammed a few times and it became apparent that this was the right fit for them. Jason Richardson is now a full time member of the band and will be with them for the future. They all agreed that if Oli would've been able to have a say in it, that he would've wanted Richardson to take his spot as well. I saw the same thing that the band did during the show. Richardson works extremely well with this band and adds his own flair on some of the solos was really cool to see. He's an extremely talented guitarist and I'm looking forward to seeing what they do with him in the studio later on.
All That Remains dived through material all across their last six albums (excluding 'Madness'). Songs like "The Last Time", "Hold On", and "This Calling" still hit as hard as the first time that I heard them many years ago. I had forgotten how many good songs All That Remains has had over the years. They played several that I love but there were still other great songs that they could've played more than 14 songs. The band brought their set to a thunderous close with fan favorite "Two Weeks". It was the perfect way to send everyone home happy on that Sunday night.
Every band is bringing their A game on this tour and you don't want to miss it. There are still plenty of opportunities for you to get out and catch this eclectic bill of hard rock and metal acts. Be sure to check out the tour dates below on the poster and get out to a show while you can!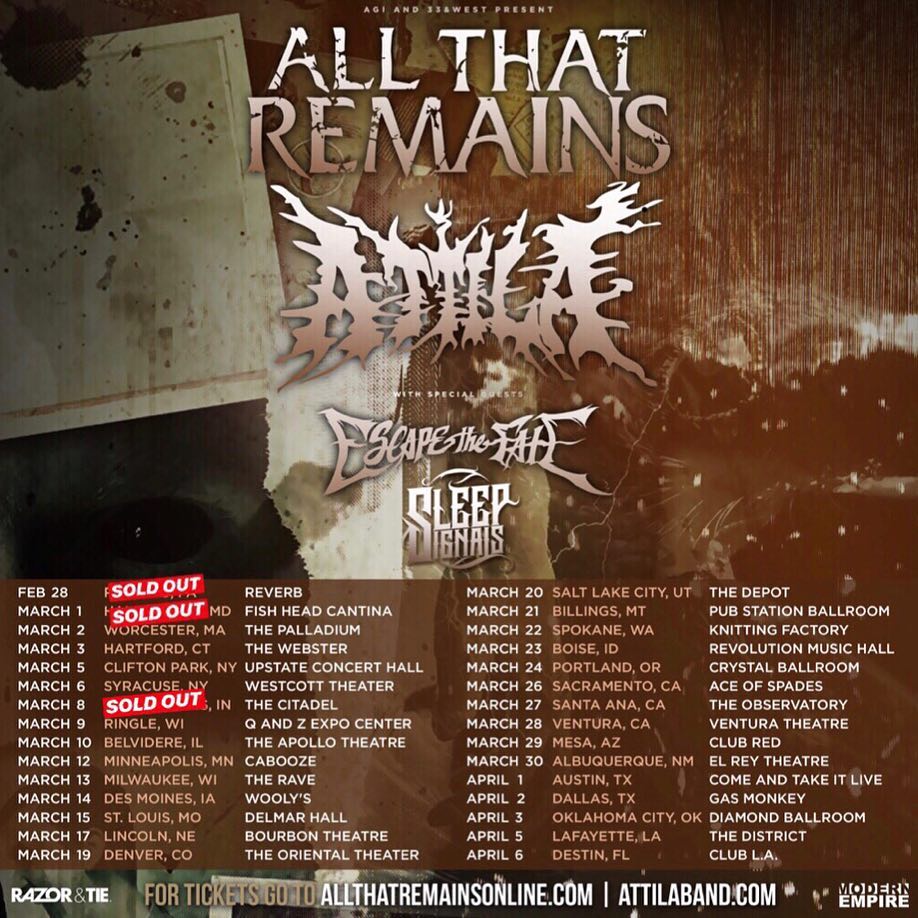 photo gallery