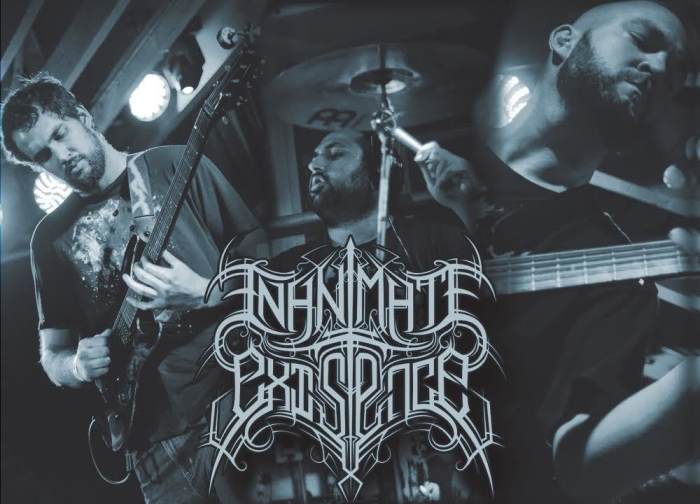 Featuring former members of Brain Drill and Flesh Consumed and released less than a year after their third release Calling From A Dream (Unique Leader Records), Bay Areas Inanimate Existence return with their fourth progressive tech-death fantasia Underneath A Melting Sky. This marks their first record to be released with independent label The Artisan Era and a definitive peak in their 8-year career with a firm establishment of direction after much experimentation. Produced at the Shark Bite Studios (responsible for the mastering behind Exodus': The Atrocity Exhibition Exhibit A and Machine Heads The Blackening), this record offers a futuristic delivery of evolutionary technical death metal and an exciting glimpse into the direction of the genre to come.
For those who are new to Inanimate Existence, their name is pretty ironic; this four-piece are certainly going somewhere and at nuclear speed! Cameron Porras (guitar and vocals) has written music of an otherworldly experience whilst retaining familial death metal traits throughout. Confidently combining progressive prowess with crushing brutality, the unlikely equilibrium of calm versus chaos creates an overall multidimensional odyssey of a record from start to finish. This is all too apparent in the formidable titular track Underneath A Melting Sky in which beautifully interlacing overdriven harmonies contrast against the later unrelenting assault of distorted slaying, creating overtones of intensity and drama. It is undeniable that Inanimate Existence are formidable musicians as every single track highlights their combined profound abilities. From start to finish the record boasts numerous technical sweeping solos and the punishing combined vocals of high and low end from Cameron Porras and Scott Bradley. This is highlighted in In Moonlight I Am Reborn where the vocalists bounce off each other to create dynamic against a backdrop of uncompromising blast-beasts and enchanting harmonising ghostly melodies with gentler sweeping broken chord progressions.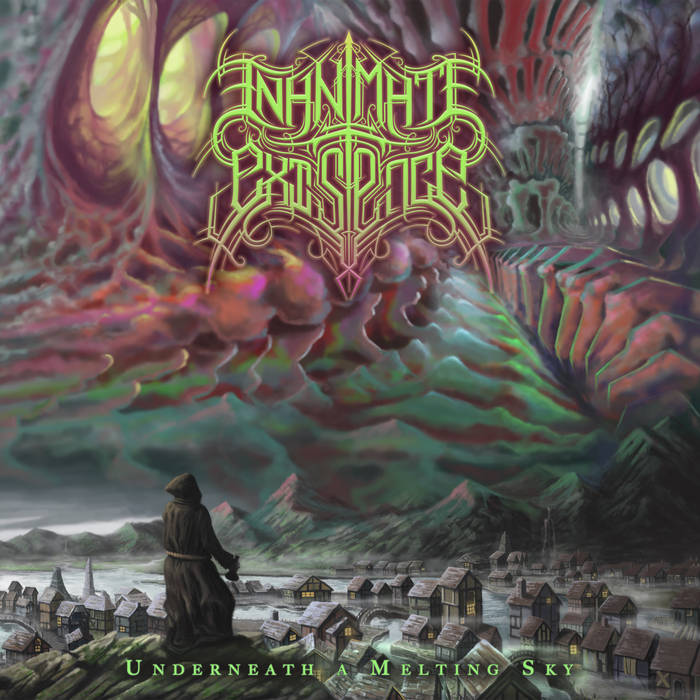 Later in The Old Man in the Meadow the initial tempo steadies pace as we are treated to a succession of chug chords and fretworks reminiscent of early heavy metal. Overlaid with a sombre sequence of single sustained notes which altogether creates an atmosphere of relative calm before the storm and highlights the diverse dynamic that can be achieved with thoughtful layered melodies. The bass is much more prominent in this track and interweaves the two definite sections seamlessly, leading you from a reflective state to an escalation of intensity, heightened by Ron Casey's diversity with his rhythmic use of rolling toms and meticulously timed accentuating double bass. The closing track Formular of Spores follows suit, opening with a fantastical dreamlike escapade of clean fretwork by interwoven bass and guitars that evoke an ethereal quality, especially with the added subtle addition of electro-harp at pinnacle moments in the composition. This leads on to an overlaying screaming melody that unites the utopia from the formidable dystopian onslaught. The dynamics shift multiple times throughout the track, conjuring up feelings of sheer intensity and alarm – like we are foreseeing the end of time long before it has even been reached.
For now Armageddon can wait as Inanimate Existence have certainly reached a defining moment in their career. Underneath A Melting Sky is a consistent theatrical opus in its entirety from beginning to end and offers a promising and innovative avant-garde audial expressionism in composition and overall sound. Their closing words certainly ring true, "Free of what I once was I travel forth into Infinity".
Underneath a Melting Sky was released 25 August 2017 by The Artisan Era. Purchase the album here. You can find Inanimate Existence now "Occultivating the Masses" on their North American Tour with Arkaik and at multiple locations, finalising October 7th at The Phoenix Theater, Petalum, CA. For more information head to their Facebook page.