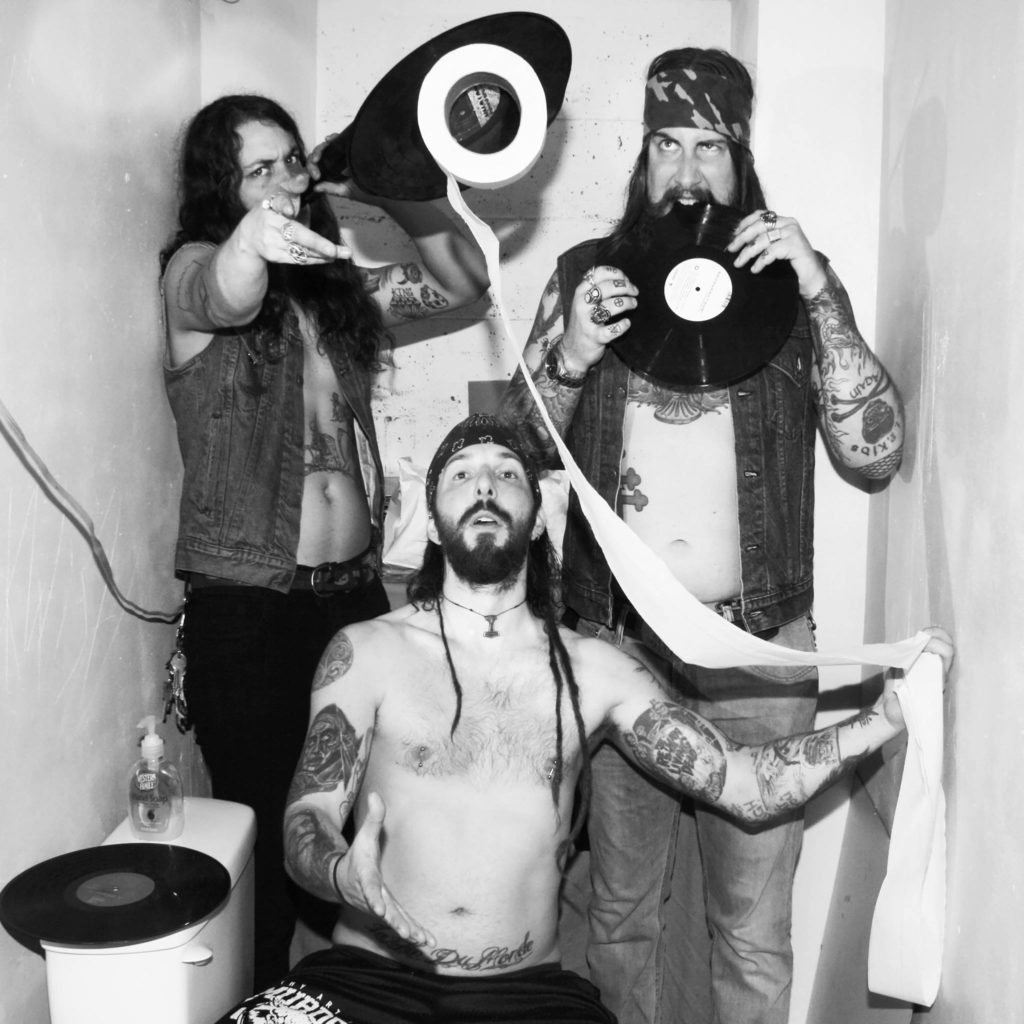 Formed in late 2011 as an outlet for the winter blues, Seattle trio WOUNDED GIANT jams on all things heavy, psychedelic and dark. They are unapologetically influenced by icons from Thin Lizzy and Hawkwind to Motorhead and The Stooges. Wounded Giant knocked out an early demo with Tad Doyle (Brothers of the Sonic Cloth), then followed it with debut album 'Lightning Medicine' on Black Mess Records. Their third offering, a split LP with Goya, sold out its first pressing on the day of its release. Things were on the up and up for the band. While most bands would ride that wave Wounded Giant turned things up and raised the bar yet again with their new release 'Vae Victis'. The new album 'Vae Victis' arrives April 1st, 2017 with the Billy Anderson production stamp. If you are not familiar with Billy Anderson by name you have surely heard his production work with bands like   Neurosis, Swans, Melvins, Sleep, Brutal Truth, Buzzoven and Cattle Decapitation. The deluxe multi-edition treatment of the album is compliments of STB Records to commemorate its raging majesty. It only adds to the greatness of this album that Russia's infamous "Mad Monk" Rasputin makes a cameo on the cover art. He also made the cover of Type O Negative's 2007 album 'Dead Again'. If you are unfamiliar with Rasputin I suggest you get acquainted with his historic tale.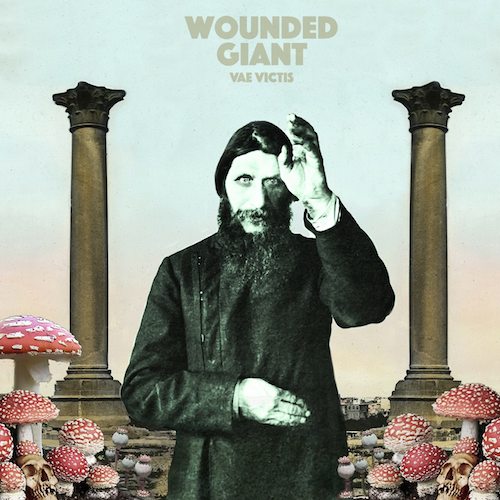 Wounded Giant gets things started with the title track "Vae Victis," which is 9 minutes of muddy sludge filled goodness to introduce you to the album. The first 2 and a half minutes is a gritty instrumental welcoming package. The groove and distorted riffs gets your blood flowing while you await the vocals. The very first lyrics being "I love corruption" just sets the mood for whats to come. Guitarist/vocalist Bobby James has a vocal tone that straddles the fence on harsh and clean. His tone is perfectly balanced against the doom filled riffs he expels. At times his vocals stretch over to a harsher scream, and it's always at the exact moment its needed. Around the 6 minute mark the song takes on this galloping speed which evolves into a full on derby race. The instrumental track "Emmanentize the Eschaton" gives us time to catch our breath before moving on to more of the onslaught 'Vae Victis' beholds. The instrumental also includes samples from the 1978 Jonestown Death Tape where over 900 members of the People's Temple cult religion committed suicide led by Jim Jones. "Scum of The Earth" ignites quickly into a chugging steam engine like guitar riff. Drummer Alex Bytnar's constant pounding keeps everything in rhythm throughout this supercharged song, while bassist Dylan A. Rogers lays down the thick swampy undertones. Lyrics "What does it mean to be free" are very compelling immediately following the samples from the cult tape. Bobby spouts more meaningful lyrics in a more spoken word approach "Nothing is true, everything is real, everything is true, nothing is real." We also get some clean shrieking riffs which are immediately followed by the more distorted norm. Based on the lyrical content here it's easy to see this song followed up "Emmanentize the Eschaton" for a reason. "Green Scar" has this slow ambiance and slightly echoing riff. The final track on the album does not disappoint. Wounded Giant showcase a more doom sound in regards to both instrumentation and vocals in their farewell. The more somber track on 'Vae Victis' comes across like an anthem. Wounded Giant is no longer clandestine, like the figures used in the album art and samples 'Vae Victis' is a predetermined cult classic.
Enjoy the exclusive stream of 'Vae Victis' below prior to it's release on April 1st release. 
Follow Wounded Giant online Facebook , Bandcamp
Check out STB Records: Facebook
The album will be available in an array of vinyl selections at the STB Records Store:
Die Hard Edition:
Limited to 100 units on 180-gram red, yellow, and green tri-color vinyl with blue splatter. Comes housed in a hand-numbered, high-density/high-gloss gatefold jacket with Die Hard-only foil stamping, and accompanied by an exclusive Wounded Giant signet ring.
OBI Series:
Limited to 150 units on 180-gram clear vinyl with white center and red and yellow splatter. Comes in a hand-numbered high-density matte-finished gatefold jacket with flood UV effects and foil-stamped OBI series spine strip.
Not So Standard Edition:
Limited to 250 units on 180-gram red and white swirl vinyl. Comes in a full-color matte-finished gatefold jacket with flood UV effects.