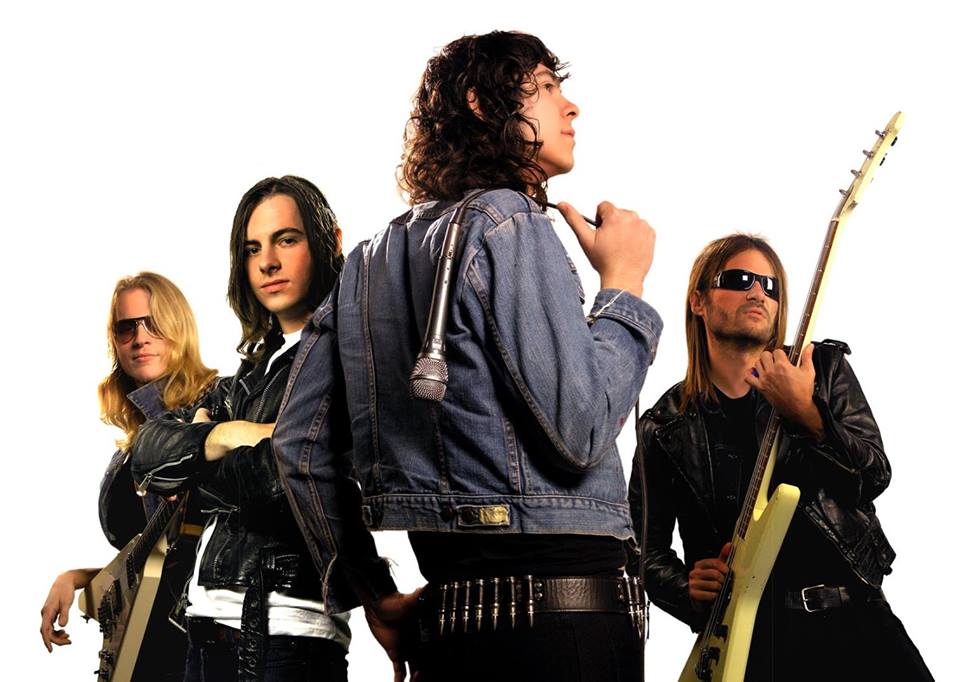 If you are an old school metalhead and you haven't heard White Wizzard you are in for an amazing treat. Formed in 2007 White Wizzard hails from Los Angeles, California. Tired of the down-tuned screamo metal that seemed to be everywhere, bass player and guitarist/songwriter Jon Leon formed White Wizzard as an outlet to release music he thought needed to be heard. In a modern age when guitar solos and old school falsetto vocals were being lost they brought back a nearly extinct sound. Though the lineup has changed on almost every album, Jon Leon's songwriting has remained consistent and the name White Wizzard has progressed. Jon Leon is synonymous with White Wizzard. However, on the upcoming album 'Infernal Overdrive' the band brings back classic members, vocalist Wyatt "Screaming Demon" Anderson and guitarist James J LaRue, rejoining with bassist and band leader Jon Leon for the group's finest record to date.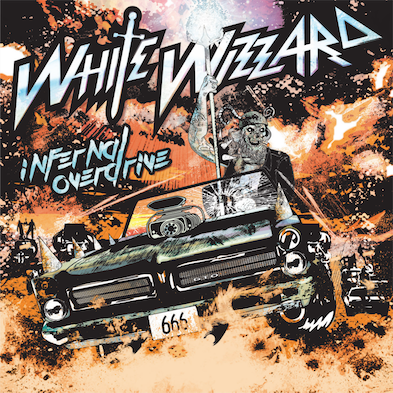 Expectant fans have waited long enough for the first taste of new music from the revamped White Wizzard. The band is pleased to release the first lyric video, "Storm the Shores", from their highly anticipated new record, 'Infernal Overdrive' (out Jan. 12, 2018).
'Infernal Overdrive' was produced by Ralph Patlan (UFO, Megadeth, Flotsam and Jetsam), the album is over an hour long and captures all the ingredients of past White Wizzard work but expands upon the template with seasoned maturity, outstanding musicianship and a widening of influences including '70s hard rock and progressive rock/metal. In regards to the new track "Storm The Shores" takes us back to the bands influence of bands like Iron Maiden and Judas Priest. In this track White Wizzard lets the guitar solos run free and the vocal tones will make the hairs on your neck stand up. If this first track is any indication of the album to come we are in for something special. The band stated the following about the track and corresponding lyric video:
"The song and video is a tribute to military personal and those that have fought and died for the ideals of peace and freedom all around the world. White Wizzard in no way is making any political statement with this song and video – it is simply a tribute to the men and women that have served and died in combat. We respect all nations, creeds and cultures. We do however want to recognize those that have suffered and fought for freedoms many of us in the western world take for granted. Many of them poor with only the military to build a life, or many in the past drafted with no choice. They fought for a belief that sadly in this day and age has been raped by greedy corporate politicians on BOTH sides of the political spectrum. The belief in a dream. We want to light that candle and remember them, and that dream. There is nothing more pure than passion and dreams. Many of these men and women were not fighting for a government, but something much more important. A belief in a future and opportunity. A belief in a chance to live in a world of peace. So we say screw the entire system that has betrayed the men and women that fought and died with greed and corruption. Forget taking a side. See beyond that and realize that these men and women that fought and died deserve to be remembered and revered regardless of your political affiliations, not for fighting for a government, it's ideology or corporate greed… but for dreaming a bigger dream and for wanting freedom for all. That's why I wrote this song and that's what this video is about. Nothing more."
'Infernal Overdrive', the band's fourth full-length, will be released on CD and gatefold double vinyl, with artwork by Christopher Hardy. Preorder now here.
White Wizzard have announced a handful of special shows in the Southwest to kick off the new release, as well as one in London March 31st which will be part of a planned European tour.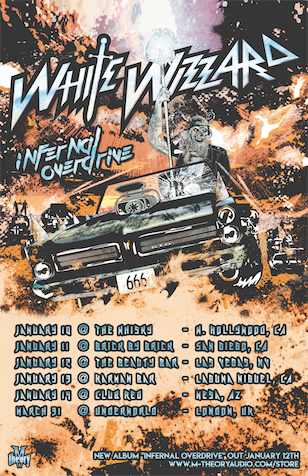 January 10 – The Whisky – W. Hollywood, CA
January 11 – Brick By Brick – San Diego, CA
January 12 – The Beauty Bar – Las Vegas, NV
January 13 – Karman Bar – Laguna Niguel, CA
January 14 – Club Red – Mesa, AZ
March 31 – Underworld – London, UK