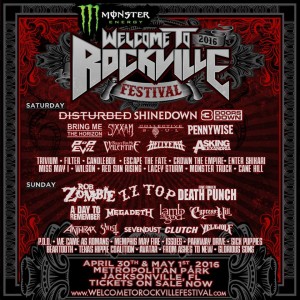 Jacksonville's premiere music festival is slowly approaching. A mere 70 days or so away. Once again the promoters have amassed a slew of amazing bands from varying genres. Rockvillans like myself anxiously wait all year long for the gates to open and the first note to be struck. If you haven't made plans to attend you are doing yourself a great injustice. Be there.
Opening the 2016 Welcome to Rockville festival will be newcomers Cane Hill. Hailing from New Orleans, Louisiana, Cane Hill is a five piece Nu Metal band. They have toured the states with Hollywood Undead, The Acacia Strain, and For the Fallen Dreams. They released their self-titled EP on Rise Records in October 2015. With releases such as Time Bomb, Sunday School, and Oxblood, Cane Hill will be started the weekend out the way we all love, HARD and HEAVY! They go on early, so don't miss them! You won't be let down! This next band may be unfamiliar to you, but they won't be for long. Canadian rockers Monster Truck hits the stage next. Out on tour to support their new release Sittin' Heavy. The band will be making their name known during the Loudest Month starting with Welcome To Rockville. The band isn't a stranger to the festival circuit as they played Louder Than Life in Louisville, Kentucky during its inaugural year. The band has become known for their live shows. There's no doubt that anyone interested in original and authentic rock music will want to pay attention. With the name Monster Truck, you can expect their presence and set this day to be exactly as it sounds, monstrous and loud! Grab a beer and enjoy their set.
This lady is no stranger to the rock and metal world. She will dominate the stage next. Lacey Sturm is an American songwriter from Arlington, Texas. She's the former singer of hard rock band Flyleaf. Her solo debut album Life Screams was released independently via Followspot Records on February 12, 2016. The rock princess is finally back since she announced her departure from Flyleaf in 2012. Her new music seems like she hasn't skipped a beat. Flyleaf fans and new fans alike will love her new album, especially the single getting major airplay "Immortal". She will be a crowd favorite this year gracefully rocking the stage better than ever! Red Sun Rising will be making their second appearance at Welcome To Rockville this year. A powerful, melodic hard rock band combining a forceful guitar attack with emotional, anthem like vocals. Red Sun Rising calls Akron, Ohio home. The band often uses the hashtag #WeAreThread, which is said to be the name of the genre of music they would like to represent. No matter what you call their sound it's pleasant to hear. Their release off Razor & Tie records Polyester Zeal was released on August 7th, 2015 and has been steady climbing the rock charts since then. They have a hard hitting beautiful sound that has been overwhelming radio play, get front and center for their set.
Our friends in Wilson will be another crowd favorite at Welcome To Rockville this year. They are a hard rock band from Detroit. Wilson built their reputation and fan base with heavy touring, key shows and festivals. The band originally started as a way to get free beer, so you know Wilson parties. Wilson released their sophomore studio album Right to Rise on Razor & Tie records in June of 2015. The release was followed up with a tour of the UK/Europe. On April 30th, Wilson will be bringing the no-holds-barred, blue collar hard rock to the stage at Welcome To Rockville! The have infinite energy on stage and are just kick ass guys to hang out with. Originating from Troy, Ohio, Miss May I formed in 2007. By 2008, they were signed to Rise Records. Miss May I's musical style has been described as melodic metalcore, mixing melodic death metal and thrash metal riffs with hardcore punk. The majority of their releases have both unclean and clean vocals. With four previous releases under their belt, they released their fifth studio album titled Deathless on August 7, 2015. Miss May I was on the bill for the entire Vans Warped Tour 2015. After the release of Deathless, they toured North America as support for Parkway Drive's with Thy Art is Murder and In Hearts Wake. There are always going to be bands you will use as a break to go get a beer or some grub. This is not one of those bands. Watch their entire set, if you blink you are bound to miss something cool. Enter Shikari is a British rock band from Hertfordshire, England. In 2006, the band formed their own record label, Ambush Reality. By the end of that year, they were just the second unsigned band to sell out the famed London Astoria. While recording the latest release, Enter Shikari made appearances on the Vans Warped tour bill in Leeds and Reading in 2014. In January 2015, the four piece band released their latest album The Mindsweep. While they do differ from the bans Bullet For My Valentine or Bring Me The Horizon, you will likely enjoy these guys. If you are looking for a new band look no further.
Another veteran of the Vans Warped Tour circuit making an appearance at the 2016 Welcome To Rockville Festival is Dallas based band Crown The Empire. Their sound as some would say feels like a metalcore take on Linkin Park. One of their fans even described them as the most amazing band ever. Their latest release The Resistance: Rise of the Runaways was released in May of 2014 on Rise Records. There's been word that they are currently working on another release as we speak. They will bring a high-energy, visually stimulating and thematically engaging live show that will grab your attention and not let go! Jacksonville will be full of metal heads from near and far. The longstanding festival is now like a family reunion to Rockvillans. Escape the Fate is the next band up on the bill for what is one of the best weekends all year around. The Las Vegas band prides itself on having an energetic and visceral live show. Their sound is somewhat similar to The Used, Atreyu, My Chemical Romance, Saosin, Senses Fail, and Vendetta Red. Their latest release, their fifth album Hate Me was released on Eleven Seven Music on October 30, 2015 and is quickly going up the music charts all the way to the top! American rock band Candlebox has been around since 1990 starting out in the grunge era, so they don't really need a introduction. They were pretty successful going multi-platinum in the early 90's. Candlebox was the first successful act on Madonna's Maverick Records, which went on to sign Alanis Morissette, Deftones and The Prodigy. Their sixth studio album Disappearing in Airports is set to be released on Pavement Entertainment Records on April 22, 2016. Their grunge style will be an amazing break for your ears after hearing a few hours of hard hitting metal. Sing along to their hits like "Far Behind You" cause I know I will be.
Filter makes their return to the Welcome to Rockville festival this year as well. With the release of their seventh full length album Crazy Eyes on Wind Up records set to be released on April 8, 2016, they are currently preparing to tour the states in support of the new release. Lead singer Richard Patrick brings so much emotion to the stage and pleases nearly every fan within ear shot. Richard was formerly in a little band you may know called Nine Inch Nails. Filter essentially is Richard Patrick, and through his hard work he has held the band together. When they play "Hey man, nice shot" live it's like an experience instead of a song. Once you see this band live it will change the way you feel about them for life. One of the few bands that is 100 times better live than their album. Clear your schedule for Filter and have an eye opening experience with their music. Trivium is a heavy metal band from just down the road a bit from Jacksonville. This is almost a hometown show for the Orlando, Florida natives. Signed to Roadrunner Records, Trivium released their seventh studio album Silence In The Snow on October 2, 2015. They are known as one of the notable New Wave of American Heavy Metal Acts. Trivium is a band heavily influenced by old school metal such as Fear Factory, Iron Maiden, Black Sabbath and Megadeth, and with their own diverse mix of some scream vocals, reminiscent of more modern thrash, this will be a set the crowd will be talking about for a long time. Matt Heafy shreds and sings with more passion than half of the rockers out there today.
Another band from England Asking Alexandria makes their return to Welcome to Rockville with a bit of a change since the last time they were played the festival: their former singer Danny Worsnop is no longer with them. Five months after his departure from the band, his replacement was announced: Denis Stoff (ex-Make Me Famous). Asking Alexandria will be releasing their fourth studio album on Sumerian Records titled The Black on March 25, 2016. Metal supergroup Hellyeah makes their return to Welcome to Rockville this year. The Dallas based rockers are currently in the studio recording their fifth album, which, as of right now does not have a title just yet. They need no introduction and their music crosses barriers and they have fans from all walks of life. The dominate one stage at a time with their jaw dropping stage presence. Keep an eye out for Vinnie Paul's up and coming cookbook which I'm sure is full of delicious treats to go along with his sick ass beats. Bullet For My Valentine formed in 2003 in Bridgend, South Wales. Since they formed, they have released five studio albums of melodic, metallic, thrash, dark rock songs. The latest release Venom was released on August 14, 2015 on RCA Records. Bullet For My Valentine is currently on tour with Asking Alexandria, so you get the whole tour package here. The boys from Grand Rapids, Michigan are back! Pop Evil will be making another appearance on the Welcome To Rockville stage. The latest release from Pop Evil, Up, was released on the eOne record label on August 21, 2015. The release was considered the best record they have released according to the band members. The single "Ways To Get High" is currently #2 on the Active Rock Charts with 1732 radio spins. One the day of the most recent release, the mayor of Grand Rapids at the time George Heartwell declared that day to be "Pop Evil Day" in Grand Rapids, Michigan.
American Punk Rock band Pennywise will help diversify the line-up of bands at Rockville. I think every metal show could use a little dose of late 90's punk rock. Formed in 1988 in Hermosa Beach, California, the name Pennywise came from the Stephen King Movie It. Pennywise currently has thirteen albums out. Their next release Nineteen Eighty Eight early releases LP is scheduled to be released on May 20, 2016. They are considered legends in punk music, so don't miss your opportunity to see them in action. Georgia natives Collective Soul will be making their inaugural appearance to Rockville this year. The band broke into mainstream popularity with their first single "Shine". Their style music will slow things down a bit and let you catch your breath from everything going on throughout the day. They released their ninth studio album See What You Started By Continuing on Vanguard Records on October of 2015. This is their first release since their self-titled cd Collective Soul was released in 2009. You can expect to hear Collective Soul's new singles "This", "AYTA", "Hurricane", and "Contagious" as well as their classics. With the recent finale tour by the Sunset Strip legends Motley Crue there isn't another way to catch the famous bassist known as Nikki Sixx unless you catch his side project turned priority project Sixx A.M. Nikki is one of the most prolific writers to come out of the hair metal era. His autobiography titled "The Heroin Diaries" details his experiences and how he is lucky to be alive and now pours his heart and soul into his music. Nikki is not the only big name in the band either. DJ Ashba who was originally in the band Beautiful Creatures, but really came into the spotlight with Guns -N- Roses when he was brought on board during the Chinese Democracy Tour. He was in GNR up until recently when he departed the band which led to the reunion of the original line-up of the band. Sixx A.M. really deliver as a band. You can bet that people will be swarming to the stage to catch their set.
Bring Me The Horizon have recently earned a lot more respect from metal heads around the world. Lead singer Ollie Sykes playing at the NME Awards made his way through the crowd and on top of the band Coldplay's dinner table. Drinks and silverware went flying and by the time he jumped from the table it was demolished. Coldplay somehow weaseled their way into performing the Superbowl 50 halftime show. If only we could all be like Ollie and give Coldplay some hell. The five piece band released their fifth studio album titled That's The Spirit on Columbia records on September 11, 2015. That's The Spirit saw the group dropping some of their metalcore tendencies in lieu of a more melodic, alt-metal approach. As far as the live show goes, expect to witness or even a part of the infamous wall of death! Bring Me The Horizon pours every ounce of energy and emotions into the live shows and is a band you will not want to miss!
Mississippi rock band 3 Doors Down will bring their mainstream brand of rock to the stage. The band's 6th record release is scheduled to be unleashed on March 11, 2016 on Republic Records. They are also planning a huge summer tour in support of the new album. The single off the new record In The Dark is currently at #10 on the Active Rock chart. With 1062 radio spins, it's only going to go higher. Jacksonville based band Shinedown returns to the Welcome to Rockville stage this year. Always a hometown crowd favorite, Shinedown will be rocking songs from their September 18, 2015 release Threat To Survival on Atlantic Records. Throughout Threat to Survival, Shinedown explore matters of life and death and beauty and pain. State Of My Head off of the Threat To Survival is currently #1 on the Active Rock Chart. You will hear not only new songs, but the classic Shinedown releases as well. With five records, their set won't be a disappointment. Disturbed dropped a bomb on us recently and announced their return from a hiatus with an album already in the works. Their most recent release Immortalized was released on Reprise Records on August 21, 2015. This is the first release since the band took a hiatus in October 2011. Disturbed recently covered "The Sound of Silence" which is getting tremendous airplay on SiriusXM. The song is a completely polar opposite of what Disturbed sounds like normally. If you haven't heard it make sure to check it out.
If you haven't already be sure to pick up your tickets before it's too late. Links for everything Rockville related will be below. See you there!
Facebook, www.welcometorockvillefestival.com, Get tickets here!