Soulfly is usually always touring with amazing bands. Even a Cavalera family reunion is a great touring package aka Maximum Cavalera Tour from the past. The family tree has amassed several kick ass bands. On this particular night we would be partaking in not on Soulfly, but Swedish metal legends Soilwork, Shattered Sun, Earthside and local Knoxville natives Scent of Remains. There was a couple downfalls on this night that led to some heartbreak. First and foremost it was very disappointing that Decapitated was unable to get their visas and thus not being able to get onto U.S. soil. So can we all please raise our middle fingers to the guy in immigration that wanted to be a douche and prevent them from making the tour. We were highly looking forward to banging our heads to their particular brand of metal. With an already early start time newcomers to the tour package Earthside and Scent of Remains played before we even made it to Knoxville's premiere music venue The International. Those bands got a start a little sooner than even listed for the event. Although we missed those bands I will tell you now that Scent of Remains is a brutal band that will be a nationally touring act in their own time. So get your ass to one of their shows you will thank me later.
South Texas based band Shattered Sun was the first band to dominate the stage for us. They have this semi-melodic heaviness to their sound that is very palete cleansing. What I mean in that sense is that their sound really breaks up the monotony of the screaming metal we all love, but grows old if repeated alot. Not only does the band have an appealing sound but they have a lot of energy on stage and all the members of the band are immensely talented musicians. Singer Marcos Leal defines what a frontman should be. The way he not only sings but the way he controls the energy of the crowd just kicks the band up another notch. Their debut album on Victory Records "Hope Within Hatred" is a must hear for anyone that is a fan of hard melodic metal. Not only do these fine lads kick ass on stage but they spent the whole night hanging out at their merch table and took pictures with anyone and everyone. Very down to earth guys.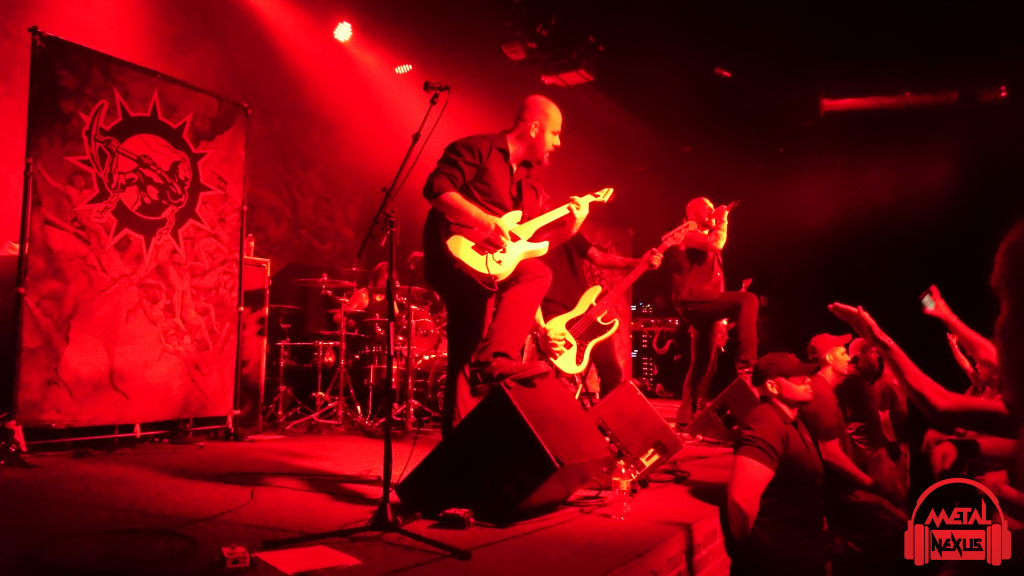 Next up was something I've been waiting a long long time for and that's Swedish legends Soilwork. I must admit (and this may show my age) their album "Natural Born Chaos" was the soundtrack to my senior year of high school, so its very near and dear to my heart. The one thing I did find out while seeing these guys in Knoxville, Tennessee is that they have amassed a huge loyal fan base there. You could read on the faces of the fans how eagerly they were awaiting Bjorn and the rest of the band to take the stage. The moment they appeared on stage the crowd went absofuckinglutly crazy. They immediately ignited into some relentless riffs and the beauty that is Bjorn's voice erupted from the speakers. It was a sound of pure magic, or "The Ride Majestic" you could say. That is also the title of the newest Soilwork album. One thing that is very noticeable about the band is the stage precense of guitarist David Andersonn. He shreds nonstop and makes it look effortless. Not only is he a skilled guitarist but he deserves an Emmy Award for his theatrical stage performance. I stood directly in front of David and i'll admit it was hard to look away, his playing style is mesmerizing. They didn't play any songs from my favorite album, but I was equally glad to hear two songs off the new album including the title track "The Ride Majestic". I was beyond satisfied as well that they ended the night with " Spectrum of Eternity". Bjorn lived up to everything a Soilwork fan would want from a show. The sound, the showmanship, and nonstop head banging from the first note til the last. They kicked more ass than a 6 legged Billy goat. (BTW a 6 legged Billy goat kicks a whole lot of ass, just so you know)
For a few moments I didn't think the night could get any better. Then I realized Soulfly was about to take stage. Max Cavalera pretty much defines metal. Out of all the bands he has been a part of Sepultura, Soulfly, Cavalera Conspiracy, Nailbomb and Killer Be Killed everything always has a unique sound and stands apart from each other. Max welcomes us by jumping straight into the new song and metal anthem "We Sold Our Souls For Metal" and although it's new the crowd sang along like they have known the song for decades. The one thing I have to put some emphasis on is the fact that Max's son Zyon is an absolute beast on drums. Of course Zyon first showcased his beat even before his birth when his in utero heartbeat was added to the Sepultura song "Refuse/Resist". Of course with amazingly talented parents like Max and Gloria he was bound to succeed at anything he did. Zyon pounded flawlessly through the night proving he is now a highly talented drummer. So we were honored to have not one but two Cavalera's on stage pouring their heart into the music. At most shows you will notice the band will play instrumental for a bit to give the singer a break. Well not for Max, he gives the band a break momentarily while he plays an instrument called the berimbau. It's a one string instrument that is native to his home country of Brazil. Everyone was mesmerized since most had likely never seen it before. Then a drum beat blasted through and we are jetted back into the metal world. The show went off without a hitch, the sound and the stage show was well above par for any course. Soulfly is indeed a life altering experience. If you haven't had a dose of it yourself you need to be changing that.
Soulfly is now out on tour playing some dates with Crowbar, make sure to get out and see them.
All of the bands listed also have brand new albums out so make sure to pick up a copy today.
Follow these bands on Facebook.