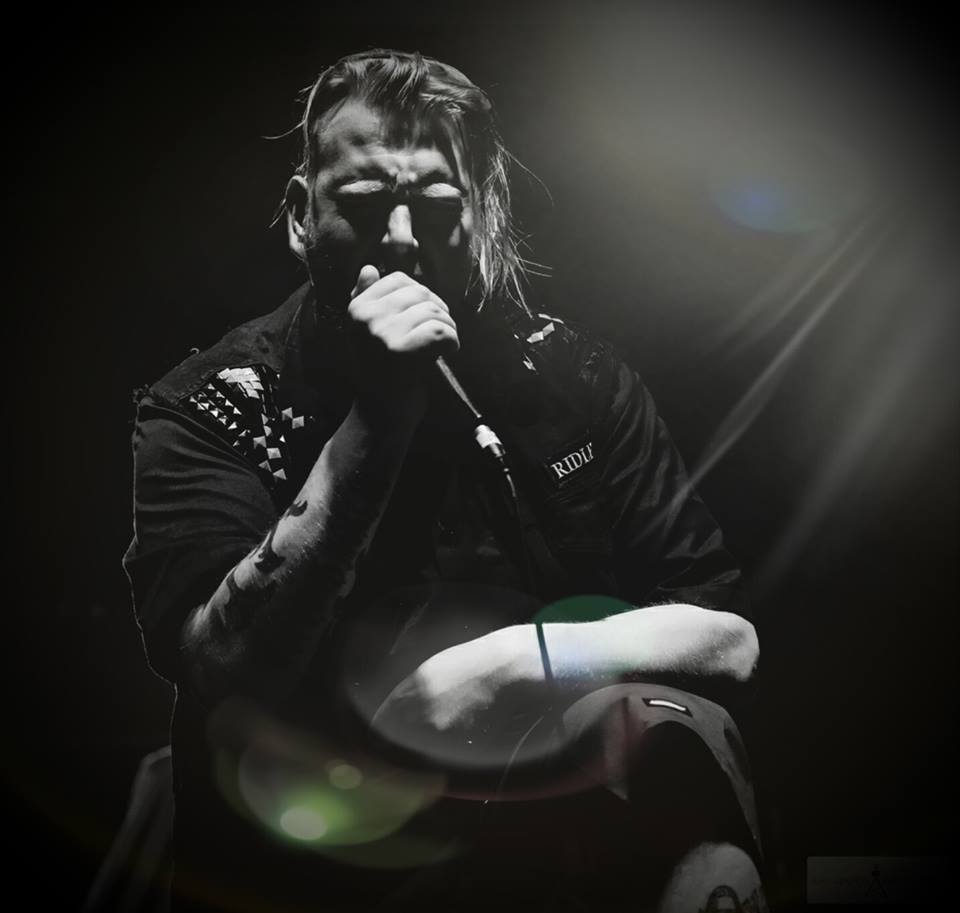 After being introduced to Saint Ridley not once but twice this year as they opened for Coal Chamber. The band always takes the stage in a take no prisoners sort of way and immediately turns anyone within ear shot into a fan. One of the best feelings as a metal fan is going to a show to see a headliner and falling in love with the sound of an opening band and thats exactly what happened with me personally when I heard Saint Ridley for the first time. So by the second time I seen them 4 months later I was a fan. We certainly want to thank Paul for his time and look forward to seeing them a lot more in the future. 
Metal Nexus: We were able to catch you on tour with Coal Chamber twice this year, one with Filter and Combichrist and the other with Fear Factory, Jasta and Madlife. How did you manage to make it on both of these kick-ass tours?
Paul Ridley: On the first tour, our management company, Music Gallery International, got us on board. As for the second tour, Dez from Coal Chamber asked us personally to do it. We had become good friends by that point. He likes how hard we worked and how unique our sound was and wanted to work with us again.
Metal Nexus: During the show in Asheville, NC, you pulled a very young fan, maybe 6-7 years old onstage and let him sing along to "Burn". I spoke to you briefly at the show and you said that it's the first time you've ever done that. How did you feel afterwards, knowing that you helped a young fan create a lasting memory with Saint Ridley?
Paul Ridley: I dreamt of that when I was young, so it made me feel incredible. At the end of the day, the only things that matter in this business are being remembered and making the fans happy. I think we accomplished that in Asheville.
Metal Nexus: I had not heard of Saint Ridley until the first time I saw you guys in Charlotte. I was very impressed with the energy that you brought to the stage. Is there anything you do that you think sets you apart from other acts?
Paul Ridley: I'd like to think that we put more energy into our stage shows than most bands do. Also, I think we play a very different style than most. We do this while making people laugh and have a great time.
Metal Nexus: I've heard that there was a tragedy in your life where you died twice on an operating table, but I don't know the whole story. Could you tell us about that? Do you think that whole experience changed your outlook on life and music?
Paul Ridley: After a surgery, I wasn't given a blood thinner that I was supposed to have been prescribed. The lack of this medication caused a blood clot the size of a marble to go into my heart and kill me over and over again. It was the most painful thing I have ever gone through. I had to have a couple of heart surgeries after that, on of which I had to be awake for. That was absolute hell for me. All of this happened after a major intestinal surgery that had left me with fifty-four staples in my chest and stomach. It took two painful years to recover. I even got to the point where I didn't care if I lived through it or not. What does not kill us makes us stronger…and stranger haha. I learned a lot from my struggles. I decided that I wasn't going to waste my life in some office. I decided that I was going to put everything into my music and I never looked back.
Metal Nexus: You have been recording your sophomore album at Metro 37 with Matt Dalton. Is there a name for the album or an idea of when fans can expect the release?
Paul Ridley: The name of the album will be "Through Blackened Skies" and it will be ready to release in the first quarter of 2016.
Metal Nexus: On this new, upcoming album "Through Blackened Skies" Do you feel that it's a continuation of what you did on "Fool or A King", or do you feel that the band's sound has progressed or changed with the new material?
Paul Ridley: This album is completely different. The album "Fool or a King" was pretty much just me writing and Matt Dalton producing. On the new album, Saint Ridley has permanent members. I am playing with some of the greatest musicians that I've ever worked with. We have become way heavier and our music is way more though-out. My voice is also much better than it was on "Fool or a King".
Metal Nexus: If you happened to be playing a show on Halloween night and had to dress up on stage, what or who would you dress up as?
Paul Ridley: That almost happened last year. We thought about dressing up as Alice In Chains.
Make sure to follow Saint Ridley as they are set to release their upcoming album, and if they are in a town near you get your ass out and see them. You won't regret it.
Follow Saint Ridley on Facebook here.