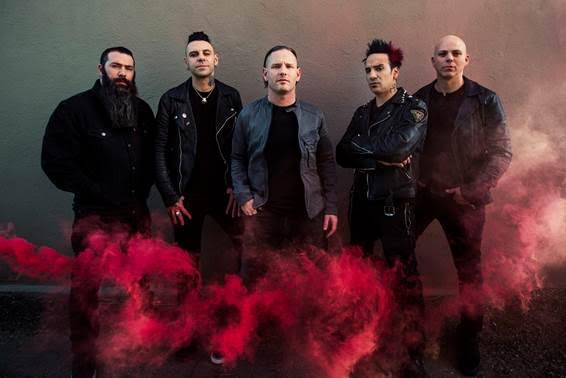 Breakthrough rock act STONE SOUR has shared a 360° performance video for "Somebody Stole My Eyes," featured on their acclaimed new album, 'Hydrograd'.  Filmed at Sphere Studios in North Hollywood, CA, the 360° performance video is streaming now on STONE SOUR's official YouTube channel.
'Hydrograd' has been out for almost a week now and has been receiving constant positive feedback from fans and critics alike. So much so that, their lead single "Song #3" spends a third straight week at #1 at Active Rock Radio, marking the GRAMMY® nominated band's fourth #1 single and eighth Top 5 single at the format.
This is STONE SOUR's sixth studio effort and they have stepped up their game with the all new innovative 360° video, which allows the fan to immerse himself in a whole new level of music indulgence. As lyric videos, official music videos and other story line videos seem to be taking a back seat, the new 360° video is really kicking things getting started on a different entertainment note. Fans of the band will really enjoy this video which feels like you're right in the middle of the band jamming to their new song.
STONE SOUR are already underway on "The Serenity of Summer" tour along with nu metal label mates KORN which is set to continue through early August. Presented by Live Nation, support throughout the eclectic tour comes from BABYMETAL, SKILLET, YELAWOLF, ISLANDER and DED.  Furthermore, STONE SOUR has several festival appearances slated for this summer including Rock Fest (7/14), Rock USA (7/15), Chicago Open Air (7/16) and more. This fall STONE SOUR will head overseas for an international leg of their 'Hydrograd World Tour' which will kick off November 10th with a performance at Moscow, Russia's Stadium.  The band will then return to the states this October for a set of festival performances including Houston Open Air (10/15), and Monster Energy Aftershock (10/21). For complete details and ticket availability, please visit here.
Get your copy of 'Hydrograd' here.