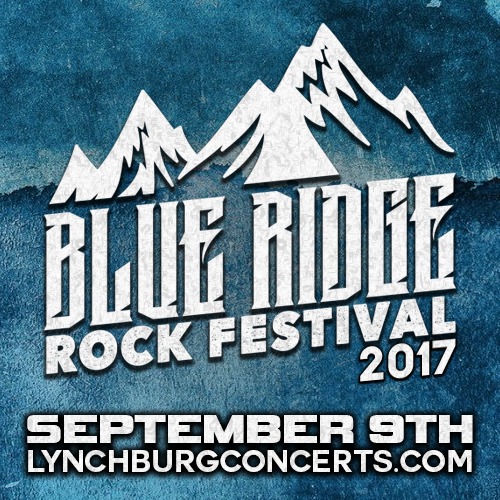 Lynchburg, Virginia has officially put their name on the map in regards to music festivals. Over the past month the Blue Ridge Rock Festival has been slowly announcing bands playing the festival daily. The festival started out a little smaller than originally planned. Due to High Ticket Sales, they decided to expand the lineup and keep the ticket prices the same. How's that for a reward? The initial bands on the lineup was Twiztid, Ill Nino, Saliva, (HED) P.E., Flaw, Saving Abel, Texas Hippie Coalition, Blaze Ya Dead Homie, Moonshine Bandits, and Almost Kings.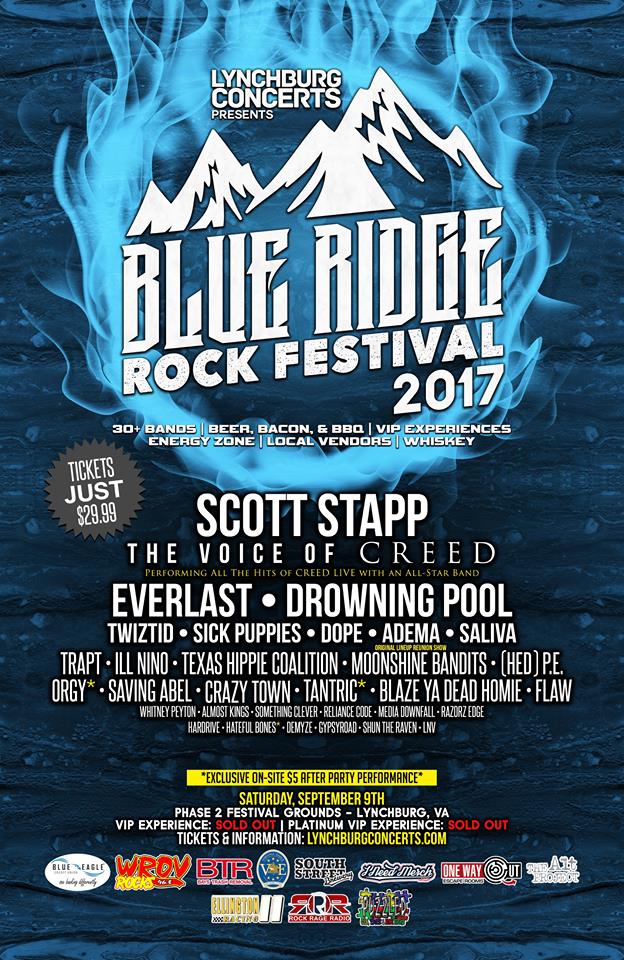 Headlining the festival is Scott Stapp formerly the lead vocalist of Creed. Scott was one of the most iconic voices of the late 90's and the song "Higher" was all the rage during that time as well. Scott has a backing band and will be played a vast amount of Creed songs during his set. Another iconic act is none other than Everlast. Most of you may be familiar with him during his time with House Of Pain, or his work on his hit album 'Whitey Ford Sings The Blues' in 1998. Though the artist has released 5 albums since then it remains to be the material he is most well known for. Song like "What It's Like" and "Black Jesus" can be sang front to back by most music fans that lived through the late 90's. The one thing about his set is it could bring a varied type of music, not only could Everlast perform his songs from the House Of Pain days like "Jump", songs from 'Whitey Ford Sings the Blues', but his most recent work has been more hip hop and rap based so I'm sure we will hear some of that as well. Either way he is a multi-genre artist that will be great to see. Next on the lineup is Drowning Pool. The bands 2001 album 'Sinner' put the band on the map with the song "Bodies", and recently the song was made popular again when 82 year old John Hetlinger performed a cover of the song on America's Got Talent. I also got to see Mr. Hetlinger perform with the band at last year's Chicago Open Air Festival. The band has had several singers since founding singer Dave Williams passed away unexpectedly early on in the band's career. I must say though that current vocalist Jasen Moreno is one of my favorite singers the band has had and he can truly put on an amazing show.
One of the bands I'm most looking forward to is Dope led by frontman Edsel Dope. The bands new album 'Blood Money Part 1' shows the band hasn't skipped a beat and still can pump out great songs like they have in the past. In addition to their studio albums the band has also amped up their live performance with large lcd screen and some pyro entertainment as well. If you have to miss a band make sure it's not Dope. Twiztid brings something different to the show as they herald a more hip hop style, and I'm sure they will also bring out ample amounts of juggalo fans to the festival. Sick Puppies has been a staple in the U.S. festival circuit and them being billed on this festival just shows that Blue Ridge Rock Fest can compete with other festivals in surrounding states. In 2016 the band released their first album with new vocalist Bryan Scott who replaced former singer Shimon Moore. Sick Puppies plays an energetic set and they also are known to occasionally cover some Rage Against The Machine songs in their set list as well.
Anytime a festival can get a reunion show it makes that event so much more special. That's exactly what we are getting with Adema who is reuniting with the bands original lineup, including vocalist Mark Chavez who just returned to the band in 2017 he last appeared on Adema's 2003 album 'Unstable'. If that's not already enough to persuade you to attend the show there is plenty of bands left that most everyone is familiar with. Saliva really hit mainstream popularity with their songs like "Your Disease", "Click Click Boom", and "Always". Of course most of those hits were with original vocalist Josey Scott fronting the band. He left the band in 2011 and since then Bobby Amaru has joined the band and taken over vocal duties. Amaru was the frontman of his solo band Amaru, as well as the drummer for Burn Season. In regards to Amaru founding guitarist Wayne Swinny said "he is a 28-year-old singer, songwriter, producer from Jacksonville, Florida who has a GREAT voice and will not only bring some fresh blood into the band but; will also put a new spin on the Saliva sound." The bands newest album 'Love, Lies & Therapy' was released June 10, 201. The band also supported the album by going on the "Make America Rock Again" tour in the summer 2016 alongside Trapt, Saving Abel, Alien Ant Farm, Crazy Town, 12 Stones, Tantric and Drowning Pool, Fuel, Puddle Of Mudd and P.O.D.. So as you can see the band has plenty of experience already playing alongside several of the bands on this festival. That new album features a cover of Michael Jackson's "They Don't Care About Us" and I certainly hope they play it live, Amaru's voice booms on the song and I'm sure it will go over well.
Ill Niño is another band I'm really excited for. They formed in 1998 and were a staple in the numetal scene in the early 2000's. Their 2003 album 'Confession' was a must have for any nu metal fan and the album debuted at #37 in the Billboard Top 200 with first week sales of 27,863. The band's latest release is 'Till Death, La Familia' which came out in 2014. Ill Niño's single off the album "Live Like There's No Tomorrow" still has that killer sound the band is known for mixing fast paced harsh vocals and a melodic chorus that instantly makes you want to sing along. Trapt are well known for their song "Headstrong" but the band has stayed pretty active since they released their debut album in 1999. The band in total has released 7 studio albums and has remained relevant in the every changing rock scene. Trapt tours pretty regularly and always put on an amazing show. Last year they released 'DNA' which also made it on Billboards top 200 showing the band still has that rock power from over a decade ago. Texas Hippie Coalition bring a bit of southern metal to the festival with Big Daddy Ritch's soulful voice charming anyone within ear shot. The band has played various music festivals and is beloved by southern meta fans. The band is touring in support of their 2016 release 'Dark Side Of Black' which is the 4th album the band has released on Carved Records. "Rock Ain't Dead", "Pissed Off and Mad About it" and "Turn It Up" are some tracks you can expect to hear from these kick ass Texans. (Hed) P.E. brings a fusion of punk rock and gangsta rap to the festival. The band really sets themselves apart from the nu metal genre, but is still able to fit closely to that style of music. The California natives formed in 1994 and have never looked back. The band will be touring with Dope and the festival will initially kick off their tour with a bang. This will be your chance to see them fresh and not worn down from several tour dates. The band has released 11 studio albums with the most recent being 2016's 'Forever'. Vocalist Jared Gomes is the only founding member still in the band and he is a ball of energy that is a must see on stage.
One band I can't say enough about is Flaw. The band has one of the most dedicated fan bases in all of nu metal. Many of them have been saved by the bands meaningful and passionate lyrics. Frontman Chris Volz and guitarist Jay Daunt are an unstoppable duo. Their 2016 comeback album 'Divided We Fall' was one of the best albums of the year. The band is constantly showing the support of our armed forces and they deserve a ton of respect. Not only does the band have a vast back catalog of material from their earlier releases but the new albums is amazing from front to back. Guitarist Jay Daunt is also well known for his activity on stage and what we like to refer to as "daunting" when he shows how he has mad during their performance. This is a band that everyone needs to see live at least a dozen times and each time they get better and better. Saving Abel's hit song "Addicted" is surely to get the crowd singing along when they take the stage. Even if you don't know the band's name or any other songs you are sure to know every word to this song because it was a massive radio hit. In regards to the band's name Jason Null said "I Googled the story of Cain and Abel and found a line about 'there was no saving Abel,' which just jumped out at me." Speaking of well known hit songs we will also get a chance to see Crazytown perform, and their megahit "Butterfly" is sure to be one they perform. The album that contained that song 'The Gift Of Game' released in 2001 and worldwide the album sold more than 2.5 million units, with more than 1.5 million in the US alone. It's something that doesn't happen very often in rock and in the modern era of music it's even rarer. Lead vocalist Shifty is sure to be amped up and singing his heart out. In addition to the aformentioend bands you will also get a chance to see Whitney Peyton, Almost Kings, Blaze Ya Dead Homie, Something Clever, Media Downfall, Razorz Edge, Hardrive, HATEFUL BONES, Demyze, GypsyRoad, Shun The Raven, LNV. Though you may not be familiar with some of these bands they will surely be putting everything they have on display and we hope to bring you more information about them in the future and let you know exactly how badass they were on stage.
As if this day didn't already contain enough amazing bands there is also an after party. For $5 additional bucks… yes $5 you get a chance to see Orgy led by mastermind and front man Jay Gordon and also Kentucky natives Tantric. These two along with an opener will perform inside the venue after the festival is over outside. So when night falls you have a chance to see even more music. Orgy is a band I personally have been wanting to see for years. The band's first two albums put them on the map and they have released amazing content ever since including their 2015 EP 'Talk Sick' which they will be supporting on this tour. Most of you will be familiar with Tantric's single "Breakdown" from their 2001 self-titled album, and also their ballad "Mourning". The band's last release was 'Blue Room Archives' in 2014. Lead singer Hugo Ferreira has a deep baritone voice that really sticks with you. Tantric's bass player Scott Wilson also recently left the band and joined Saving Abel, so it will be one of the first times both bands will be playing on the same bill. Tantric also has released teased some information about an upcoming album which is yet to be released titled 'Teather'.
Pick up your tickets here today before they are gone. This show will most certainly sell out!