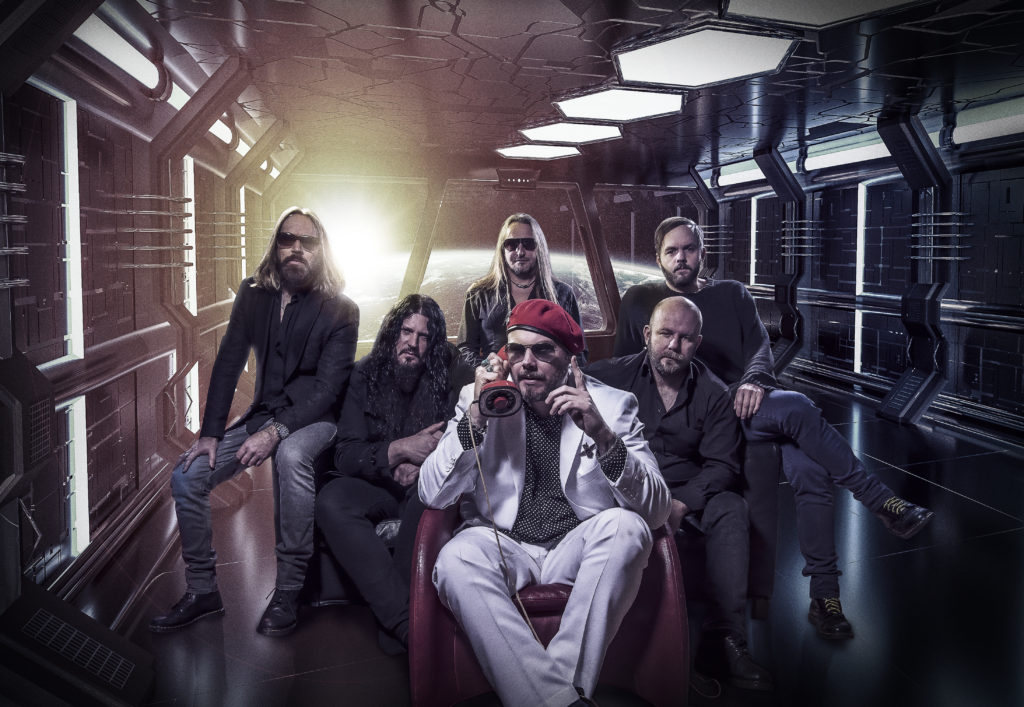 Swedish melodic hardrockers, The Night Flight Orchestra release official music video for their brand new single, "This Time" from their upcoming LP, 'Sometimes the World Ain't Enough;' scheduled for release June 29th, 2018 via Nuclear Blast Records. The new track definitely has that 80's arena rock-inspired feel to it, with its epic riffing and huge choruses reminiscent of such legends as Night Ranger, Europe, and Boston. The band commented:
"Recording the video for our first single, "This Time" was like combining different dimensions in a space cocktail. Numerous times during the video shoot, band members had to call the tax authorities to confirm their names in the register to make sure they had not lost all contact with reality. The result is surely mesmerizing and will take you on a journey that will be hard to digest. This is also our first video featuring "The Airline Annas," our beautiful and super talented backup singers. They certainly made this video sparkle. The song itself is the album opener and might not be representative for the whole album – no song really is, but we just like it that way. We make albums and each and every song leads its own little life; and together they form a celebratory album with class, hooks, and a bass that could walk a million miles without stopping for a drink. This trailblazer of a song used to be just ours, now it's yours too. Enjoy!"
When asked about the direction of NFO within the realm of classic rock, vocalist Björn Strid explains, "Most other classic rock bands sound like weed or LSD – we sound like cocaine."
The long awaited, 'Sometimes the World Ain't Enough' comes on the heels of the Grammy-nominated surprise hit album, 'Amber Galactic;' which was also awarded "Album of the Month" in various renowned European music magazines such as Rock Hard (Germany), Rock Hard (France), Sweden Rock Magazine (Sweden), PowerMetal.de (Germany), and United Rock Nations (France).
Just like 2017's 'Amber Galactic,' the new album will feature two different cover artworks for the regular and limited editions. It will contain 12 brand new songs. The limited first edition digipack CD, as well as the vinyl, will also feature an exclusive bonus track. The Japanese version will also feature an additional bonus track.
Pre-order 'Sometimes the World Ain't Enough' here.
The single, "This Time" can be purchased here.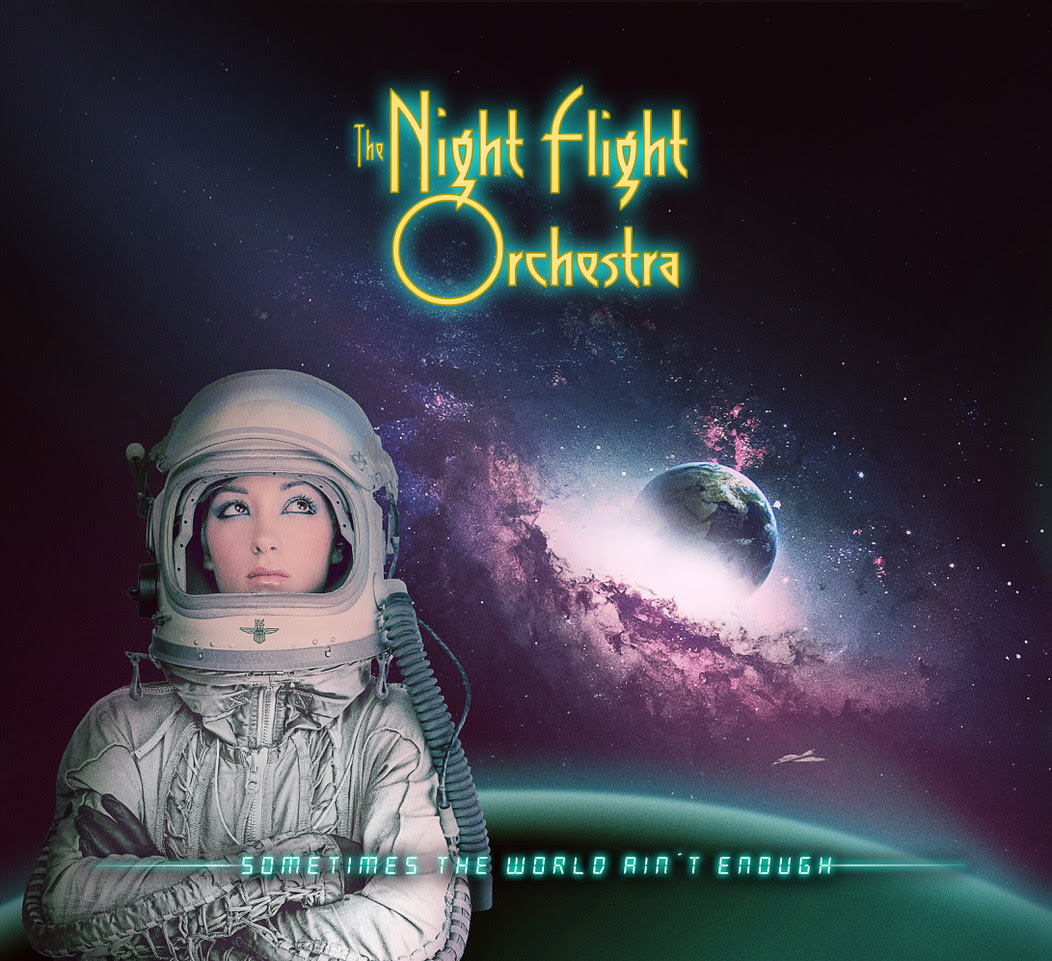 'Sometimes The World Ain't Enough' Tracklist:
01. This Time
02. Turn to Miami
03. Paralyzed
04. Sometimes the World Ain't Enough
05. Moments of Thunder
06. Speedwagon
07. Lovers in The Rain
08. Can't Be That Bad
09. Pretty Thing Closing In
10. Barcelona
11. Winged and Serpentine
12. The Last of the Independent Romantics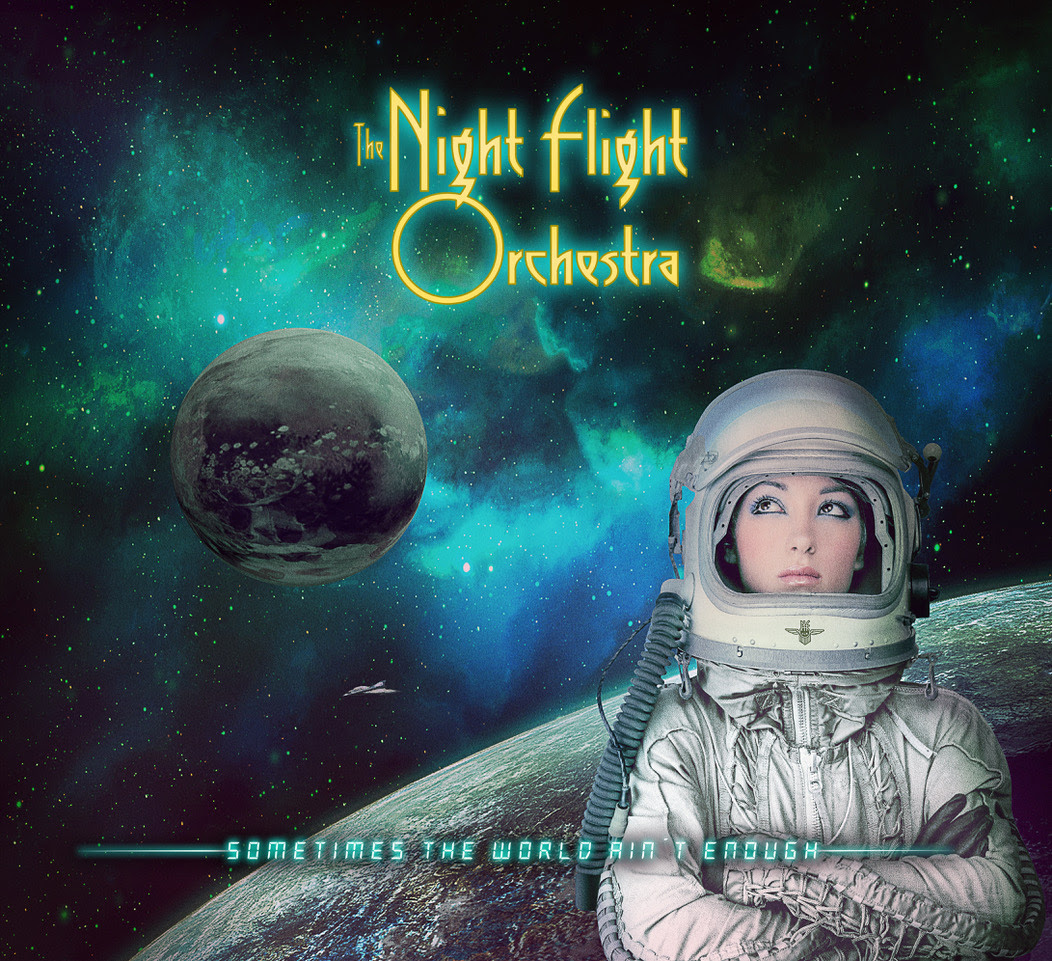 Limited edition digipack CD & Vinyl bonus track
13. Marjorie
Japanese Bonus Track
14. Pacific Priestess
Lineup:
Björn Strid – vocals
Sharlee D'Angelo – bass
David Andersson – guitars
Richard Larsson – keyboards
Jonas Källsbäck – drums
Sebastian Forslund – guitars, percussion, special FX
Anna-Mia Bonde – backing vocals
Anna Brygård – backing vocals
The Night Flight Orchestra 'Sometimes the World Ain't Enough' European Tour 2018
+ Special Guests Black Mirrors
01.11. SE Malmö KB*
02.11. DE Weissenhäuser Strand METAL HAMMER PARADISE*
03.11. SE Skövde Skövde in Rock*
08.11. SE Stockholm Kägelbanan*
10.11. SE Göteborg Sticky Fingers*
11.11. NO Oslo John Dee*
16.11. FI Helsinki On The Rocks*
23.11. DE Cologne Luxor
24.11. DE Osnabrück Rosenhof
25.11. NL Zoetermeer Boerderij
26.11. NL Arnhem Willemeen
27.11. BE Vosselaar Biebob
28.11. FR Nantes Le Ferrailleur
30.11. UK London Underworld
01.12. FR Paris Petit Bain
02.12. FR Toulouse Le Rex
03.12. ES Madrid Caracol
04.12. ES Barcelona Bóveda
05.12. FR Lýon Warmaudio
06.12. IT Milano Legend Club
08.12. CH Zurich Dynamo
09.12. DE Mannheim MS Connection
10.12. AT Salzburg Rockhouse
11.12. HU Budapest A38
12.12. AT Vienna Szene
13.12. AT Graz Dom im Berg
14.12. DE Munich Backstage
15.12. CZ Prague Nova Chmelnice
16.12. DE Nürnberg Hirsch
17.12. DE Saarbrücken Garage
18.12. DE Aschaffenburg Colos-Saal
19.12. DE Berlin Bi Nuu
20.12. DE Jena F-Haus
21.12. DE Dresden Eventwerk Studio
22.12. DE Bochum Matrix
* = without Black Mirrors