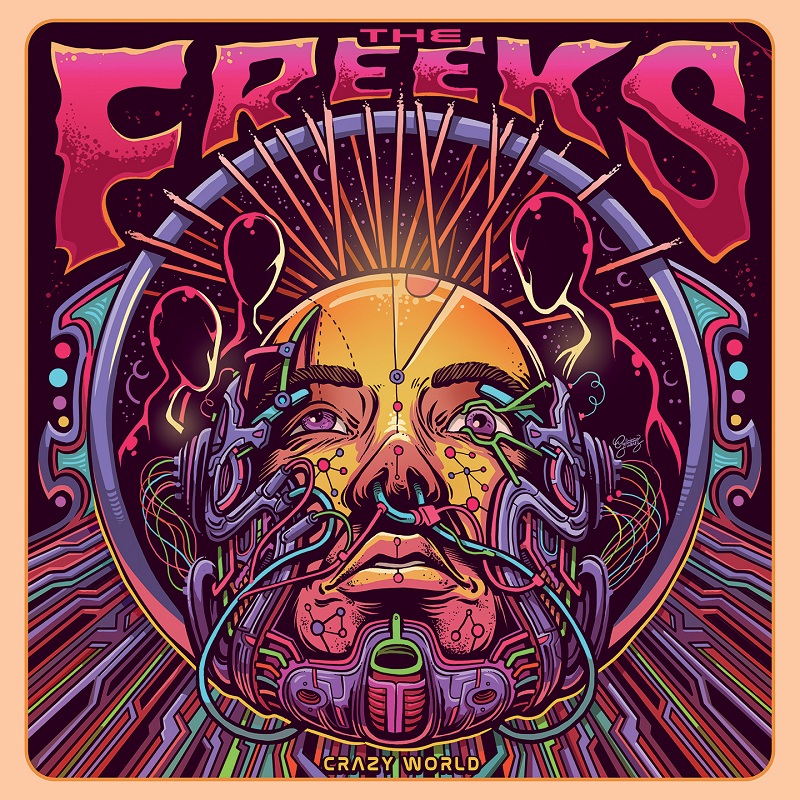 The Freeks
Crazy World
Heavy Psych Sounds
Released April 27, 2018
Ruben Romano has a rock and roll pedigree that can stand alongside the very best. As a founding member of both Fu Manchu and Nebula (let that sink in for a second, why don'tcha?), Romano helped draw up the plans and build the framework that stoner rock hangs on to this very day. He's spent the last decade-plus as frontman and guiding force for L.A. based psych-rockers The Freeks, piloting their trips-'n'-riffs-fueled funny car further and further into the cosmic realm; their newest dispatch Crazy World (released via the ever-reliable Heavy Psych Sounds) is the sound of the band-in-residency at the Garage at the Edge of the Universe, a jubilantly strident "Fuck You" in the face of oblivion.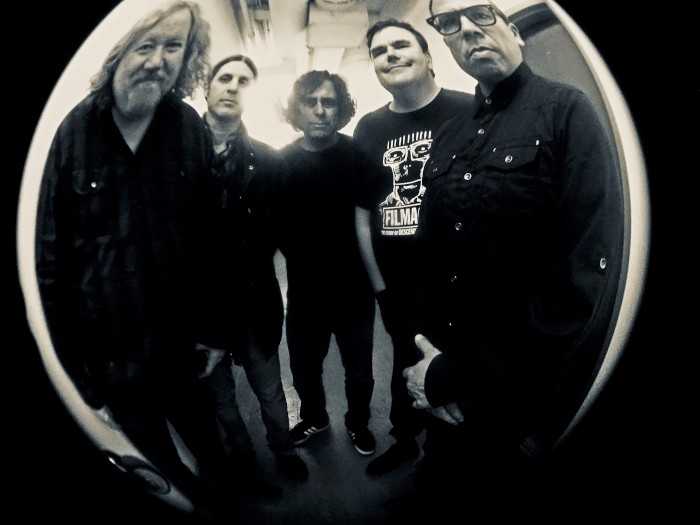 In one way or another, things on Crazy World are in a near-constant state of revved up, with the ELO-meets-MC5 blastoff "American Lightning" jump-starting the album with a pounding rhythm, an insistent riff, and Romano's damn-near-perfect shredded-throat screech. "This is Love" is a horny glam-rock come-on that sounds a whole lot more like lust to me, while "Hypnotize My Heart" is a love song disguised as the theme to a biker exploitation movie; the vocal wanders near black-metal-snarl territory, and the key stabs on the chorus are straight from an intergalactic cop show from the 70's. Esteban Chavez's tasty piano work on "Easy Way Out" makes an already-spirited romp even more joyous; it sounds like the Mooney Suzuki covering something from Goat's Head Soup. The brief excursion "Take 9" is a jazz/lounge reworking of Blue Öyster Cult's "Subhuman" that serves as a sort of midpoint palette cleanser (albeit one liberally dosed with a mild hallucinogen). The album closes with a sort of sci-fi psych-stoner suite, the interstitial lysergic soundscape "Thank You, Mr. Downing" leading directly into the quiet-loud blaster "Chronic Abduction," a fairly straightforward tale of getting really, really stoned and being spirited away by aliens on an epic interstellar journey, documented here in "Mothership to Mother Earth;" if "Kashmir" had been on Forever Changes, it would've sounded a lot like The Freeks do here.
Packed to near-bursting with sonic textures and boisterous enthusiasm but never messy or confused, Crazy World is a glorious marriage of space and garage. All the performers play their parts to perfection, and the whole thing drips with a swaggery sweat that would probably make you trip balls if you got it on your tongue. With Crazy World, The Freeks have blessed us all with a half-hour party-down respite from the metaphysical and practical paranoia of a world teetering on the brink, one that'll give your heart, your ass, and your third eye a vigorous and intoxicating workout.