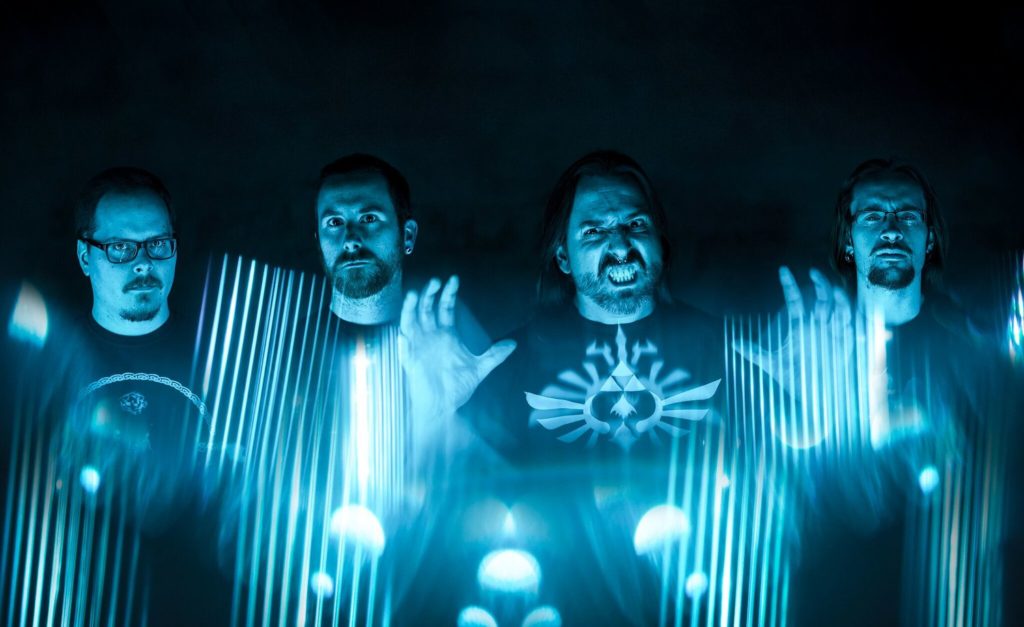 ---
*In this series we pose the age old questions to a wide array of music lovers. As fans of music most of us keep a mental list of active bands we want to see live that we haven't yet seen. The Bucketlist brings to you those lists of your favorite artists and why those bands mean so much to them*
---
We are back again with our Bucketlist segment and today we have technical death metal quartet from Boston, MA, THE BEAST OF NOD. In an age where there are a plethora of genre names, it is sometimes hard to categorise a band, but who cares? Here we are, with this Boston outfit who in their own words play "intergalactic death metal", as crazy and interesting it sounds, the band's ferocious and high speed brutal death metal certainly does keep upto it's self imposed genre name. You might think these are some extra terrestrial bunch of sci fi aliens who formed up a band and is ready to wreck chaos upon humankind, while you're watching Netflix on your recliner. Nah, they are just pretty chill, nerd tech death guys who do get into beast mode once they shred like hell with linear song structures, extreme tremolo pickings, odd time signatures and outright technical passages. So much techy!
The lyrics and themes are a sci-fi, space enthusiast's feast. THE BEAST OF NOD grunt, scream, growl about characters and events of a sci-fi universe called "The Land of Nod." So yeah a metal band from the land of Nod, obviously has to be the beast of Nod. Ain't it? Anyways, we sit down with the band and throw at them our million dollar bucketlist question, and oh boy they do love them so good tech and grueling death metal. See for yourselves, maybe your favorite band is on their bucketlist.
METAL NEXUS : As a touring band/musician you get the chance to see a lot of bands up close and personal. A luxury not everyone has. A lot of music lovers keep a "Bucketlist" of bands that we want to see perform live.
What are the top active bands you would like to see live (in order) and why?
THE BEAST OF NOD : "Although our music tastes overlap quite a bit, individually we have varied and diverse tastes. I think most of our favorites we have seen live, like Cannibal Corpse, Gojira, Allegaeon, Fallujah, Scale the Summit, Plini, Sarah Longfield, Emperor, Van Halen, Cattle Decapitation, Dream Theater, Animals as leaders, Slipknot, and Dying Fetus.
We'd of course love to see all those bands live again, and more, but I'd say for what we do it'd be pretty cool to see Berried Alive, Archspire, Cytotoxin, Slugdge and Sutrah at some point. Mostly because it'd be an amazing time but also I'm sure we could learn a lot from watching the performance."
---
Known for outrageous solos and extremely technical songwriting and playing, THE BEAST OF NOD are definitely changing the ball game of extreme technical death metal music. It is evident that the high order of musical calibre these guys possess will definitely take the band a long way in their careers. Deadly and morbid growls, technical and meticulous guitar work and bone rattling, fast drumming are what coalesces together makes the band sound the way they sound.
THE BEAST OF NOD just recently put out their all new debut record titled, 'Vampira: Disciple of Chaos', and the albums sounds huge and excellent. After years of arduous playing and practicing since the group's inception in 2011, the fruit of success has finally bore on the tree. It's a riff fest, solo galore, and relentless death metal savagery. Don't forget to check 'Vampira: Disciple of Chaos' out. It's out now on Bandcamp, and is available for purchase. Click the link HERE to go and spread some techy love to the band.
But before you do that you might wanna stream the entire album for a trial and see how it feels. Here's the full album stream on YouTube. Go ahead, crank up those volume knobs and get sloshed to some real nerdy sci-fi shit!