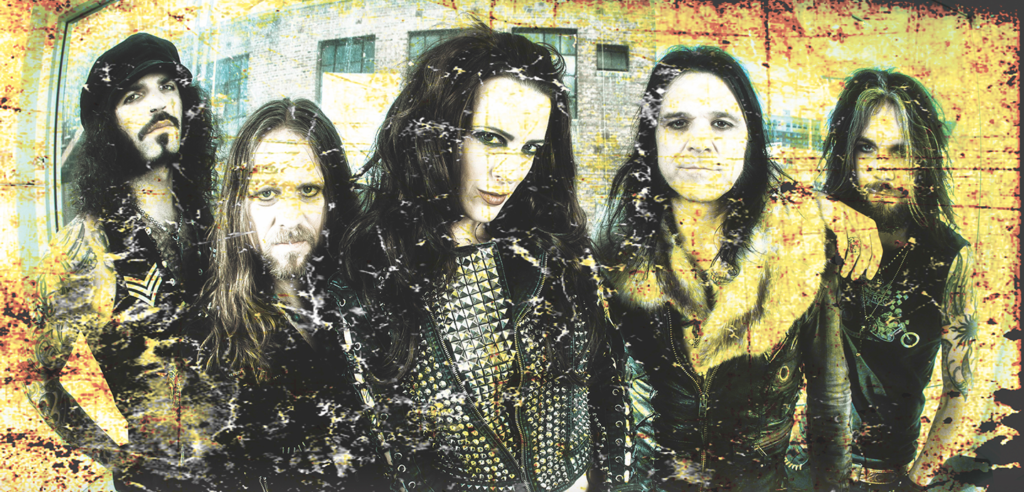 Untamed rockers BEASTÖ BLANCÖ have announced a US tour set for this July. 'The Monstrous Things Tour' features stops in Cleveland, OH and Nashville, TN, while wrapping up with a gift to fans — a complimentary show in Tulsa, OK. Check out the full list of dates below.
BEASTÖ BLANCÖ was formed in 2012 by Chuck Garric (guitarist, vocalist for BEASTÖ BLANCÖ and bassist for ALICE COOPER), Calico Cooper (rock vocalist, actor, and performer) and Brother Latham. They set out to create a monster sound, a smack-you-in-the-face live show, and to amass legions of Loyal Beasts — fans who are hungry for raw, rock power. Smeared with grime, drenched in sweat, and true to their hit, "Grind," the band delivers brutally entertaining live antics and sonic originality.
"It's time to unleash this beast and let the wild out!" Garric said about the upcoming tour. "We're planning on ending up with scars. We're bringing even more songs to life on this run and new material too. There is a lot to take in. It's not just a show, it's an experience."
When asked what fans can expect from the 'Monstrous Things Tour', Calico Cooper got playful.
"I have a zero percent fatality rate on stage so far," she said. "I'm gonna fix that this tour. Is that front-row incentive or what?!"
Cooper added, "I love this band. And doing what I love usually leaves bruises. Everything I love has claw marks on it."
The 'Monstrous Things Tour' kicks off July 19th in West Dundee, IL.
Monstrous Things Tour
July 19 – West Dundee, IL. Rochaus
July 20 – Braidwood, IL. Top Fuel Saloon
July 21 – Chesterfield, MI. Diesel Theatre
July 22 – Cleveland, OH. Agora Ballroom
July 24 – Louisville, KY. Trixie's
July 25 – Johnson City, TN. The Hideaway
July 26 – Nashville, TN. The Basement
July 28 – Tulsa, OK. IDL Ballroom (Free Show)
Get your tickets HERE!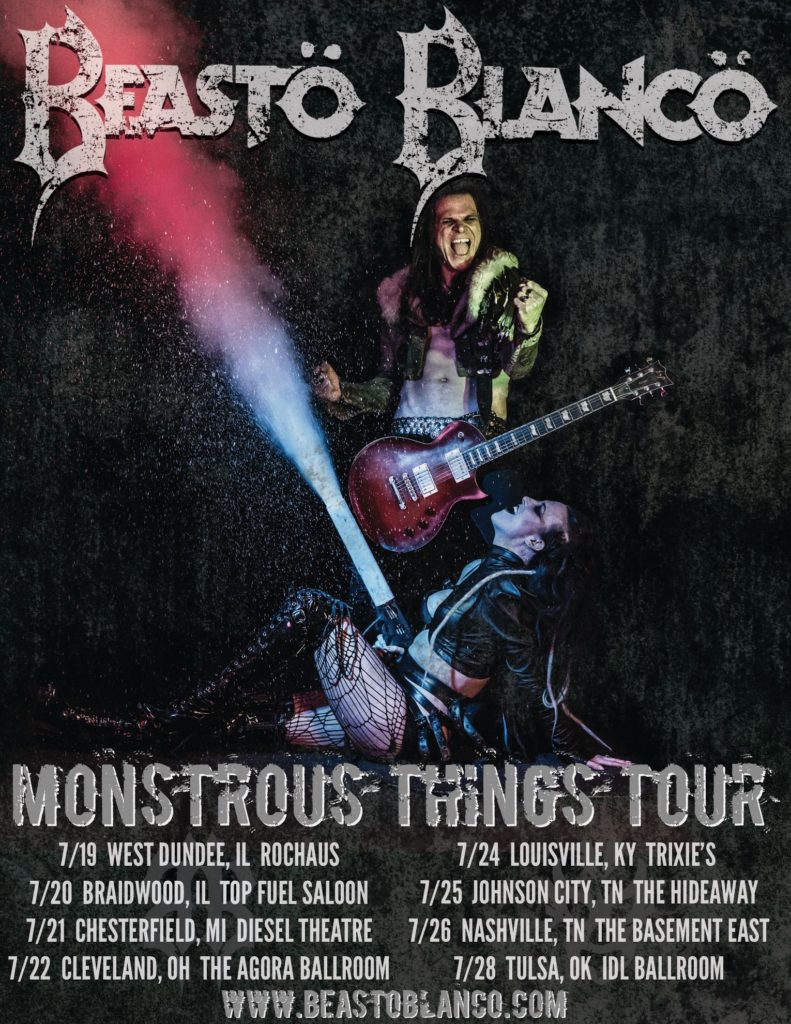 Also, prior to this fairly extensive US tour, the band will be dropping the ball and leaving fans awestruck when they do a short run of Europe. Here are the tour dates below for the same. Tickets can be found HERE!
European BEASTÖ BLANCÖ Dates
June 22 – Leipzig, Germany. Matapaloz Festival
June 23 – Ukk, Hungary. Ukk & Roll Motoros Festival
June 24 – Budapest, Hungary. Crazy Mama Music Pub
June 25 – Monastier Di Treviso, Italy. Krach Club
Still not convinced if it's worth putting your money in? What if I tell you the god of shock rock, ALICE COOPER approves BEASTÖ BLANCÖ? Would your mind change? Here's what he said about this new and dynamic band.
"Chuck Garric is one of those seemingly dangerous and elusive figures who is always doing something cutting edge behind closed doors. Always writing, creating, destroying…who knows what else. He's a man of many talents and as expected, Chuck's new band Beasto Blanco has really hooked me. It may come as a shock to you, but I love rock with an edge… And Beasto Blanco has an edge like a switchblade."