Silver Snakes formed in 2011 in the city of angels, Los Angeles, California. The bands sophomore album 'Year Of The Snake' really put them on the map. After it's release in 2014 the band has been obtaining fans at a substantial rate. Since then the band hasn't let up. The year of the snake continues as the band has been steadily becoming a household name in the rock world. They followed up with the album 'Saboteur' in 2016. The album was released via Evil Ink records which is owned by Coheed & Cambria singer/guitarist Claudio Sanchez. The album has been out since February of last year but it still on heavy rotation with fans. The album has true staying power, and we believe the band has a long career ahead of them. I was able to see them showcase their live sound at the inaugural Chicago Open Air festival. The band played the middle day of the festival along side other acts like Helmet, Pop Evil, Nothing More, Korn, and Gojira. On that day you could hear people constantly talking about Silver Snakes and the phenomenal set they played. The band releases amazing material on record and is able to reproduce the same sounds on stage with the same overall quality while putting on an energetic show. 'Saboteur' truly has staying power, the album is receiving heavy air play by fans even after it's one year anniversary. It's a dark record that doesn't get old and only get better with each listen. If you haven't had the opportunity to pick up this album yet I suggest you do so now…. Go ahead… We are waiting… 
The band is all about spreading their music all over the world, and the band is hitting the road yet again on a west coast tour with Day Shell. The opening day of the tour was April 2nd in Sacramento, California and ends on April 15th in Hollywood, California. If you haven't had the opportunity to see the band yet I suggest you buy your tickets now and get yourself to one of these shows.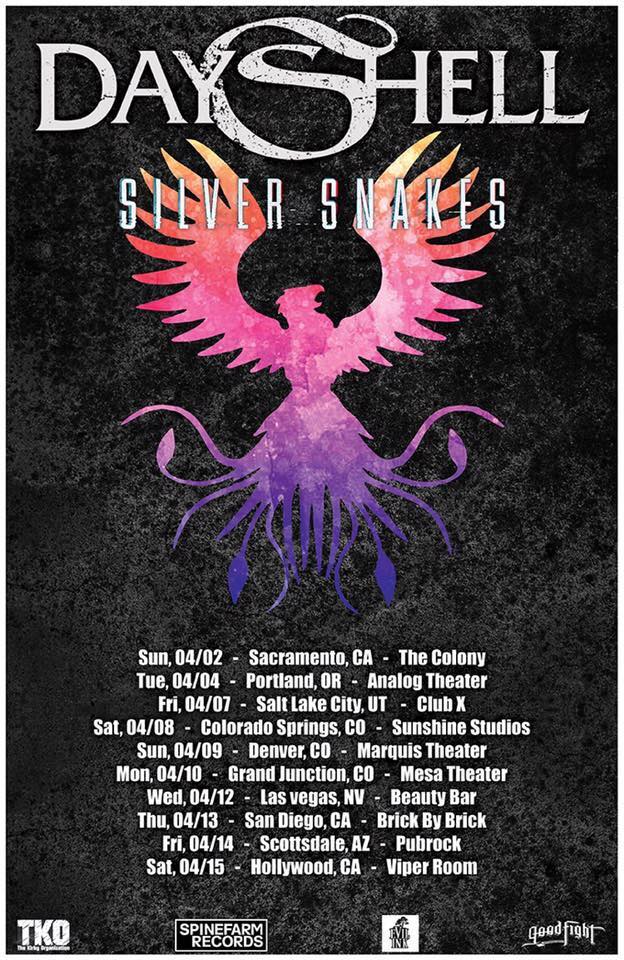 As a band that tours quite a bit Silver Snakes vocalist and guitarist has the opportunity to see various bands. Just in one day when they played at Chicago Open Air he had the opportunity to see 14 bands. We all are a tad bit jealous of the opportunities that bands and their members get to see other artists perform live. We recently spoke to Alex asking him what 5 bands he would put at the top of his must see list. His list contains bands both inside the metal world and far from it. Here is it is The Bucketlist with Alex Estrada!
Depeche Mode – My introduction with Depeche Mode was the song "Never let me down again" as covered by Smashing Pumpkins in the mid 90's. After diving into their catalog I fell in love with the band. The production on their albums, David's voice, and the dynamics of their music really hold up. I would love to experience them live.
Ministry – This is a tough one because I'm a huge fan of their first 2 records and I understand that they don't play any of that material these days. Be that as it may, I'd still love to see Al on stage doing what he does best.
How To Destroy Angels – This is a band I just recently started listening to. I somehow missed their peak activity a few years ago and now even though I'm excited to see Trent play with NIN this year, I can't help but wish it was HTDA on some of those festivals as well.
Roberta Sá – One of my all time favorite singers, Her album "Braseiro" has been in my constant rotation for 10 years now. Her complex melodies have been a major inspiration for my songwriting over the years. As far as I know, She has never toured the states. I hope that changes sometime soon.
Sisters Of Mercy – One of my favorite bands that I've never had a chance to see live. Year after year they release European festival dates with no mention of the states. Andrew Eldritch is up there with Peter Murphy in my opinion when it comes to those iconic voices of the past and I hope I someday get the chance to see them here in Los Angeles or even better, Play a festival with them overseas.
Alex gives us a very diverse list of bands that he wants to see live. Ministry also played Chicago Open Air last year, but unfortunately it wasn't the same day as Silver Snakes, so he missed them by a day. Along with Ministry, Depeche Mode and How To Destroy Angels also make his list. Which shows his taste in music leaning towards, industrial, and electronic, Ministry of course being the heaviest band making his list. Sister Of Mercy are an 80's era goth-rock band that is still going strong. If you listen to songs like 'Lucretia My Reflection', which has an eerie kind of darkness you can now see where Alex may draw some inspiration from Sisters Of Mercy. The one that was a total wildcard was Roberta Sá. The Brazilian Samba singer has a beautiful voice and now knowing that she has had an influence on Alex's songwriting certainly makes me want to look further into her music. We certainly hope that Alex gets a chance to knock some of these bands off his list in the near future.
Follow Silver Snakes on Facebook below: