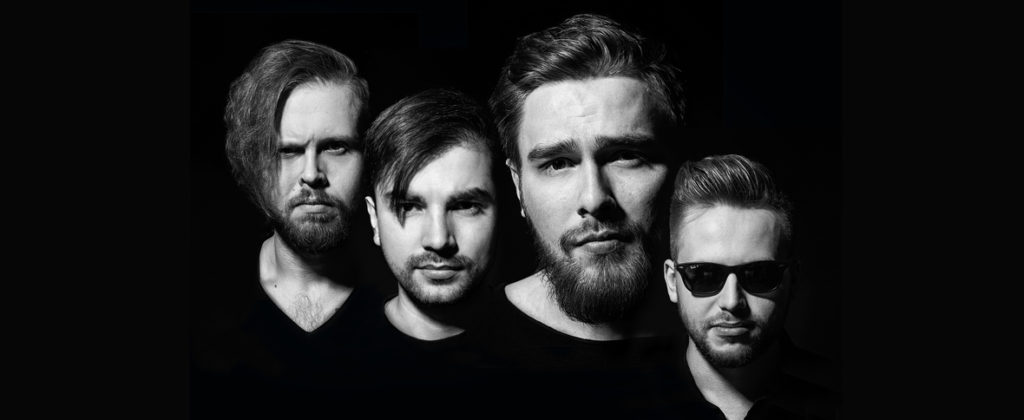 Moscow's REMARK has garnered a tremendous amount of attention with their video for the track "Falling" from their recent self titled album. The video has been out for a period of time but is still circulating heavily. The band released their debut 'REMARK' in January 2016, it was produced by Andrew Konoplev. The band has stated that "Our first album was about finding our sound, style, manner of execution, and ultimately how REMARK should sound and look on stage". I'm not sure what sound they were striving for but they hit a home run with the outcome. A true rock n roll record with a gritty edge. The 5 piece band is able to add melodic and aggressive notes within their style along with a rhythm that has that instant classic appeal. REMARK with Kuper Kukunchikov (METAMORPHOSIS Production) released two new music videos; the first one, "Falling," brought REMARK to national attention and pushed them to the next level, winning the "Ultra Music" radio contest and a performance on Russian TV. In 2016 they appeared in rotation on many internet radio stations, and performed on many major Russian radio stations such as the RSN, L!FE, MAXIMUM live. The band raised the standards for rock n roll. Check out the video for "Falling" below.
We recently spoke with Remark guitarist Denis Novikov who is part responsible for the amazing riffs that the band uses to mesmerize listeners. As fans of music we are always excited to see tour dates in hopes bands are playing in our area and we keep a long list of bands that we can't wait to see. Musicians aren't any different, they create music and are also fans just like us. They also love nothing more than being able to see some of their favorite bands take the stage. Remark is a touring band that gets the opportunity to not only see a lot of bands live but play right on the same stage as their heroes one of those being Slash. We spoke with Denis to see who some of his top bucketlist bands were that he hopes to see in the future. So without further ado here is Remark guitarist Denis Novikov's Bucketlist!
Alter Bridge – I started with the first two albums, about 8 years ago, and I realized that this band is one of my favorites: favorite singer and one of my favorite guitarists! The perfect balance of musicality and riffs in songs. By the way, we were lucky to open a solo Slash concert in Moscow (he was in tour with Myles Kennedy), so one part of my dreams has already come true.
Foo Fighters – Dave Grohl is the perfect front man and they have wonderful material. One of my all time favorite bands.
Red Sun Rising is a comparatively new name at music stage, but they already announced themselves. I saw them as opening act on Skillet show. I like their music, flow and appearance. It would be cool to play with them, or even make a tour.
Kings of Leon – They are very atmospheric: their music and live performances. I would mention unforgettable vocals and guitars.
Steel Panther – more bawdy band impossible to imagine, but despite this they are great musicians, so I would like to visit their concert!
This is great list of bands that are really dominating the modern rock and metal scene. Other than Foo Fighters and Kings Of Leon I can personally vouch that all these bands put on a spectacular show. Dave Grohl is a legend, even putting Nirvana aside his work with Foo Fighters and his Probot project are spectacular and should put him at the top of any list. If you want to be transported back to a time when spandex and mass amounts of hair spray was popular then Steel Panther is the show for you. Their shows are fun and playful and often include bare breasted ladies in the crowd. Red Sun Rising has really made a name for themselves in recent years. Their music first made everyone fall in love with them and then their dominating stage presence keeps fans wanting more. Alter Bridge is a band that I think everyone should see. Mark Tremonti is one of the best guitarists in modern music and with Myles belting out the vocals you can't go wrong. As for Kings Of Leon, their sound has changed a lot since they formed in 1999, but they dominate mainstream rock and for good reason. They have an uncanny ability to capture the attention of a wide array of fans with their lyrics. Make sure to keep track of Remark as they may be opening up for some of these bands in the future. They are a band that is on the rise and you are bound to see their name in the future as their fan base is infinitely growing.