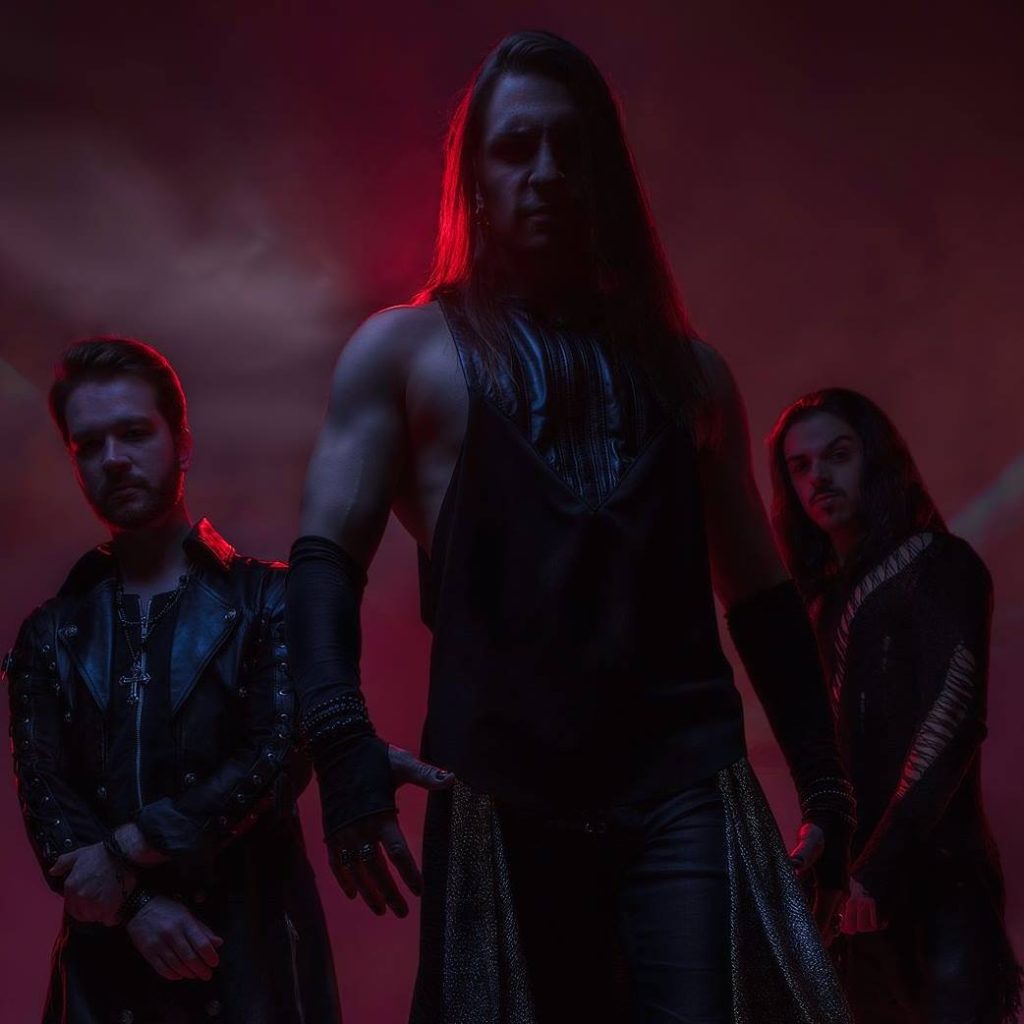 ---
*In this series we pose the age-old question to a wide array of music lovers. As fans of music, most of us keep a mental list of active bands we want to see live that we haven't yet seen. The Bucketlist brings to you those lists of your favorite artists and why those bands mean so much to them*
---
RED DEVIL VORTEX 
is a hard rock band from Los Angeles, CA, brought to life in 2016 by
Gabriel Connor
(Lead vocals / bass),
Pablo Kravicz

 
(Guitars / vocals) and
 

Iago Marcondes
(Drums / vocals).
With the intention of creating a bombastic atmosphere through the music, visuals and live performances, RED DEVIL VORTEX has its kick start with the release of the first single, "The Fallen", in October of 2016, followed by several live performances in Los Angeles and SoCal area, sharing the stage with artists like ULI JON ROTH, DAYSHELL, SALIVA and I AM MORBID.
Known for it's high adrenaline filled live performances, RED DEVIL VORTEX are really on the rise. But today, we get a bit personal with the band, as we're highly grateful to the band for letting us have the opportunity to make them the next victim in our regular segment called Bucketlist. Today we throw them our own self proclaimed million dollar question. I am sure a lot of you would also reciprocate this bucketlist. There are some big names in there!
METAL NEXUS: "As a touring band/musician you get the chance to see a lot of bands up close and personal. A luxury not everyone has. A lot of music lovers keep a "Bucketlist" of bands that we want to see perform live. What are the top active bands you would like to see live (in order) and why?

"
ALICE IN CHAINS
Gabriel: "I've never seen Alice In Chains live, although they're one of my favorite bands and a huge influence for me. Some of my favorite songs are "Rotten Apples", "We Die Young" and "Check My Brain" and I'd love to see those live. It would also be a dream come true to share the stage with them sometime. You never know!"
NOTHING MORE
Gabriel: "I listen to a lot of different stuff and Nothing More sounds very unique to me. I really like their new album and I've heard their live performance is very energetic, so I want make sure to see their concert as soon as I have the chance."
MUSE
Gabriel: "They're definitely an influence for Red Devil Vortex. The way they put their live show together is so bombastic on the videos we've seen that it has to be an experience from out of this world to watch that in person. Iago: Incredible musicians, great energy and their live concerts are just huge!"
FOO FIGHTERS
Iago: "They're just real, nothing about them is fake, they really feel what they're doing and that's what music is all about."
SLIPKNOT
Gabriel: "I like bands that have something to say and and know how to put a spectacle live. I like their music way better live and it's a must see for me as well, hopefully sooner than later."
---
RED DEVIL VORTEX released their brand new debut EP 'Something Has To Die' as recent as this May 4th after having working hard in the studio since November of 2017. 'Something Has To Die' features five original songs that bring a great listening experience with high energy guitar riffs, chaotic melodies, and a strong message about strife and survival while facing your demons. Purchase the new EP HERE!
Check out the title track from the new EP below,