*In this series we pose the age old questions to a wide array of music lovers. As fans of music most of us keep a mental list of active bands we want to see live that we haven't yet seen. The Bucketlist brings to you those lists of your favorite artists and why those bands mean so much to them*
Hogan's Goat is named after a tale from Scottish folklore. The band initially formed in late 2014. As the story goes, a farmer (Hogan) owned a goat rumored to have an odor said to travel miles away. The goat's been described as having patchy fur, an eye out of socket, and flies abound. For the band, this perfectly symbolized their unorthodox style, that which is anything but unnoticeable. They couldn't have picked a better fable for their namesake. More like a powerful mountain ram the band roams through various styles of music never staying in one place too long. Their first show (at SXSW, on the rooftop of The Blind Pig) was part of an all Nashville (non-country) showcase. Soon after, Hogan's Goat returned to Nashville, they competed in BMI's "Road To Bonnaroo" (winning the fan vote) and played many other shows around the Nashville area. While most people think Nashville is only a country town, there is a vibrant rock and metal scene there as well. Hogan's Goat has hoofed their way out of sea of country music to spread their music to the masses. While the band is based in Nashville it's members migrated from all around the country like Billings, Montana, Denton, Texas , Southern Pines, North Carolina as well as Nashville. Like their music their roots run further than the eye can see. In March of 2016, Hogan's Goat began recording their first LP, 'Hogan's Goat' which released July 18th, 2017. The album was self-produced, mixed by Alex Gilson and Nathan Zensen at Gold Cassette and mastered by Tommy Dorsey. The band looks to tour regionally, nationally, and globally.  Their album was one of my favorite albums of the year and would likely be in the top 20 albums I heard last year. However, the stand out track "Shitkicker" from the album stayed in my listening rotation from the moment I heard the track until this very day. While that was one of the strongest tracks on the album the rest of the album is just as good including their most recent single they released a video for "Annie Off The Rails". This isn't your run of the mill Nashville band, forget about Nashville being the home of the Ryman, Nashville hot chicken and country music legends, Hogan's Goat stands out more than those combined.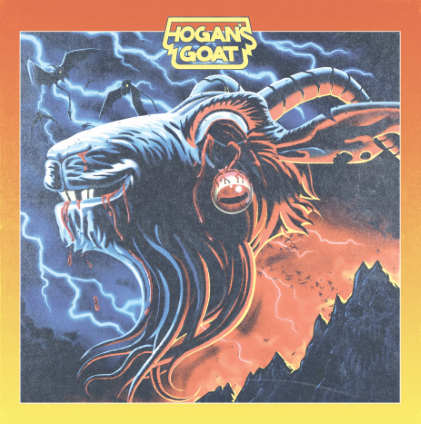 Since they came on our musical radar we have been big fans and supporters of Hogan's Goat. For an up and coming band they have an amazing and eclectic sound that has rejuvenated our love for music. We had the chance to speak with all the members of the band and pose the age old question to them. What are the bands you haven't seen live before that are must see bands for you and why? I can tell you now that Hogan's Goat is a band that tops my list of must see bands. Here are their answers:
Drummer Wayne Michel – It's a tie between Fleetwood Mac, The Eagles, and Every Time I Die because they've all influenced me in different ways, and I'm a sucker for a good melody.
Vocalist John Salmon – Ghost because they're so theatrical. I feel like their performance has got to be an experience of its own.
Bassist Aaron Stoner – Radiohead Because they are: as Joanne the scammer would say, "Fucking iconic."
Guitarist Donovan Bettise – Railhazer even though we played with them in St. Louis; Their performance in a bigger venue would be sick. John and I have been listening to their record since we got off the road.
Guitarist Thomas Banks – D'Angelo