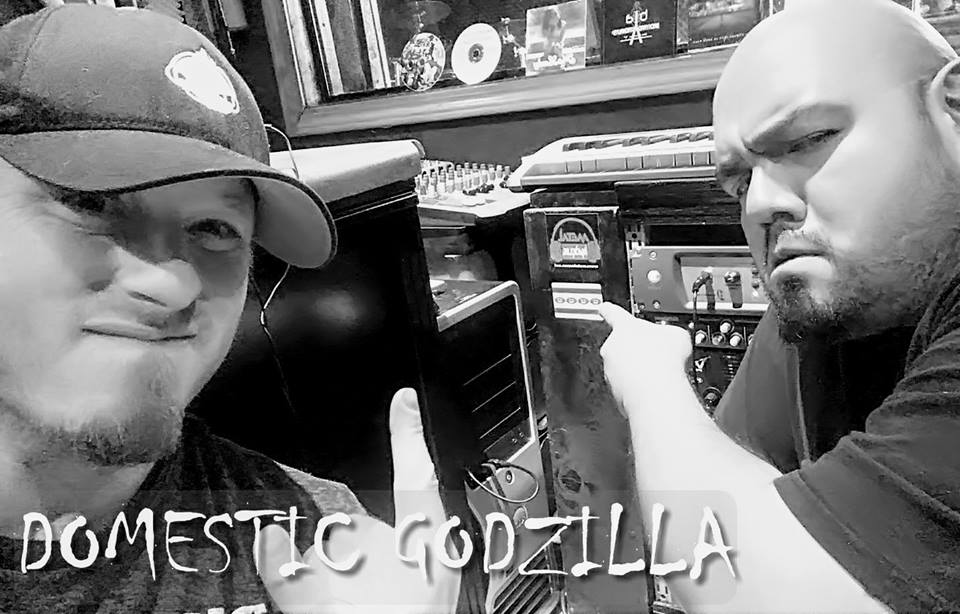 Chicago based groove rockers Domestic Godzilla formed in 2001. The band has a style and sound that really melds various genres together creating this beast of a band that has gained attention all across the Windy City of Chicago and afar. One of the most recognizable elements of the band is the vocal style of singer Scott Coca. Moments pass and you have these beautifully sang melodies, by the time you blink it slams into these break neck screams that haunt your ear drums. Chicago was usually always a tour stop for national acts and Domestic Godzilla often opened for some of those headlining acts. If you had to make comparisons the band sounds like a mixture of a much more brutal Incubus with elements similar to the band Flaw, and a dash of Nothingface. Chicago natives loved the band and showed up in hoards to see them live. Unfortunately the band ended up going into a hiatus. Fast forward to 2008 and Domestic Godzilla drummer Gino Colucci is now the founder of an independent record label called Converse Records. In 2013 he was able to release a Domestic Godzilla album of previous material that includes several live tracks. The album is entitled 'Language Barrier'. It had been almost a decade when the two founding members (Gino Colucci & Scott Coca) were drawn together yet again to bring the beast back to life. The chemistry they built together writing songs all the way back in high school helped them reform and got the ball rolling again. They started to work on new material in the studio at Converse Records in 2015. Gino has now moved across the country to Arizona and Scott is still residing in the Chicagoland area. Thankfully the technology advantages the two are still able to keep Domestic Godzilla alive, and their new material shows that no distance can dull the chemistry these two have together. The band recently released their newest single in the form of a lyric video for "O.C.D." and are also working on another track that should be released sometime soon as well. 
Domestic Godzilla has now released their brand new track and lyric video for the song "O.C.D.". On this track Scott Coca contributes the lyrics, guitars and his mesmerizing vocals, Gino Colucci adds his fierce pounding drumming style, bass and also was the engineer as well. When it comes to mixing and mastering those duties was all by Logan Mader the ex-Machine Head and current guitarist for the electrifying melodic death metal band Once Human. In addition to this single released the band continues to work on new material and should be releasing another track in the near future. And here is Gino Colucci's Bucketlist:
Deftones! I have actually seen them multiple times but they are one of my all time favorite bands and it's nice seeing them selling out arenas these days. Been a fan since I picked up Adrenaline. They have by far proven to stand the test of time. If I had the chance to see them in a small and intimate venue I would definitely die a happy man.
Slipknot. I mean come on, Slipknot! One of the best from the midwest! Anything Corey Taylor is involved in will have my attention. Seen them at a festival years back, never heard of them before that so I was about to leave for a beer but I decided to wait and check out their open. They blew me the f*** away! Clown hitting a beer keg as a percussion instrument, and it worked! So heavy, dark, angry and tight! I'm cheating here again but I have not yet seen them with Jay Weinberg.
Ded. To me they represent the resurrection of Nu-metal. A lot of metal purist may have hated on the genre in 5he past but I have always been drawn to it and don't give a f***. I only dislike the name for the sub-genre but it is what it is. There seems to be 1000 sub-genre's of metal lol! A lot of great music was created under "Nu-metal" and Ded seems to channel the best of it yet make it their own pushing things forward. Their debut album Mis-an-thrope is pure insanity and the live shows look pretty intense from the video clips I have seen, so naturally I will be checking them out for sure.
Once Human. Just like most country music, I am usually not a fan of death/doom/grindcore with few exceptions and this being one for sure. Logan Mader has always been a guitarist who gets lost in the music. Jumping around stage with his dread locks flying everywhere bringing so much energy and passion. Very inspirational and so much fun to watch. That in itself gets me fired up! I'm stoked he is back at it. Also, I love Lauren. How can you not! If I saw her in a different setting I would never guess she fronts Once Human and I absolutely love that. She does a phenomenal job representing the genre. They are set apart from most in my opinion by adding a lot of melodic/musical riffs and groove underneath her ferocious screams.
Tool. In my opinion Danny Carey is the best drummer out there. It's mind blowing watching that dude slay the drums in multiple odd time signatures. As far as drummers go, he is at the top of the game no doubt. Even my old man who had studied under some of the greatest drummers agrees with that and he is not into modern rock/metal. The band has so much talent and they each compliment each other perfectly, creating something so unique. Maynard is on another level. One day soon I WILL visit his vineyard out here in AZ!
Check out the bands new lyrics video below!