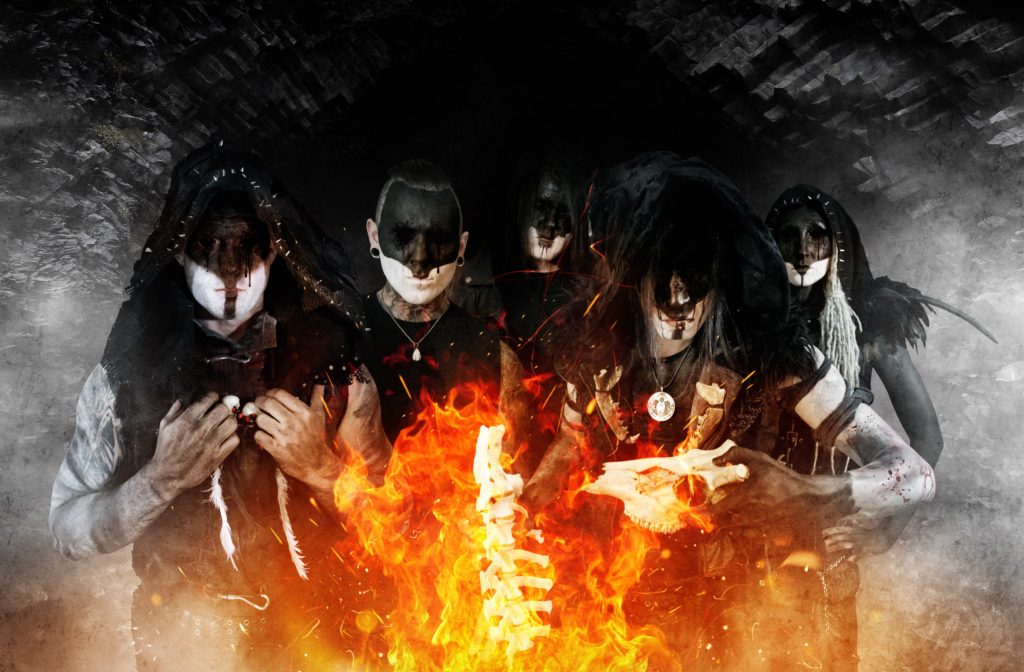 Industrial/Symphonic Black Metal artists Dawn of Ashes are set to release their new record. On June 9th they will release their seventh album 'Daemonolatry Gnosis' on Metropolis Records. Dawn Of Ashes has already released a lyric video for the track "Guardians" from the upcoming album. The band formed in 2001 and has been a dominating force in the symphonic metal genre ever since. 'Daemonolatry Gnosis' is a diabolical musical milestone & Dawn of Ashes' most brutal fusion of Extreme Symphonic Black Metal to date. Like Dawn of Ashes' previous album 'Theophany', 'Daemonolatry Gnosis' was mixed & produced by Mick Kenney of AnaalNathrakh. Features a cover of Black Metal legend Mayhem's "Freezing Moon", as well as guest vocals from Cradle of Filth's Lindsay Schoolcraft. In support of 'Daemonolatry Gnosis', Dawn of Ashes will set out on a headling North America tour called "Fire Of The Phoenix" with Projekt F.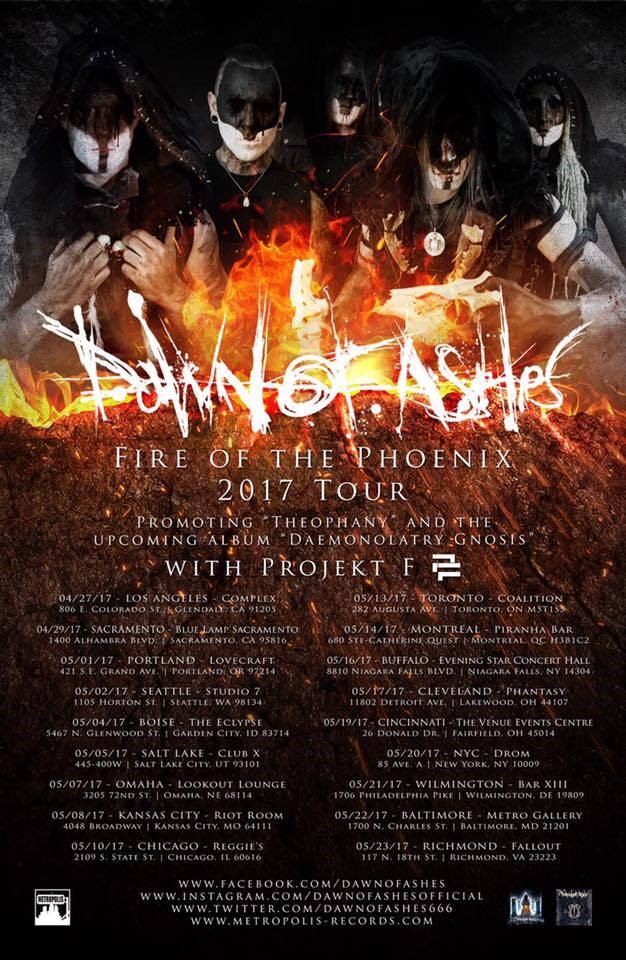 Tour Dates
April 27th Los Angles,CA @ Complex
April 29th Sacramento, CA @ Blue Lamp
May 1st Portland, OR @ Lovecraft
May 2nd Seattle, WA @ Studio 7
May 4th Boise, ID @ The Eclypse
May 5th Salt Lake City, UT @ Club X
May 7th Omaha, NE @ Lookout Lounge
May 8th Kansas City, MO @ Riot Room
May 10th Chicago, IL @ Reggie's
May 13th Toronto, Canada @ Coalition
May 14th Montreal, Canada @ Piranha Bar
May 16th Buffalo, NY @ Evening Star Concert Hall
May 17th Cleveland, OH @ Phantasy
May 19th Cincinnati, OH @ The Venue Events Centre
May 20th New York City, NY @ Drom
May 21st Wilmington, DE @ Bar XIII
May 22nd Baltimore, MD @ Metro Gallery
May 23rd Richmond, VA @ Fallout
As music obsessed fans we always keep a list of bands we want to see live that we haven't had the chance to see. Touring musicians have the opportunity to see a lot more bands than the common band through friends in the industry and while touring. Dawn Of Ashes Founder and vocalist Krisrof Bathory recently sat down with Metal Nexus to let us know some of the bands and artists that he has on his own personal bucketlist. Brace yourself as his musical taste is diverse and strays far from the genre in which they dominate.
Krisrof Bathory:
1. Kiss – Because it's Kiss
2. Judas Priest – One of the greatest heavy metal bands.
3. AC/DC – This has been a band that I promised myself to see before I die.
4. The Misfits (reunited with Danzig) – Still one of my favorite bands.
5. Belphegor – One of my favorite Blackened Death Metal bands.
6. Dark Funeral – Because they never play the United States.
7. Opeth – Greatest Doom Metal band and probably one of the most talented bands ever.
8. W.A.S.P – Definitely would be an experience.
9. HATE from Poland – These guys fucking shred.
10. Iron Maiden – Its Iron Maiden.
While he gives us several bands that are on most fans bucketlist like Kiss, Original Misfits, Iron Maiden and Judas Priest, we also get bands like Belphegor, and Hate who may be less known to some people. Opeth and Dark Funeral are also must see bands for anyone craving dark or doom. Based on what Doyle Von Frankenstein recently said about another run of Misfits dates (read here) Krisrof may just get the chance to knock them off his bucketlist.