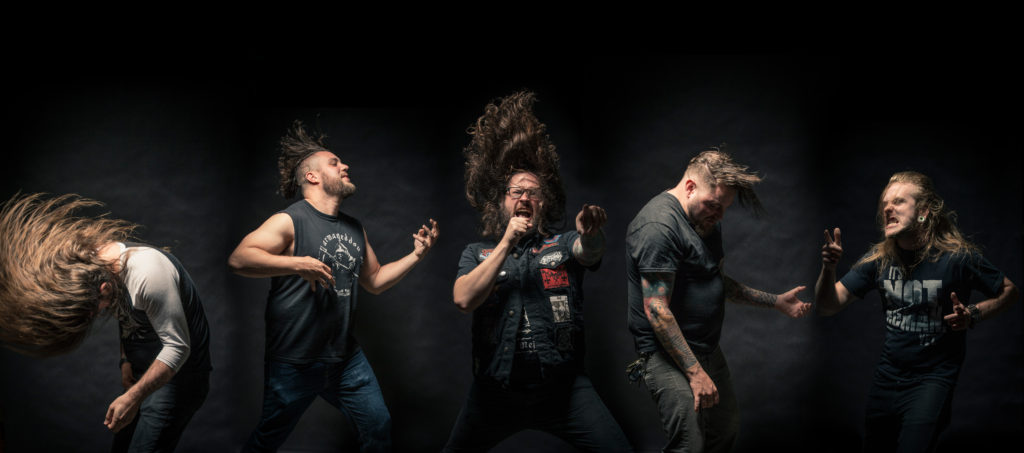 THE BLACK DAHLIA MURDER just a day ago released their all new music video for the title track from the upcoming eighth full length 'Nightbringers', which you can check it out HERE! Now, they are back with another update and this time it is about a massive North American trek with fellow death metallers SUFFOCATION, DECREPIT BIRTH, NECROT and WORMWITCH. This October/November THE BLACK DAHLIA MURDER will go out on this headlining tour in support of their all new album 'Nightbringers' coming out via Metal Blade Records on October 6th, this year. Starting the tour off on Rochester, NY on the 6th of October, the tour will encompass major North American cities like New York, Baltimore, Las Vegas, Toronto, Ottawa including many others spanning just over a month. This is a must attend tour for every extreme metal fan alike. Check out the tour dates below and all the details regarding the same!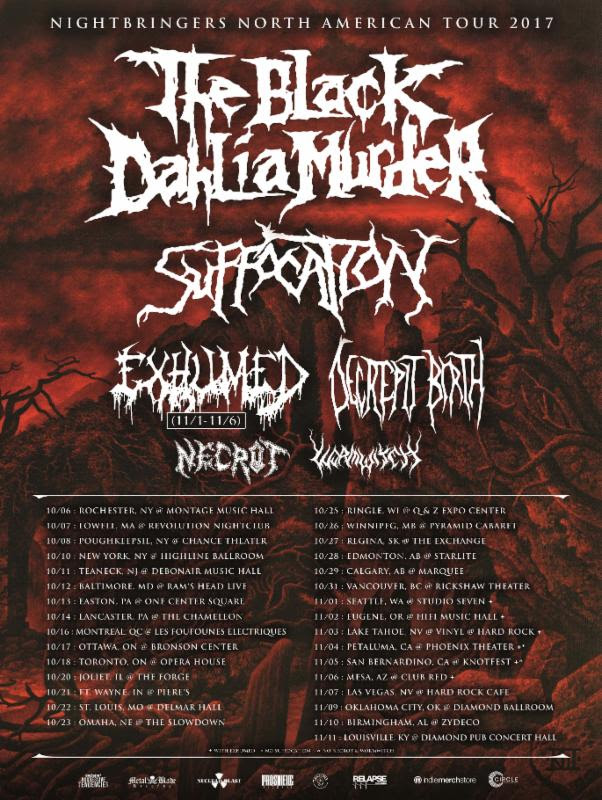 THE BLACK DAHLIA MURDER tour dates
w/ SUFFOCATION, DECREPIT BIRTH, NECROT and WORMWITCH.
Oct. 6 – Rochester, NY – Montage Music Hall
Oct. 7 – Lowell, MA – Mill City Ballroom
Oct. 8 – Poughkeepsie, NY – Chance Theater
Oct. 10 – New York, NY – Highline Ballroom
Oct. 11 – Teaneck, NJ – Debonair Music Hall
Oct. 12 – Baltimore, MD – Ram's Head Live
Oct. 13 – Easton, PA – One Center Square
Oct. 14 – Lancaster, PA – The Chameleon
Oct. 16 – Montreal, QC – Les Foufounes Electriques
Oct. 17 – Ottawa, ON – Bronson Center
Oct. 18 – Toronto, ON – Opera House
Oct. 20 – Joliet, IL – The Forge
Oct. 21 – Ft. Wayne, IN – Piere's
Oct. 22 – St Louis, MO – Delmar Hall
Oct. 23 – Omaha, NE – The Slowdown
Oct. 25 – Ringle, WI – Q & Z Expo Center
Oct. 26 – Winnipeg, MB – Pyramid Cabaret
Oct. 27 – Regina, SK – The Exchange
Oct. 28 – Edmonton, AB – Starlite
Oct. 29 – Calgary, AB – Marquee
Oct. 31 – Vancouver, BC – Rickshaw Theater
Nov. 1 – Seattle, WA – Studio Seven w/ EXHUMED
Nov. 2 – Eugene, OR – WOW Hall w/ EXHUMED
Nov. 3 – Lake Tahoe, NV – Vinyl @ Hard Rock w/ EXHUMED
Nov. 4 – Petaluma, CA – Phoenix Theater * w/ EXHUMED
Nov. 5 – San Bernardino, CA – KnotFest ** w/ EXHUMED
Nov. 6 – Mesa, AZ – Club Red w/ EXHUMED
Nov. 7 – Las Vegas, NV – Hard Rock Cafe
Nov. 9 – Oklahoma City, OK – Diamond Ballroom
Nov. 10 – Birmingham, AL – Zydeco
Nov. 11 – Louisville, KY – Diamond Pub Concert Hall
*= no SUFFOCATION
**= no NECROT, WORMWITCH
Tickets go on sale this Friday, August 25th at 10 AM local time.
THE BLACK DAHLIA MURDER are currently co-headlining "The Summer Slaughter Tour" with DYING FETUS, plus OCEANO, ORIGIN, SLAUGHTER TO PREVAIL, RINGS OF SATURN, BETRAYING THE MARTYRSand LORNA SHORE as support. This USA trek sees THE BLACK DAHLIA MURDER performing 'Nocturnal' in its entirety, for the album's 10-year anniversary – making this one show not to be missed! See below for all dates, with more to be announced soon!
"The Summer Slaughter Tour" dates
w/ The Black Dahlia Murder, Dying Fetus, Oceano, Origin, Slaughter to Prevail, Rings Of Saturn, Betraying the Martyrs, Lorna Shore
Aug. 22 – Concord Music Hall – Chicago, IL
Aug. 23 – Bogart's – Cincinnati, OH
Aug. 25 – The Majestic – Detroit, MI
Aug. 26 – Agora Theatre and Ballroom – Cleveland, OH