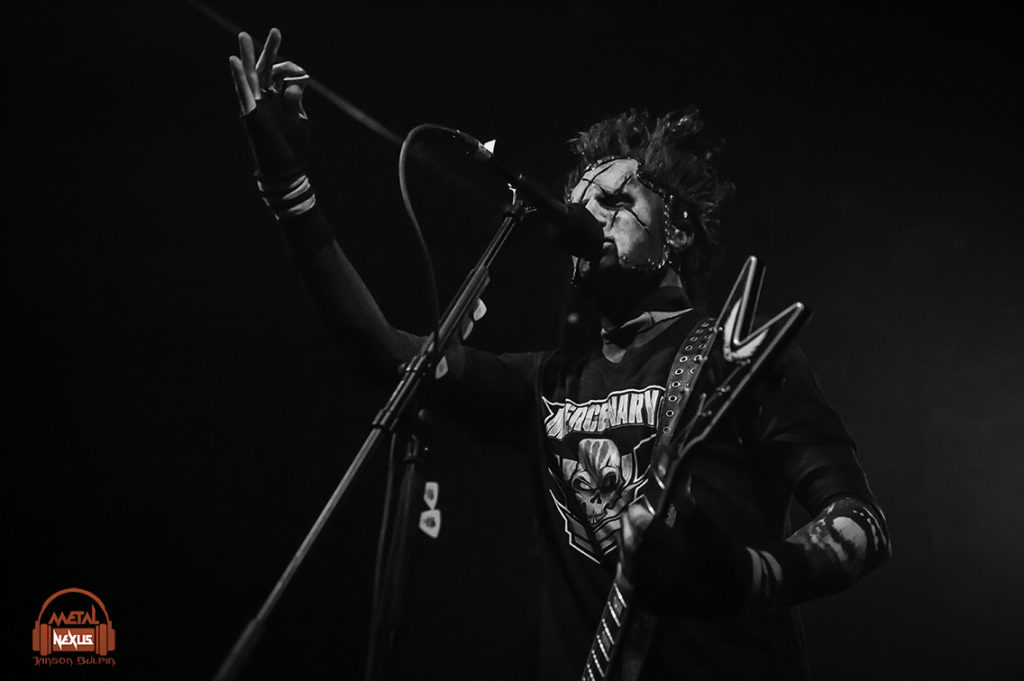 The original Static-X line-up from the 1999 platinum-selling debut full-length album, Wisconsin Death Trip – bassist Tony Campos, guitarist Koichi Fukuda and drummer Ken Jay – have completed their seventh studio album, entitled 'Project Regeneration' which is set to release sometime in November. The album will feature 12 brand new Static-X tracks and contains several vocal performances and musical compositions by the late great Wayne Static who passed away on November 1, 2014. The band has been touring with a masked singer who is using the name Xero. In addition to wearing a mask the mysterious vocalist is also dressed as Wayne Static featuring his signature spiked up hair and his long braided beard. The identity of the singer has not be unveiled and the band states they are trying to honor their late fallen singer Wayne. Since the bands first single was unveiled some fans believe that the singer is none other than Dope vocalist Edsel Dope and ironically Dope has been on both legs of the tour as a support act with Static-X.  One other thing to notice is that the order in which the bands perform. I would think Dope would normally be direct support for Static-X, however they have Soil as direct support and Dope playing before them. This would allow Edsel time to rest between the two bands sets. However, this is just an assumption other fans and I myself have, the singer could be a singer we all are familiar with or it could be someone completely unheard of. It's not known yet whether or not they will ever identify their touring vocalist. It doesn't matter to us who is behind the mask, we are just thankful to be hearing Static X again and honor the legacy that Wayne Static left behind. This UK/Euro tour includes support from Dope, Soil, and Wednesday 13, probably one of the best tours you will find this fall.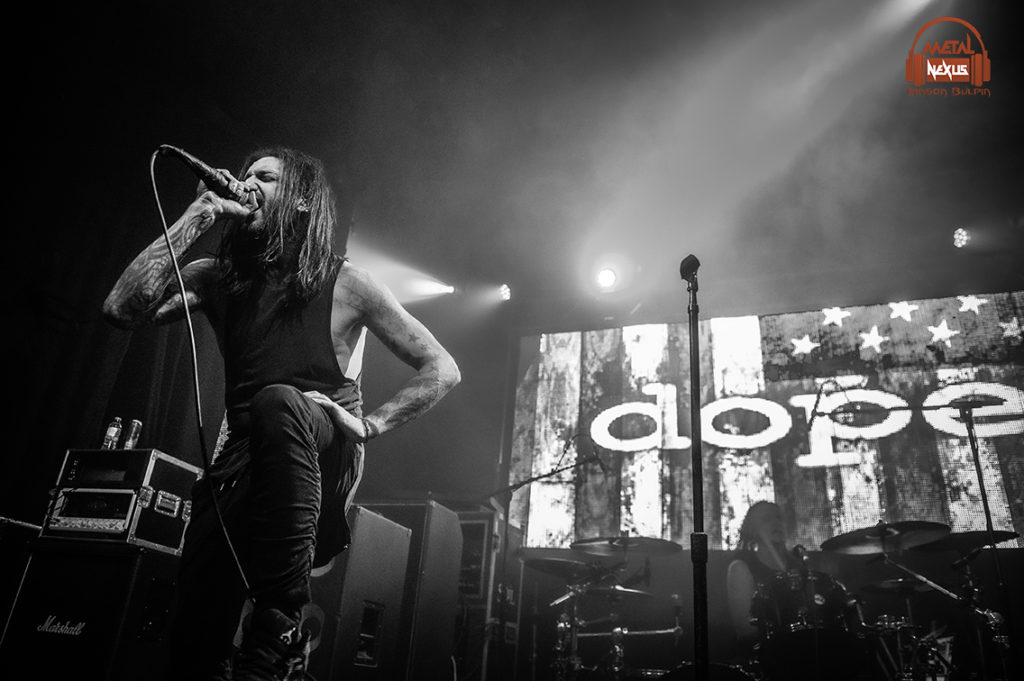 Kicking off tonight was one of the best bands to stay relevant after the early 2000's, Dope and before the band appeared to this sold out audience their backdrop lit up with the album cover for their 2005 release 'American Apathy.' It's also a big occasion as its a 20 year anniversary of their first album 'Felons and Revolutionaries.' This was the first date on the UK tour and these lads had bags of energy and the sound was immense with that real fast chugging on the guitar, fret bending slides and fast driving drums. Track four "Die Motha Fucker Die" was the stand out tune of the set for me and got everyone in the audience moving and warmed up for Wednesday 13. Dope played a really short set of about 20 mins but think this was due to some university freshers week event after, plus a slight delay in starting. I can't wait to see Dope again soon with a much longer set. I'm officially addicted to Dope.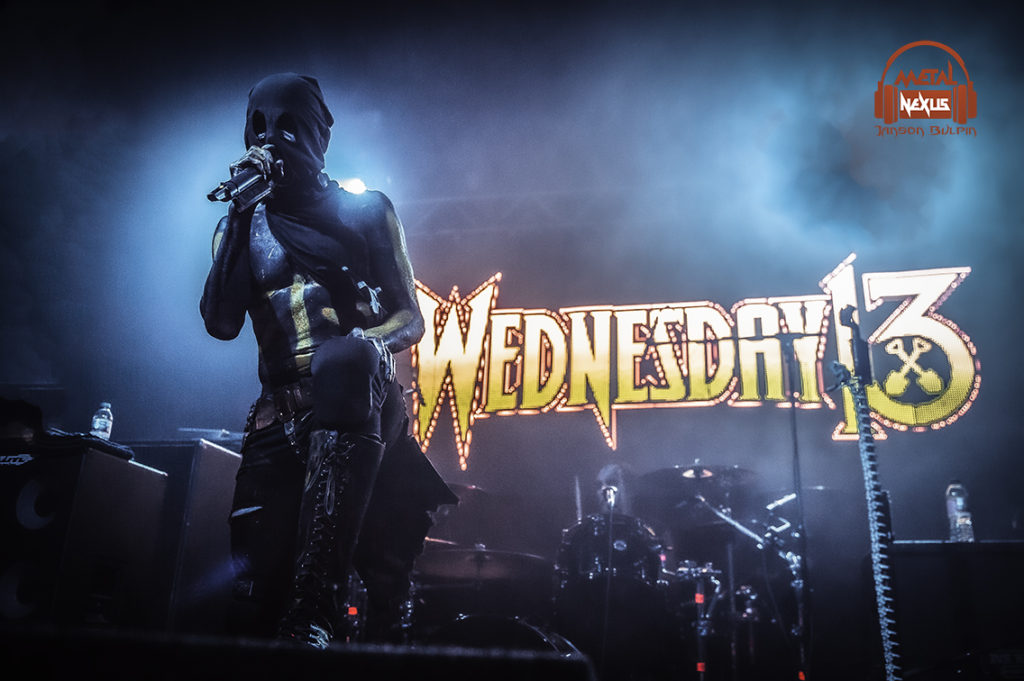 So next up is horror shock rockers Wednesday 13, now this is a band I've been looking forward to seeing again as its been a while now since I last witnessed them take the stage. There was a really dark and moody feel to the lighting tonight for all bands, this really suited these industrial goth bands, shame it wasn't in a few weeks for Halloween as the show would have had a lot more to offer. The band I'm sure would have dressed up even more as the vocalist did many wardrobe changes walking out in different spooky outfits which looked awesome on stage. One was a hat with a face on it which made his neck look really long due to wearing a balaclava over his face. The whole band with their faces painted put on an awesome tight performance and was reflected by the audience going nuts. This was a quality night as I haven't seen 'em since the 2000's. I think also the more and more I go to the SWX the more I appreciate how great the sound is there. I know a lot of bands bring their own sound guys but damn whoever did the sound for each band hats off to you… I always thought putting up an umbrella indoors was bad luck, well vocalist Wednesday 13 himself brought one out for the last song that showcased a big middle finger on the top, like a big "fuck you" to end their set. But in a loving way of course.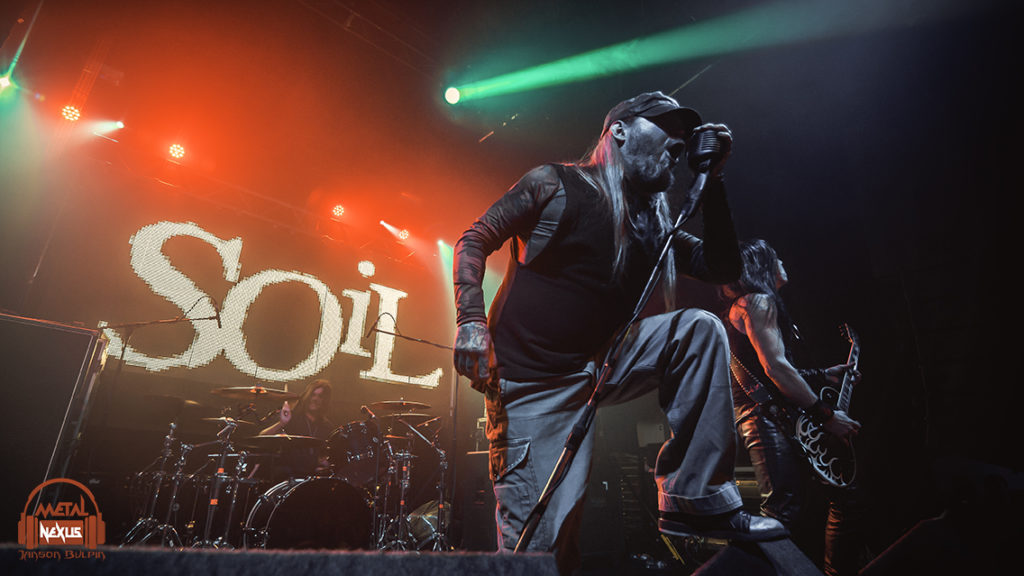 Next up Soil. I heard divided opinions in the audience about why they are on the bill, okay they don't fit in with the horror / industrial feel but damn they are good live and for me personally I just love it when vocalists have a stand out unique voice. That rough gravely sounding voice can only be one guy and that's Ryan McCombs, one of rocks most genuinely humblest musicians. I've checked 'em out doing acoustic sets and he hung out with fans after, but it was so nice to hear the whole band set up tonight. The place erupted for the track "Unreal" with the crowd joining in shouting unreal at high volume , and then finishing on their mega hit "Halo," fuck I've been wanting to hear that live for years. Obviously the crowd sang every lyric with devil horns and fists punching the air the whole way through.
A really long intro before a member hit the stage but with extra lighting screens with the name Static-X appearing slowly which got the crowd chanting for them to hit the stage, "Static Static Static," then they appeared and blasted straight in with "BLED" and the crowd went nuts!
So tonight rumors were flying around about the vocalist that is currently behind the mic replacing the fallen Wayne Static. He has everything dialed in really well, hitting the notes and the guitar parts. He did Wayne proud and that's a fact. Throughout the night there were tributes to Wayne and it was not over done it was just perfect, with messages and pictures on the screen from time to time.
After the track "Trance," they drank a few shots to remember Wayne Static who died in 2014 with the crowd holding what drinks they had left. I'm surprised anyone was drinking in that carnage on the floor moshing and head banging non-stop. The stand out track was "Black and White," the crowd singing along to this hard hitting track also makes you nod along in time the whole way through. Second half of the set in my opinion was the better half with tracks like "This Is Not" and "Start a War."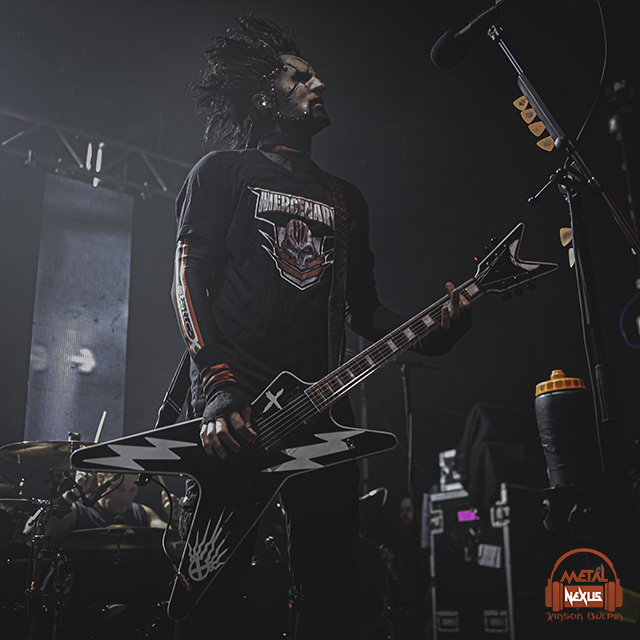 "Destroy All" was also in the second half with a really eerie low screeching intro and real fast beats the whole set seemed to pump along at a dramatic pace. They played a no nonsense set with not much talking at all just giving the Bristol fans their moneys worth ramming as many songs in as possible.
They asked the whole crowd to put their horns in the air and wave them from side to side and dedicated the classic track "Cold" to their late front man. Before finally ending on the bounce along industrial beast "Push It" from their iconic album 'Wisconsin Death Trip.' Well for Static-X to still be selling out shows of this capacity is well deserved and proves they still have a stamp on the scene.
'Till the next review Metal Nexus would like to say support your local music scene to keep metal and rock alive and we will continue to bring you exclusives…