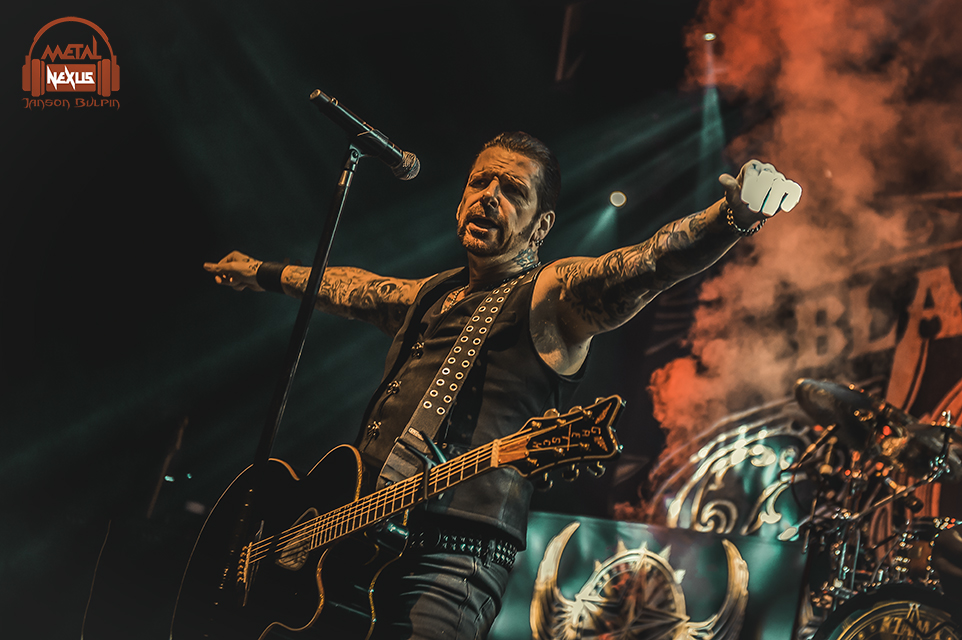 Black Star Riders are a band that everyone needs to see. The band still boasts a legendary lineup even after the departure of celebrated lead guitarist Damon Johnson last year. Black Star Riders began when members of the most recent line-up of Thin Lizzy decided to record new material, but chose not to release it under the Thin Lizzy name. Ricky Warwick as well as Scott Gorham helped found the band and both are formerly of Thin Lizzy. Drummer Chad Szeliga is well versed in the rock/metal world and has had stints in Breaking Benjamin as well as Black Label Society. Upon Damon Johnson's departure last year he was replaced by guitarist Christian Martucci who is also the guitarist in Stone Sour. Robbie Crane is also a member of front man Ricky Warwick's band The Fighting Hearts and also previously performed with 80's iconic band Ratt. You can easily see this band is made up of some of the most talented veterans in music. Seeing them perform is like watching an all star team. We were lucky enough for them to grace the stage at the Bristol o2 along with support from Wayward Sons which boasts vocalist Toby Jepson who rocked in the popular 90's band Little Angels. Direst support comes from Stone Broken the hard rocking 4 piece from right here in the UK. 
First up Wayward Sons and our first chance to see Toby perform since the 90's with Little Angels. It was nice to see the o2 busy for the openers and not over the local boozer waiting for the headliners, with a line up like this it feels more like a co headline show as all three bands deserve equal respect.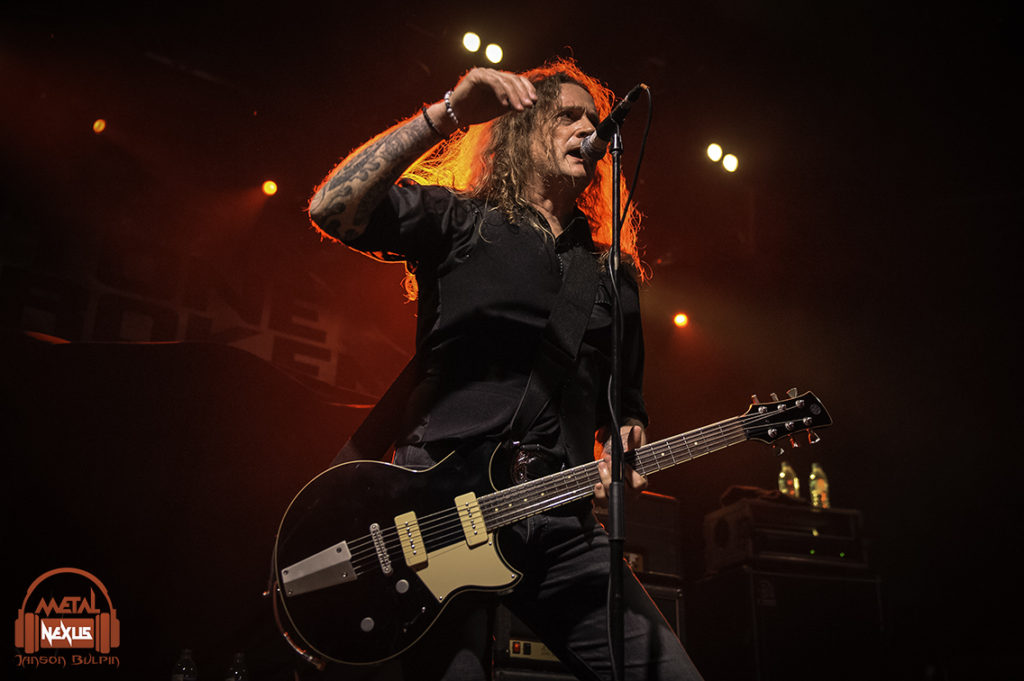 The electronic intro to opening track "Any Other Way" started with the crowd cheering the members to the stage to play this new catchy track from their latest album 'The Truth Aint What It Used To Be.' They delivered with pure class, with high caliber musicians what do you expect and Toby's vocals were just AWESOME! Jepson said we are playing to our home crowd Bristol!! and the crowd put fists in the air with approval. They also declared they we're delighted to be first on the bill supporting Black Star Riders. The energy these lads had was insane , stand out guy for me was bass player Nic Wastell, so energetic and powerful and also the guitar solos from Sam Wood were fast and clinical. They had enough time to cram seven tracks in with no messing about and leaving track "Until The End" last to close out the set was an fantastic track to hear live…..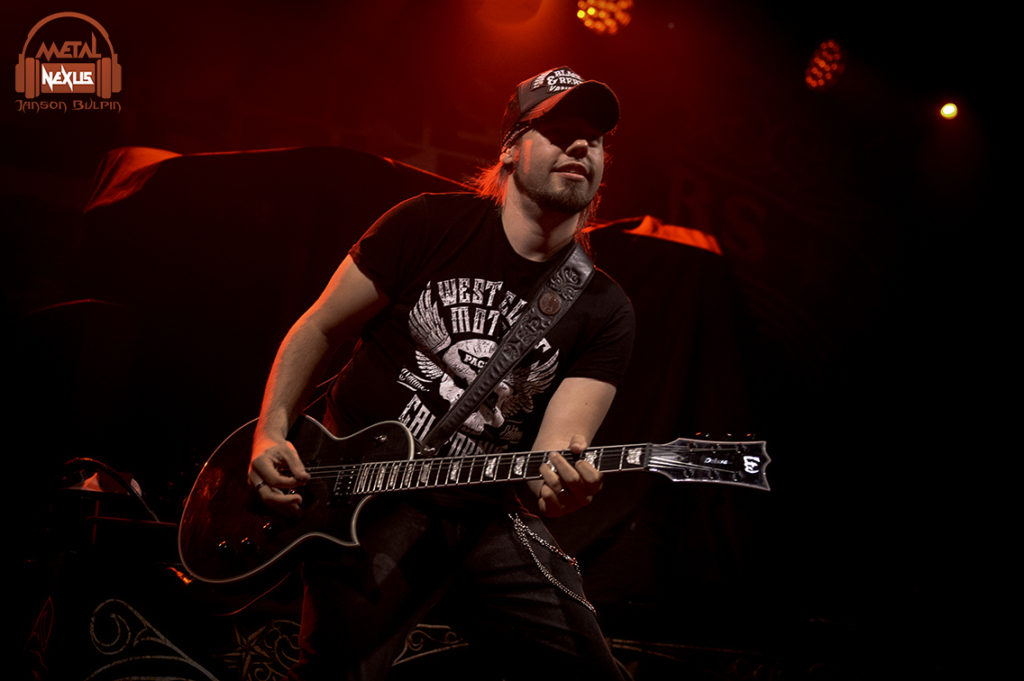 This was the first date of the tour and hailing from Walsall, UK are Stone Broken to grace the stage after Wayward Sons. Damn were these guys and girls on fire from the get go. I've not been blown away by female drummers in the past but Robyn Haycock can hit drums harder than a lot of guys I've seen on the road. As a drummer myself I can see that she plays with passion. Vocalist Rich Moss has one of those voices that would fill a stadium with no struggle whatsoever, truly amazing. The whole band cranked through their solid hard hitting set with ease and having a laugh with the crowd and pulling faces and posing for photos. Rich Moss said it was national HUG a drummer day today and also bassist Kieron Conway's birthday so Rich got the crowd to sing happy birthday to him. They then went into an intro of radio tuning in/out of stations with snippets of Warrant and Motley Crue playing before getting into another one of their tracks "Let Me See It All." This was quality, they played an amazing set with the band moving around the stage and switching sides rather than just staying in their dedicated positions. Each member looked like they were enjoying every second of the set which is so nice to see. To end on the ultra thumpy track "Not Your Enemy" with its hypnotic bouncing beat had every member of the audience nodding along with approval and the track ended with a proper big rock finish with an almighty cheer from the audience and with the band throwing plectrums sticks and set lists to the fans..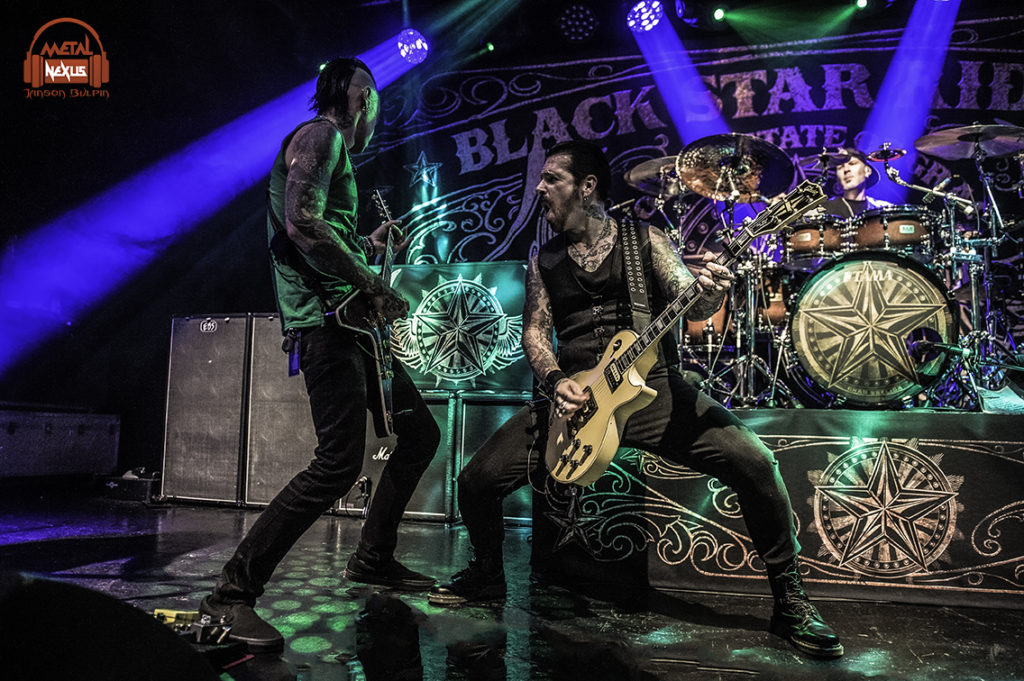 It was time for Ricky Warwick (ex The Almighty) to hit the stage with Black Star Riders signed to Nuclear Blast Records. You know its gonna be an amazing show. I first watched Ricky's band The Almighty back in 1993 supporting Metallica along with Diamond Head and Megadeth at Milton Keynes Bowl. So push forward to the present even I was keen to check Black Star Riders out tonight along with the packed out crowd. The reception they got when they stepped out on stage was one of the loudest cheers I've heard at the o2 and you could tell that all the members were delighted with the reception this Bristol crowd gave them. I expected to see two Gibson Les Pauls on stage but Damon Johnson's replacement, Stone Sour guitarist Christian Martucci, is playing a beautiful Flying V guitar and damn did he rip that to shreds.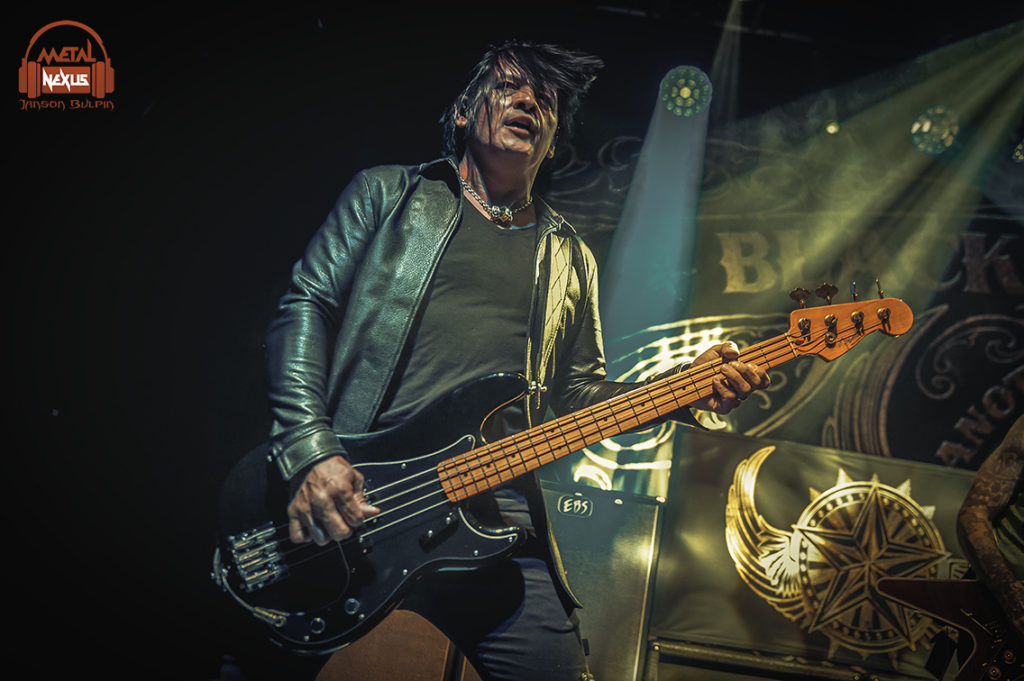 It was Christian Martucci's first show with the band since replacing Damon (which aren't small shoes to fill by any means), and he looked super comfortable on stage and played a pretty much flawless set. Black Star Riders smashed straight in with the classic tune "Another State Of Grace" with the audience chanting on the HEYS!! There was no messing around they jumped straight from one track to another cracking tune with that awesome guitar intro to "The Killer Instinct." Talking about guitars Scott Gorham is a master on the six string also rocking a Gibson, it was awesome to see him up close playing with ease. This veteran can shred for sure. Also Scott and Christian were doing some perfect old school guitar to guitar poses/face offs. It's even nice to see Ricky put the guitar down from time to time and especially on "Ticket to Ride," holding the mic, singing and standing back to let the guitarist go to center stage for solos.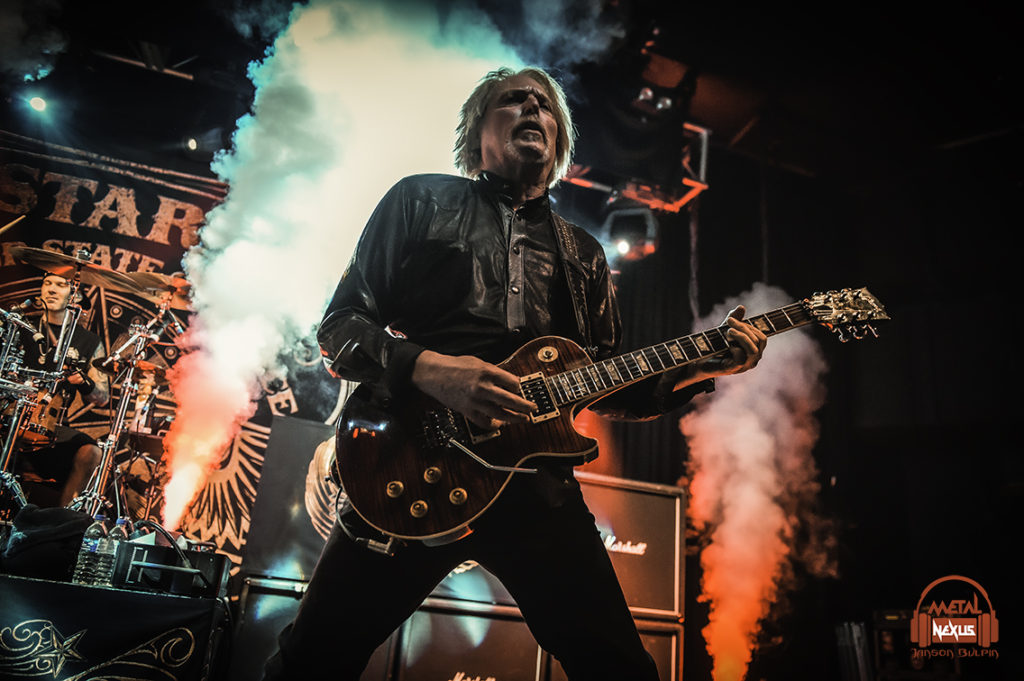 So for their first show in over a year Black Star Riders played an amazing set and if you ever tune into Planet Rock radio then you would have heard a few of the songs in this set as they get a lot of airplay and rightfully so. They closed out with "Bound For Glory," a great choice to finish the night with. If you are thinking about getting tickets for their tour you will not be disappointed and get their for doors opening so you don't miss any bands on this bill as its an epic night of rock…
Until next time Metal Nexus readers get out and support bands and venues keep music alive.