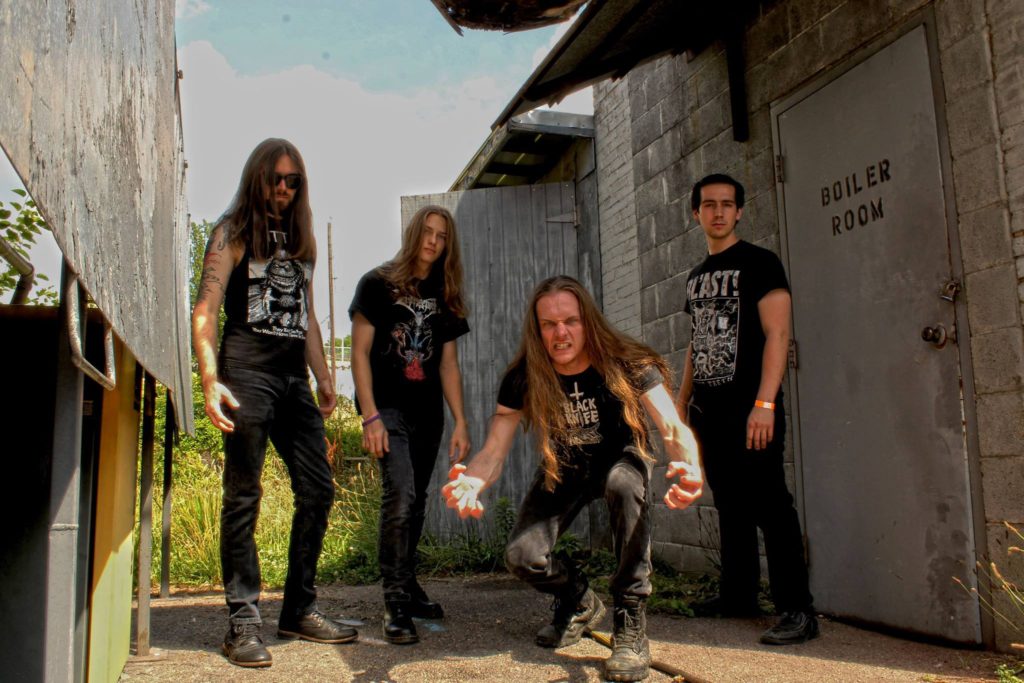 ---
*This is a part of our State Of The Art series, showcasing bands every Monday from the featured State*
This month's State is North Carolina!
---
Hello, fellow metalheads! Welcome back to our weekly edition of the State Of The Art series. I know it is Monday and you're probably all lagged up, reluctantly waking up from you slumber and contemplating the cesspool of existential crisis Monday brings. It's annoying I know, everyone hates Mondays. Well, that's when Metal Nexus comes in and plays its card, the SOTA card. To cheer up your dull day, we bring to you today one of the rising forces of American thrash metal, bellowing from the deepest gorges of hell, hailing from the capital city of Raleigh, we present to you SUPPRESSIVE FIRE. They bring with themselves a relentless wall of sonic barrage, coupled with speed and aggression of 80s teutonic German thrash and the modern technicality and brutality of the sub genre. Let's get this straight, if you are looking for or are expecting that one melodic filler song per album kinda band, then I am sorry, in the words of the legendary Pantera, "Walk on home boy!". This is as thrash as it gets, teutonic monstrosity and Bay Area aggression makes them the band that they are today!
Joseph Valhal, the band's guitarist put up an classified ad and was almost on the brink of stalling the idea, that is when Brandon Smith revived the hope and joined him as a drummer as narrated by the frontman in an interview with Wonderbox Metal. The building foundation being now laid strong, all they needed was now a bassist and a vocalist. Aaron Schmidt soon fit the last missing puzzle and decided to do the double duty of a bassist and vocalist, thus helping in the birth of a new three piece band that would soon go on and create major ripples in the NC metal scene from 2011 onwards. Albeit, later the band would see themselves branch out into a four piece till date.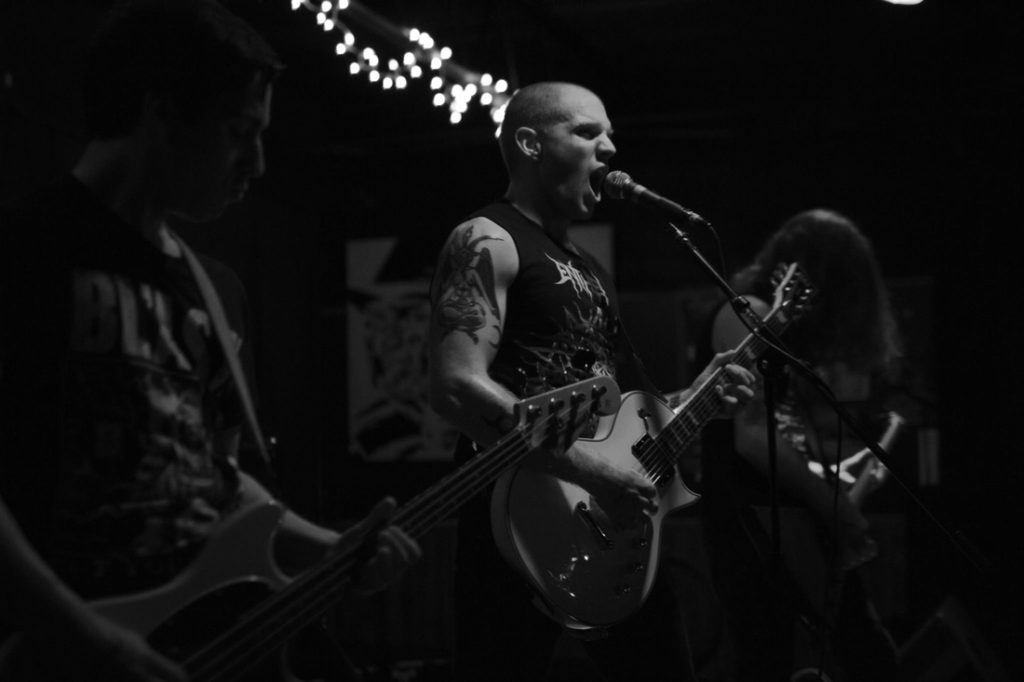 Formed in 2011, SUPPRESSIVE FIRE have been the next big thing brewing in the local North Carolina scene. They have till date released four recordings, two out of which are very recent studio full lengths, namely their ground breaking debut, 'Bedlam' in 2016 followed by their recent 2017 January release,'Nature Of War', the latter released in a commendable short period of time. Prior to 2016's debut album, they started their catalog with the demo, 'Hellwraith' in 2014, followed again in quick succession of another release in the form of a split, 'Covered In Conflict' with fellow thrashers AXATTACK from South Carolina in 2015. Determination and consistency being the keyword here,  SUPPRESSIVE FIRE have managed to hang onto it unscathed. They clearly have a goal in mind and are not shying away from any sort of devastation, which is already evident in their four years of non stop grinding and agonizingly fast thrash massacre. SUPPRESSIVE FIRE are currently signed to Virginia record label Lost Apparitions Records.
Coming in hot SUPPRESSIVE FIRE play a blend of thrash metal with major influences and incorporation of black metal and death metal. This is one such hybrid sub genre I like so much, the blackened thrash or death thrash. It has so much going on within it and SUPPRESSIVE FIRE does nothing but pure justice to it. They are fast, they are heavy, they are just about everything what a thrash band really needs to turn heads and hairs stand at the back of your neck. When you cite your inspirations among the ranks of German teutonic godfathers, SODOM and KREATOR, death metal creators DEATH, grindcore turned melo-death British powerhouse CARCASS and Bay Area renegades, EXODUS, you know you're in for a ride. And these influences are worn by the band proudly, their musical influences can be heard and seen in every song. Yet they keep their own originality, which I think is what makes them an amazing band. There are tonnes of band trying to break through the charts or go big in the scene but most of them fail. What matters is a concrete self determination and trying not to be rip offs, those things won't get you anywhere. Anyways, enough of me trying to be the spiritual guru. Let's talk about their releases so far, shall we.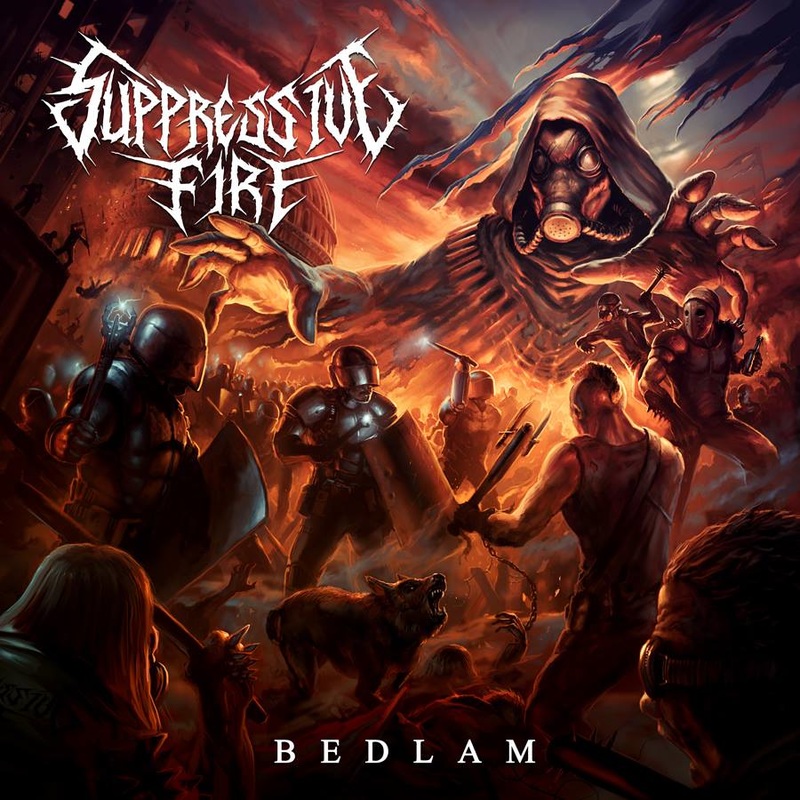 War has been a burning topic for metal bands to tread on lyrically and even in the imagery. So much so that, "war metal" has been born into existence for some time now. From early songs like SLAYER's 'War Ensemble' to SABATON, war metal has come a long way. Similarly, riding on lyrical themes and settings like war, death and destruction which undoubtedly always turns out to be the best partner when it comes to the speed, aggression and chaotic nature of SUPPRESSIVE FIRE's unforgiving blackened thrash/death thrash dose of sonic dismemberment. What's intriguing is the fact that they never revolve around one lyrical theme on their albums, its more of a splattered approach. Every song has its own theme under its rag, there by shutting the door to any kind of monotony. Also, if I have not mentioned this already then here it is, 'Bedlam' and their sophomore record, 'Nature Of War' was mixed and mastered by Joel Grind who hails from top notch act TOXIC HOLOCAUST hence an excellent production to grace our ears.After a successful EP release and a split the following year, the debut, 'Bedlam' saw them open doors to many other prospects like touring and playing across more venues in their locality and other states across Florida, neighbours South Carolina, Georgia. This has helped them garner a lot more fans and has cemented them as a firm reckoning force in the underground metal circuit. Having toured with major label killer bands like EXMORTUS, WARBRINGER, SAVAGE MASTER they are definitely the talk of the town, might as well hit up a major label with another killer full length release. Raleigh rebels SUPPRESSIVE FIRE are taking major steps at a time and this was a big news when they got featured on the August edition of Decibel Magazine.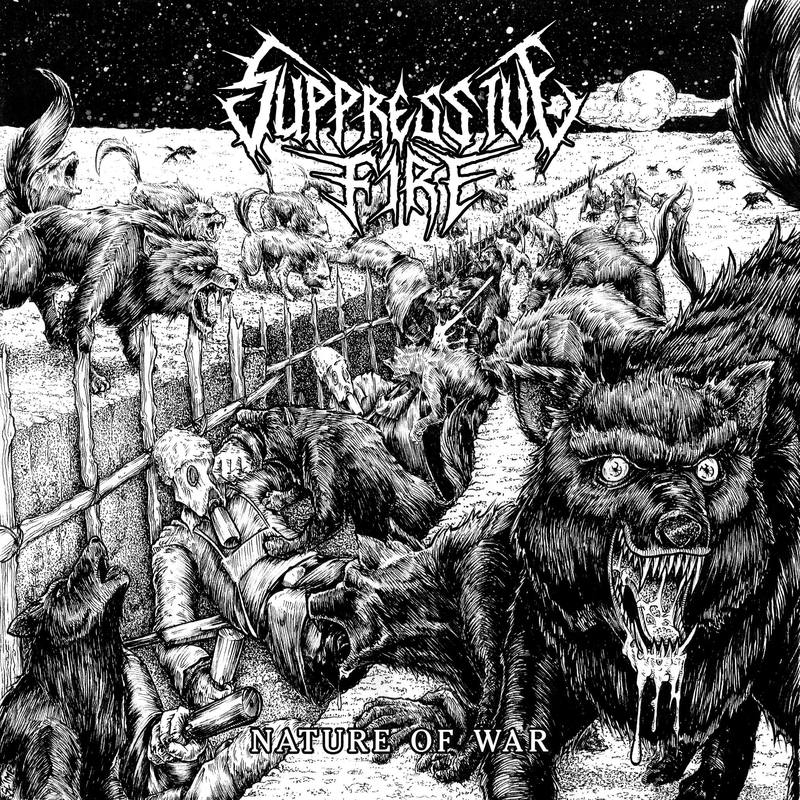 After a few months, they released their second studio effort, 'Nature Of War', this year in the month of January to great acclaim. Now a four piece, with the addition of stand alone singer Devin Kelly who brings forward an incredible amount of bizarre showmanship and antics which fits the group's Brownian Motion sort of frenetic music. There was another change in the line up, as Cameron Micham joined the thrash camp after the departure of former drummer Josh Bleeks. This new lease of energy  has gelled up together very well and has also done several live performances since the line up change. With this, they also landed up their biggest gig till date if I may call it. They were added as a support band to the Charlotte leg of the 'Decibel Magazine 2017 Tour' which was headlined by none other than KREATOR who are SUPPRESSIVE FIRE's one of the many paramount influences as far as their musical roots are concerned. Also on the bill were, death metal titans OBITUARY who released their self titled latest record on the show, speed metal band MIDNIGHT and final addition in the form of HORRENDOUS to top it off. They also recently thrashed out in the 'Raleigh Deathfest 2017' among a lot of other cool ass bands.
With the release of 'Nature Of War', SUPPRESSIVE FIRE have upped their ante and with the recent addition of a new vocalist into the foray, they continue to add and evolve on the template they dwell as a band on. I as a die hard thrash fan can easily see this band foraging into the future for bigger and more successful records. When you sit down and listen to their debut and the sophomore album, you can instantly draw references and see the influences stemming from. I for one found a lot instances where I went "Fuck yeah, this is so 'Pleasure To Kill!(KREATOR)", I could also see bits of 'Agent Orange' by SODOM, which again is an inspiration to scores of other thrash and speed metal bands today. Tracks like 'Nuclear Dismemberment', 'Coup d'etat', to the dynamic 'Dreaded Bastards' and the haywire, 'Nature Of War', SUPPRESSIVE FIRE proves to be one of the major rising thrashers of modern day thrash metal. The sonic envelope of their hard hitting cacophony is a result of polished and excellent musicianship the lads in the band have shown. Guitar riffing so loud and fast it will make you spill your guts out, the drum work on the all the albums have been excellent, its relentless, show no mercy kind of drumming. The harsh and borderline death metal vocals are just the perfect ingredient in the recipe of hate and obliteration the band inevitably brews. I am so glad to have stumbled upon this band, I know I am already hooked.
If you are fans of KREATOR, SODOM, TOXIC HOLOCAUST, DESTROYER 666, EXODUS, SKELETONWITCH this is your piece of cake, seriously! Go and check this band out if you haven't, you're clearly missing out. I can't say when or if I ever will be able to see SUPPRESSIVE FIRE live for once, but one thing I can already assure you and clear the air, they have successfully robed in one more fan. Yes, I am going to wait anxiously for more of their stuff in the future. Seriously now, go check them out. Shoo!
You can support the band and buy their records and merchandise here.
SUPPRESSIVE FIRE line up:
Joseph Valhal – Guitars
Cameron Micham – Drums
Devin Kelley – Vocals
Will Saenz – Bass