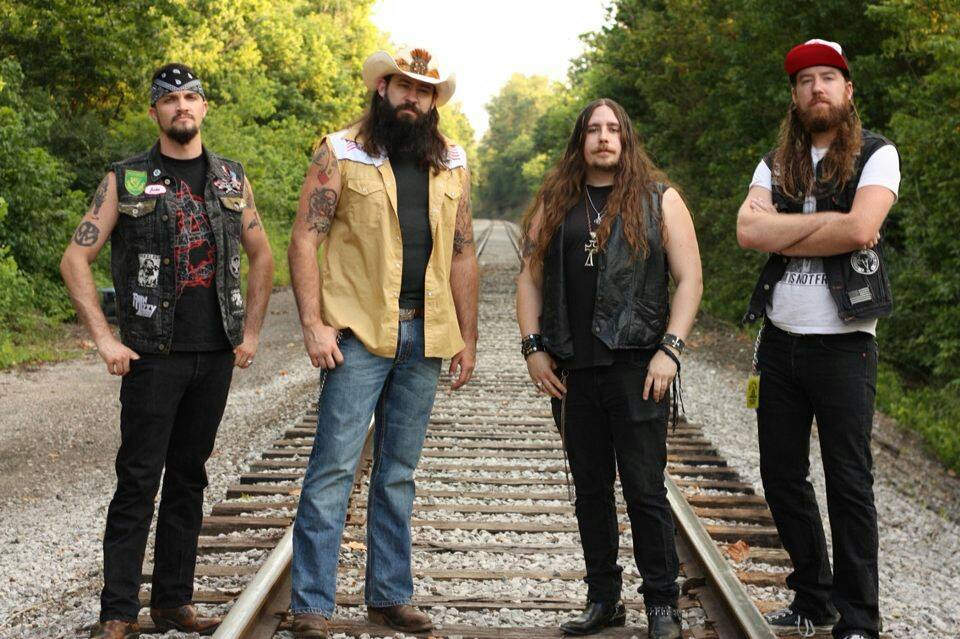 Southern rock stars SCATTERED HAMLET who self describe their metal as "honky tonky metal" and are touring machines are back on the road for another "honky tonky" tour. "Swamp Rebel Machine" was their latest effort and got released last year and they're out yet again to give y'all some taste of their fine blended, tasty southern rock. The album was well received by Billboard Heatseeker Chart and critics. With videos from songs like 'Swamp Rebel Machine' and 'White Trash', they further solidify the fact that they're the best at what they do always! The summer tour will feature a festival appearance at Wisconsin's Rock Fest XVII. SCATTERED HAMLET will appear at Rockfest July 14, 2017 along with CLUTCH, TOM KEIFER, TEXAS HIPPIE COALITION and AVENGED SEVENFOLD.
SCATTERED HAMLET never shy away from the core of their music and this is what the front man Adam Joad had to say about the new album, "A lot of industry types wanted us to just recreate another generic radio rock band and that just wasn't us." He continued, "It was a risk and it paid off, the album did great and quite of few of the tunes ended up doing decent in a shit ton of radio markets… I've been saying it for years, people don't like safe music, that's never been what rock music is about."
Metal and wrestling, so much in common right? We have previously heard so many wrestlers entering the ring to the tunes of their favorite metal band. Like Triple H for 'I am the game' by MOTORHEAD, Sandman from ECW to tunes of 'Enter Sandman' by METALLICA. Now, the honky tonk metal sound and attitude has been spreading with WCPW British professional wrestler, Dave Mastiff, now using the band's tune "Shelter" as his intro music.
Live Free or Die Tour Dates :
July 7 Saint Clair PA (Coal Mine Tap Room)
July 8 Clay, WV (Elk River Festival)
July 12 Braidwood, IL ( Top Fuel Saloon)
July 13 Green Bay, WI (Lyric Room)
July 14 Cadott, WI Rockfest!!
July 15 Wausau, WI (Polack Inn)
July 18 Sioux Falls, SD (Bigs Bar)
July 19 Wichita, KS (Elbow Room)
July 21 Gallup, NM (Juggernaut Music)
July 22 Las Vegas, NV (Adrenaline)
July 23 Hollywood, CA (Viper Room)
July 25 (SoCal Special Appearance)
July 26 Phoenix, AZ (The Blooze)
July 28 Oklahoma City, OK (Thunder Alley)
July 29 San Antonio, TX (Wax)
July 30 Forth Worth, TX (Rail Club)
Get your tickets to the shows here.
Buy SCATTERED HAMLET records and merch here.