*This is part of our State Of The Art series, showcasing bands every Monday from the featured State* 
This month's State is Oregon!

Like shooting fish in a barrel for this month's State of the Art: Oregon series. No matter how extreme your Metal tastes, Oregon has something for you. Digging 80's Pop Metal? Gotcha covered. More into old school Thrash and Power Metal? You got it. Think these are for wusses and desire to hit the extremes? There are more good Death and Black Metal bands in Oregon than you can shake a stick at. If there is one niche that stands out in the upper, West Coast, however, it is going to be Progressive Metal. Incidentally, this stands among my favorites, so this week let me introduce you to Increate.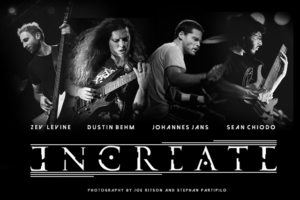 From Portland, Increate began life as a Technical Death Metal band in 2013 by 8-string guitarists Sean Chiodo and Dustin Behm. Once picking up the drumming talents of import Johannes Jans from Chicago, the die was cast. Having a fair amount of high quality, original material, Increate spent much of 2014 and 2015 playing as many shows as possible to establish themselves as a serious players in the area and earning them spots alongside the likes of Oceano, I Declare War, The Kennedy Veil, Disentomb and many others. By 2016, Increate amicably parted ways with vocalist Danny Belthius in an effort to add more Progressive overtones to their already heavy brand of Metal. Instrumental music is not often this heavy and makes Increate a stand out among their peers. With the addition of bass player Zev Levine, Increate was well on their way to Progressive Instrumental Metal dominance and quickly resulted in invitations to play with Archspire, Dark Tranquility, Vale of Pnath, Singularity, Inanimate Existencem, Arkaik. among others. By early 2016, Increate was prepared to begin recording what had taken them some three years to develop. First to drop was their single "Interstellar Displacement" in May of 2016 followed almost a year later by their February, 2017 debut release of Void, containing "Depths of R'lyeh", "The Audient Void", "Interstellar Displacement", "Remembering the Future", "The Crawling Chaos" and "Blind Idiot God". This album is stupid good! You don't have to take my word for it either. Take a listen from the link below for your own full-length stream of this beast!
So, what can you expect from Increate? Well, their influences span a wide range of musical categories that include Meshuggah, The Faceless, Animals as Leaders, Shawn Lane, George Kollias, King Crimson, Allan Holdsworth, Between the Buried and Me and Cynic while drive and feel are taken solely from the writings of H.P. Lovecraft that they describe as "[a]n instrumental journey through Lovecraftian space, Void is darkly progressive, featuring odd time signatures and polyrhythms. Void is heavy, syncopated, dissonant, and unique." Obviously being a huge fan of Metal and having read everything that Lovecraft wrote many times in my lifetime, I can honestly hear his pen in Increate's music. This is, in fact, Lovecraft's soundtrack. How dare a band desecrate the memory of one of the best horror writers of all… Hey, wait just one damned minute! This is really good; just as you are instantly transported to a desolate, cold and alien world painted so vividly by Increate's aural brushwork. Freakin' brilliant! Fans of guitar shred have a lot to get excited about here too. Hell, virtuoso guitarists Julian Cifuentes (Sleepless Empire, Oraculum) and Gianluca Ferro (Breath Of Nibiru, internationally renowned guitar professor and solo artist) even lend their incendiary talents for the solos on "Depths of R'lyeh" and "The Crawling Chaos", respectively. While this is quite an honor, Sean and Dustin are more than a little impressive in their own rites. If not for spectacular song writing and all four players of Increate being of one (possibly, insane) mind, Void would be an absolute mess. Sitting just on the precipice of chaos, this album has some of the most impressive guitar work available anywhere, bar none. This is not some sterile and showy, Neo–Classical fare that shred fans are used to either. In the realms of way too damned heavy, where impossibly fast polymorphic tempos change, seeming at will and Death rhythms weave and tear apart what they have metamorphosed from galactic space, Increate sit in a category of one; a single monolith stationed squarely between the guitar alchemy of Animals as Leaders and quirkiness of Acid Jazz and other Progressive Metal greats like Entheos and Scale the Summit. Jaw dropping in every respect. Still shaking my head in awe. Oh, did I mention that Increate also pull this shit off live? Yeah. WTF?!?
Increate is impossibly good and unbelievably unique. The second everything starts to sound familiar, something like this seems to always drops out of the sky to leave us dazzled, entertained and stunned. If these guys stay on the track that they are on now, there is no telling where they will end up. Just landed another contender for Best Metal Album of 2017!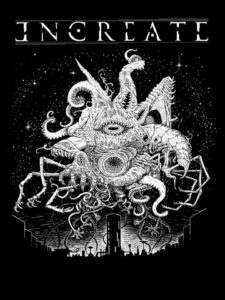 For more information on Increate, please check them out on Facebook and Bandcamp