*This is part of our State Of The Art series, showcasing bands every Monday from the featured State*
This month's State is New York!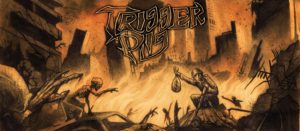 So, with this week's SOTAs, New York is in the bag. This state ended up being one of the easiest to choose killer Metal bands from and no one on our staff had any difficulties finding a plethora of deserving bands to spotlight. Hell, the difficulty for me was only covering four. This scene is nothing short of spectacular and should leave no Metal fan in the cold, looking for local talent to get behind. Overwhelming really. Well, this week, I did not even have to look because my friend David LaMay already had a band ripe for the picking sitting in his band list. Knowing his impeccable taste in music, Trigger Pig was an automatic hit with me as well! Simply blown away… Just, damn…
Trigger Pig, formed in 2014, is the confluence of what was left of an extremely popular cover band out of Hudson Falls, New York that came together after wanting to put together something new and unique; showcasing all of the formidable talent band members had to offer. Members John Fabian and Alex Kowalski on guitars, Mike Mumblo on drums and Steve Meister on lead bass serve up some of the tastiest machinations of Metal found anywhere. Their range is absolutely unbelievable! So damned diverse; so damned complex and oh, so damned pleasurable to listen to! Predictably, their influences run the gambit from Traditional Metal like Iron Maiden and Iced Earth, to the Thrash of Pantera and Metallica; modern bands like Arch Enemy and In Flames; Progressive giants Nevermore and the Bluesy sounds of Black Label Society. While the influences are certainly there, Trigger Pig have smashed all of the genre sub-categorization and flown off, half-cocked, in a direction not often traveled. For the most part, theirs is an instrumental take that sets emotional response to free float. This is striking for a number of reasons. First, the technical prowess of their music is simply mind-boggling. When this level of song writing and playing ability mix, things usually go sideways and become rather sterile. Impressive, yes, but all too often falls flat in terms of musical connection. Trigger Pig, while extremely heavy, manages to plug you directly into their Matrix, leaving the listener to fall into the band's texture-rich, aural landscape where every note is felt deeply in one's soul. Second is the band's fickle use of a vocalist. "The Afterlife" is a perfect example, where the unique pipes of Katy Cole perfectly harmonize over the backdrop of what we have already become accustomed to from the rest of the band (where there is no need for lyrics or vocals to illicit musical intent) and adds a depth of feeling that will bring the strongest man to his knees (more on this direction shortly). I really hate to play favorites with a band this good, but this song alone is worth the cost of entry. I must have listened to this song ten times or more before moving along with the CD. Third, this band took over two years to write, play, record and produce their debut release of Divisions of Black, dropping snippets and songs along the way instead of throwing out B sides to whip up attention as they progressed. The result of this wise, "long road mentality" has paid off dividends with the aforementioned CD though. With nothing left to chance, this thing gleams like the brightest star in the sky. If you are a fan of well written music that relay a vibe straight to your heart, Trigger Pig have you covered. Big fan of heavy handed, memorable rhythms played together (not under) technical guitar sorcery and shred? In spades, my friends! Every track is intrinsically layered to assure that all instruments are given their due space within the musical tapestry and direction chosen. Instrument-specific nerd? Hell yes! Trigger Pig cannot be picked apart. If you are a musician and looking for inspiration, look no further. It matters not what you play either, because everyone in this band is at the zenith of their game! Their gear alone is drool-worthy. Gibson guitars, ENGL and Mesa Boogie heads through high end Marshall cabs, beautiful Ludwig drums, Sabian cymbals, DW pedals and Yamaha, six-string basses are just a few of the gear porn goodies these guys bring along for the ride!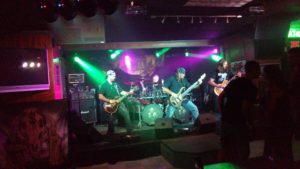 Alright, I could go on and on, ad nauseam, about all that I like about Trigger Pig, but will stop. You get my point. They recently released their nine track Divisions of Black and is nothing short of spectacular for all reasons listed above, and so much more. Recorded and mixed at Mumby Studios and mastered by Glen Dover (Ex-King Diamond, Ex-Megadeth, Ex-Testament), this thing will not disappoint in sound quality either. Absolutely first rate from every angle. Thankfully, the album was also not overly mastered and leaves a refreshingly honest vibe to the entire body of work. The artwork of David Newman–Stump adds the final touch to an already stellar debut release. Some of Trigger Pig's diversity in sound can also be attributed to their use of guest artists like Katy, mentioned above, Frank Esposito who played bass on "Fraternity of the Wicked", "Huabolis Aawwar" and "Pyrrihic Victory"; Pat Nolan that covered bass on "Son of the Morning" and Jonathan Newell who did the lovely piano parts on "Fraternity of the Wicked". In this same collaborative vein, Trigger Pig is currently working on a "guest singers" EP that has already recruited the vocals of Tim "Ripper" Owens (of Beyond Fear, Yngwie Malmsteen's Rising Force, Charred Walls of the Damned, ex-Judas Priest, ex-Iced Earth fame) for "Blood & Sand", Scott Featherstone (Within the Fire) for a ballad sung as a duet with a female vocalist, Glen Dover for a solo on Tim's song and have other pokers in the fire to be brought to light as things continue to develop. In the interim, we are left with a killer CD and a lot more to get us excited! What more could we want from a band this damned good!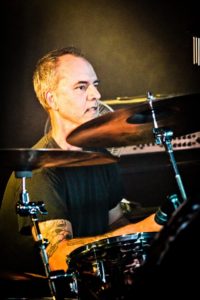 More on Trigger Pig can be found on Facebook Bandcamp ReverbNation Soundcloud YouTube