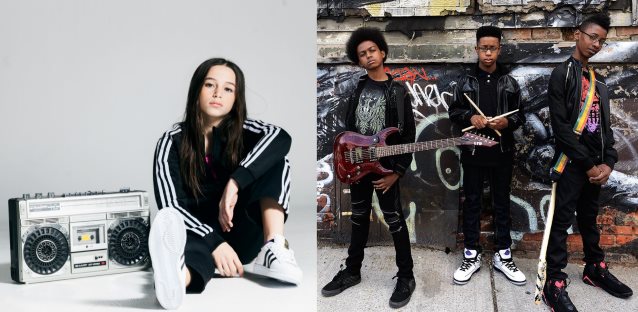 This month we have been showcasing artists from the state of New York in our State Of The Art Series, and this just so happens to be a two for one in regards to amazing New York based artists. America's Got Talent Season 11 star Sky Katz has teamed up with Heavy Metal band Unlocking the Truth for intense new single "Rockstar". We have seen it before when metal and hip hop team up with various examples like, Helmet and House of Pain, Jay Z and Linkin Park, Public Enemy and Anthrax, to Ice T and Slayer. In the metal world collaborations aren't as common as they are in hip hop, pop or more mainstream music. Both Sky Katz and Unlocking The Truth have reached successful levels with their music at a very young age. Sky was recently on America's Got Talent and made it through the first round and received overwhelming applause for her performance. Unlocking The Truth went from making viral videos on the streets in Times Square to opening up for veteran acts like Metallica and Guns N Roses. Both of these artists have made a name for themselves based solely on their talents. I can attest that Unlocking The Truth is the real deal, after seeing them live at 2016's Carolina Rebellion Festival they put on one of the best performances of the weekend. This collaboration truly appeals to both the hip hop and metal communities. We felt that this song has great staying power and wanted to get more details on how the collaboration came about and how the artists were able to bring out the best in one another. We spoke with both Sky Katz, and members of Unlocking The Truth to get the lowdown about the formation of this super-collab that produced the song "Rockstar".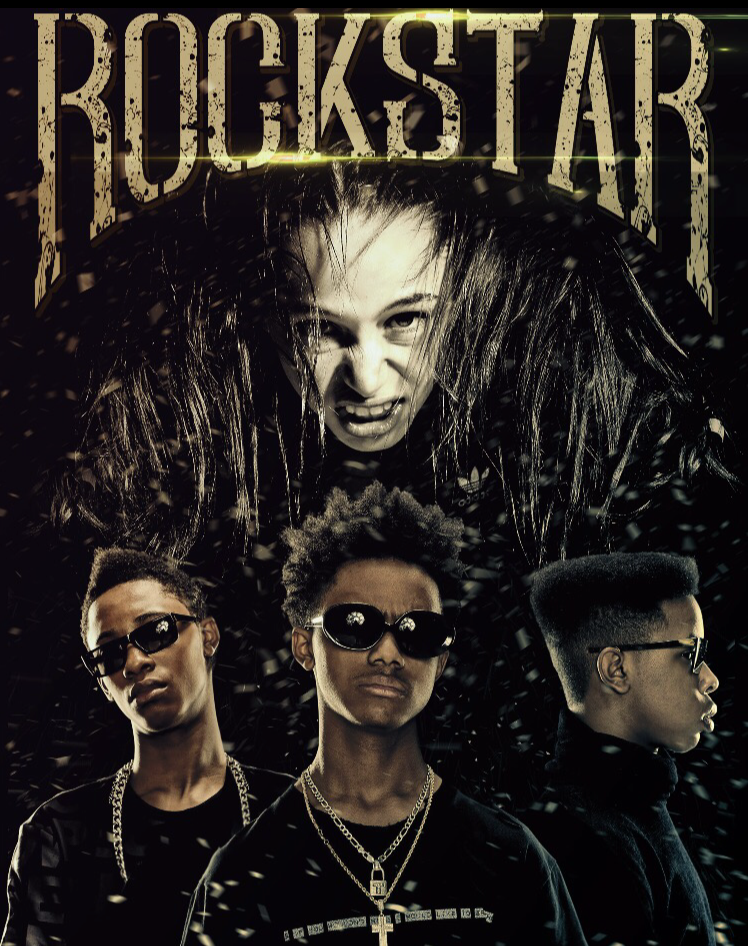 Sky Katz Interview:
Metal Nexus: During your appearance on America's Got Talent you seemed very confident and at ease. How did you prepare for the audition, and what do you think has contributed to your confidence as an artist?
Sky Katz: I get so confident because I work so hard and try to perfect the song as much as I can. I rehearse non stop and hard work pays off.
Metal Nexus: How do you think the show has impacted you most?
Sky Katz: The show has impacted me by opening up many doors and creating more opportunities. I've had many cool experiences and more to come. Because of that I've had many interviews, shows, etc.
Metal Nexus: You recently collaborated with the Brooklyn, NY based metal trio Unlocking The Truth. How was the collaboration initiated?
Sky Katz: We reached out to Unlocking The Truth because we loved their music, and thought it would be a dope collaboration mixing our sounds and style.
Metal Nexus: How did the process of creating the song work? Did you write the lyrics after they wrote the instrumentation?
Sky Katz: First we laid down track with the sounds, then we created the lyrics to flow to the beat.
Metal Nexus: Both yourself and Unlocking The Truth have become successful in each's genre at such a young age, do you feel this created a chemistry or bond with the band? What other similarities do you see between yourself and the band?
Sky Katz: I feel that both of us being aspiring young artists gave us a bond. We had many similarities, for instance both loving music and performing.
Metal Nexus: "Rockstar" boasts both a rock/metal vibe along with your rhymes. Is this new territory for you as an artist? Do you feel more comfortable in a rock setting or with more classic hip hop beats?
Sky Katz: My true passion is classic hip hop. But as an artist I love making good music and creating good songs that people can enjoy. And I feel that rockstar is a very unique song that people will appreciate.
Metal Nexus: A tremendous amount of Nu-Metal acts are remerging that were popular in the mid 2000's. Do you see yourself creating more music similar to "Rockstar" in the future?
Sky Katz: Yes, I see myself creating more music and sounds like rockstar. Nothing can replace the sound and vibes that live instruments brings to you.
Metal Nexus: You've been rapping since the age of 5, Is there anything you learned from Unlocking The Truth that you didn't already know?
Sky Katz: I've learned how difficult it is to create a track using live instruments and not just using sounds created in the studio that are technologically made and created.
UNLOCKING THE TRUTH Interview:
Metal Nexus: Do you feel that because both the band and Sky achieved success in music at such a young age made it easy to collaborate together? Is there more that contributed to the chemistry?
Unlocking The Truth:
Malcolm Brickhouse – This was our first time as a band working with a rapper. We are very friendly and Sky was very friendly too, so working together was easy. I guess being young would make it easier for us to collaborate but there is more to collaborating than age. One thing is that we had to listen to the Rockstar melody first to see if we could create our sound with the track.  
Alec Atkins – Age has nothing to do with how easy we collaborate with each other because although we are both young we have different viewpoints on life because we are teenagers and Skyler is 11 .
Metal Nexus: In the documentary 'Breaking The Monster' Malcolm mentions that he isn't really confident with his vocals. Do you feel there is anything to be learned from Kat in regards to vocal confidence?
Unlocking The Truth:
Malcolm Brickhouse – I did not necessarily learn any vocal tips from Sky because she raps. Although she is using her voice, my challenge was that my voice was always changing. It has changed since we recorded Rockstar too. I was 12 or 13 in Breaking A Monster. I'm 16 now and it seems like my voice has finally settled. It can only get deeper. I think my voice is more manly now and I really like how I sound in Unlocking The Truth's new songs. At least I won't sound like a tough little kid.
Metal Nexus: Do you think "Rockstar" has been well received by both rap and metal fans alike? What do you think makes it appeal to both genres?
Unlocking The Truth:
Malcolm Brickhouse – I'm not sure if it has been well-received by our metal fans, but one thing for sure is that it has received mixed reviews. Some positive and some negative, but that is the case with any new song. I think the appeal to either genre is that we (Sky and Unlocking The Truth) took a chance on a project and win or lose, we both did something different. Sure there is room for improvement but we had to start somewhere.
Alec Atkins – It appeals to both metal fans and rap fans because it shows them the future of music
Metal Nexus: Are there other plans to collaborate with different artists in the future? Is there anyone in particular you would like to work with?
Unlocking The Truth:
Malcolm Brickhouse – As a matter of fact, we have an offer from a popular rapper to work on one of his tracks. We should get the track in a couple of weeks. We're going to keep it a secret until it gets released. Personally, I would like to work with Lil Uzi Vert, ASAP Rocky, Kendrik Lemar, Travis Scott, Rae Sremmurd and Chance The Rapper. As a guitarist, I would die to collaborate with Disturbed, Slipknot, Living Colour, System of a Down and Marilyn Manson. Thank you for the interview.
Alec Atkins – I would like to collaborate with artists such as The Weekend, Nav and Metallica.
Make sure to follow both artists on Facebook below: