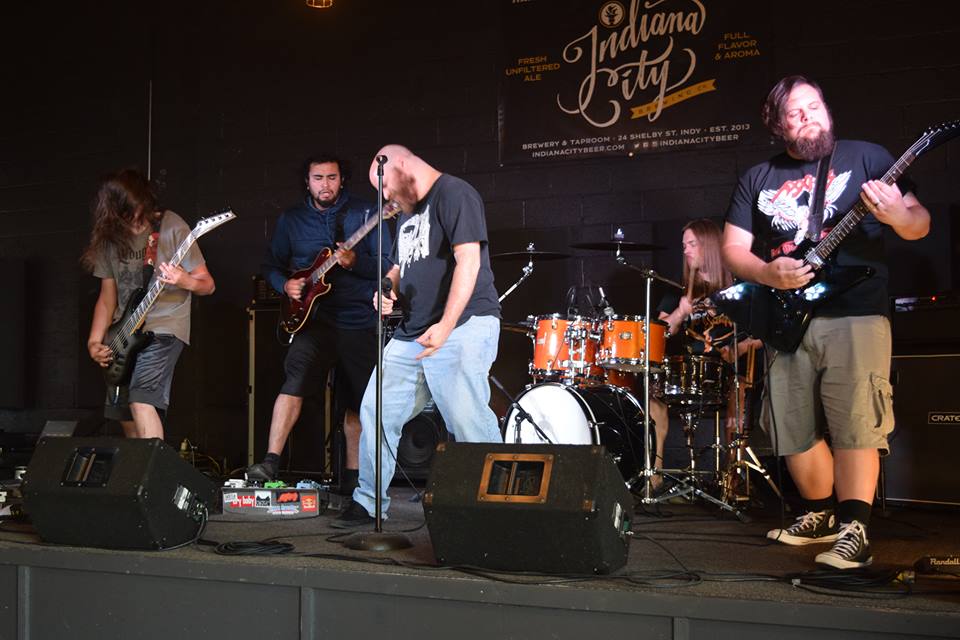 *This is a part of our State Of The Art series, showcasing bands every Monday from the featured state.*
This month's state is Indiana!
The firey five piece Lavaborne was born in the cold month of February in 2017. Originally formed by Chris Latta (vocals) and Brandon Signorino (guitars). The duo spent a few months writing and composing what would become their demo as a way of recruiting and filling out the band. Chris and Brandon released the demo on September 15, 2017 with Chris Latta handling vocals duties as well as bass guitar and Brandon Signorino on lead and rhythm guitars, and setting up the drum programming. With their demo and classic influences like Iron Maiden, Judas Priest, Dio, Mercyful Fate, Candlemass it wasn't long before the band had retained 3 additional members to fill out their band which would include Brandon Davis on bass guitar, Freddie Rodriguez riffing out guitars, and Max Barber on drums. The members are by no means new to the music scene in Indiana either and have played in various other established bands including Spirit Division, Steel Aggressor, and Mask of Sanity. 
Lavaborne has already opened for several acts at regional shows like Thorr-Axe, Sixes, Axxios, Void King, Cult of Sorrow, Demons of Wrathica, Burning Giant, The Hazytones and various others. The bands demo includes 5 original songs that they routinely perform live. However, they also cover some influential tracks as well too including "Solitude" by Candlemass and "Rapid Fire" by Judas Priest both of which seem to have gone over very well. While the band is only in the beginning stages of their career and I'm sure their new members will also help influence the bands sound even further than they currently have. Lavaborne's current direction is very much in the vein of doom and power metal. Chris Latta's deep sorrowful tones easily helps doom fans fall ever so gently in love with the vocal style. Brandon Signorino and Freddie Rodriguez can easily riff at any speed. Often they can vary from a slow molasses dripping doom riff to a cutting edge piercing pace shred. The track on their demo "The Serpent Seed" really shows the bands nod to classic doom. We must remember that the demo includes programmed drums and once the song is filled with Max Barber's drums it will even crank the song up another notch. While the band maintains that classic doom appeal within the track there is also this small modern twist that resonates throughout as well. The track also showcases the bands double harmonies, which is something that is truly missing in a lot of today's modern doom and metal. Indiana has been building a tremendous doom scene in the area for years and it's bands like Lavaborne that keep metal alive and flowing through the veins of fans. Lavaborne is currently booking shows, the next one they have scheduled as of now is on October 6th at Black Circle Brewing Co. in Indianapolis, Indiana where Ironflame, Lavaborne and Steel Aggressor will be performing. Don't miss a chance to see these 3 amazing bands, and Brandon Signorino pulling double duty in Lavaborne and Steel Aggressor.